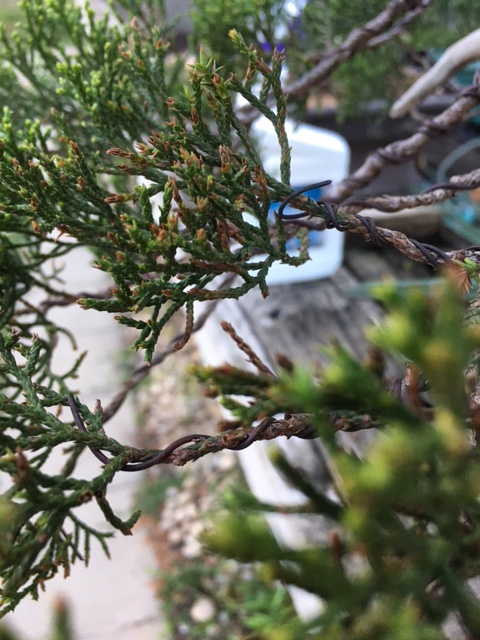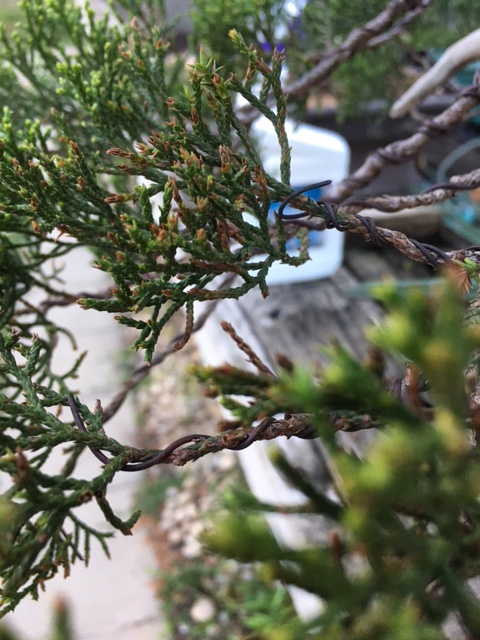 I have a question concerning what was diagnosed as Juniper Tip Blight or diplodia. I have an ashe juniper with 'rust' on the growing tips. I pluck the dead tips off and have been spraying with a copper fungicide but it has not abated or stopped or contained the spread. If left unchecked the tips die, then the twig, then the branch, etc...
I believe the cause was too much overhead watering - now all overhead watering has stopped.
Any help or suggestions will really appreciated. Thank you in advance.
Maybe it's because they're growing upside down.

Why don't you contact your local agricultural extension service? You can get free advice. (Just google for the local extension service)

Secondly can you make contact with anyone in the closest bonsai club? I'm sure there are local bonsai practitioners with this species.

Good luck.
Thanks for the advice, augustine. I've done both and neither proved productive.
The best advice I received was from
Colon Lewis
I got over the weekend...
I include the advice for others who may run across the same problem;
There are a few fungal infections that attack juniper tips and it's hard to tell them apart without a laboratory! However, I've found that either Daconil or Mancozeb seem to do the trick, depending on what the problem is. I would recommend alternating between the two weekly until the problem goes away or the tree dies
Order both on the internet and the first will be applied this afternoon. I'll post the results.
Good for you to get Colin's advice. I bet it will be OK if you follow his advice. One of my friends in CT deals with this constantly.

I always take my plants out of the hot sun before applying anything. Put it in the shade, spray and put it out in the sun the next day.

You may also want to treat every spring whether the problem is evident or not. Good luck.
Update 6/29/17
I have applied the two fungicides - one each week, a week apart as suggested and and VERY happy to report that after the treatments, the diplodia has not reappeared and the tree branches have no new issues. There are new shoots
Great news and good to know

---
Permissions in this forum:
You
cannot
reply to topics in this forum