Hi to everyone!
I'd like to present my last work with interesting spruce.
This is the first styling, or better to say, first touch with this tree.
First of all  I 've opened a tree:
- Wiring branches to the light
- make uncrossed branches.
Tree has a lots of single lines,
so it will be a lot of work of become dense and make fullness.
Feel free to comment. Enjoy!
Better photos (I've got problem with my graphic programme - sorry) and video on my blog ->
bonsai-niwaki.blogspot.com_picea abies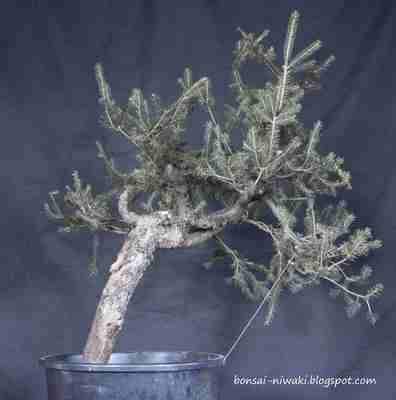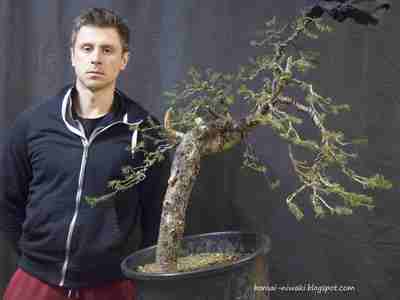 Last edited by bonsai.niwaki on Sun Jan 22, 2017 10:39 am; edited 1 time in total

bonsai.niwaki

Member





I can see what you're trying to do and it looks like it has a good start, I love this species. only thing that would bother me is where the trunk begins to show some inverse taper, halfway up and further. maybe this could be corrected with change of angle or rotation, carving, or obscuring the area with foliage.

BobbyLane

Member





I'm glad You like it. The base of the trunk is not a big problem for me.
In the futer it will be much thicker - With work on the roots properly ( by removing big ones and create good ones
)
This is the first touch and the tree needs more foliage...
"change of angle or rotation, carving, or obscuring the area with foliage" everything is possible
You can find your front of the tree on video:)
Thanks for the kind words!
All best

bonsai.niwaki

Member





Hi, great tree.
I've taken a look at your blog and I don't think your photo does the tree justice! Personally I much prefer the view above where the trunk is leaning toward the viewer and where there is a visual separation between the two sub-trunks (see above).
I'm no expert by any stretch (and I don't have any Spruce myself) but I would also be tempted to try and bring that top branch down a bit more but either way, nice tree and a good start on it's bonsai journey.
Thanks for sharing.
Regards
Richard

Richard S

Member





In reality, this position isn't looking good for me.
Have you seen a video?
for now -
more and more green we need
then we will see !

bonsai.niwaki

Member





I think i like this last angle/image Richard posted too, but i'd probably want to remove the right trunk and maybe even the top one and do something with whats left. bit tricky when the tree isnt in front of you though. keep us updated

BobbyLane

Member





Sure, a tree will always look different in reality to in a photo.

I prefer the view above because I like the movement through the trunk, sub trunks and main branches from that angle but in three dimensions rather than two that may not be so appealing.

Anyway it is your tree so as long as you are happy with how it is progressing that's all that matters. Good luck with future development and thanks again for sharing.

Regards

Richard

Richard S

Member





There seems to be an explosion of P. Abies on the IBC
I like the tree very much, I am sure it has an interesting future. I have the same feeling as the others though, this tree deserves some better pictures
Looking forward to the updates from you.

Thomas Urban

Member





Yes. Picea abies rules rigt now
I'm gonna repot in the spring so I'll show the effect.
It's not easy to find good material of spruce.
But it's worth to looking for
have a nice day!

bonsai.niwaki

Member






bonsai.niwaki

Member





Thanks for the update. Tree is looking good. I think the image is much stronger now that it's more compact and with more emphasis on the movement to the right.

Very nice.

Regards

Richard

Richard S

Member






---
Permissions in this forum:
You
cannot
reply to topics in this forum