I like the deciduous trees for their constant changes of appearance throughout the whole year.   Maybe they do not have the same dignity and calm that is characteristic for the old specimen of the pines or the wild, dynamic beauty of junipers or yews.    Their beauty consists in the joy they bring to our lives - kisses under the cherry blossom, apple pie, plum brandy - just to name a few...
On the top of the list of the deciduous trees is the purple leaf crab apple for me.  And here it is why:
The purple of the new growth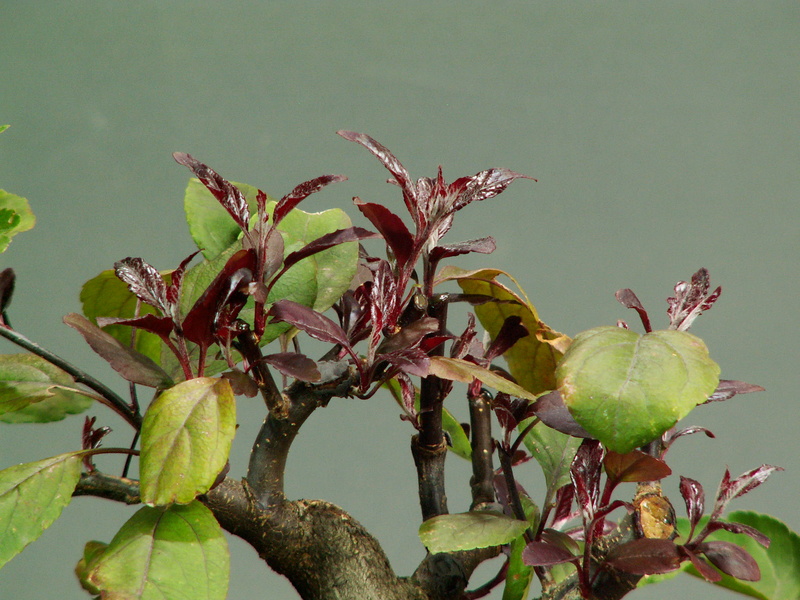 The beauty of the flowers
The shot of fruits will come next year
The autumn colours
The shots above are related to this pre-bonsai.  July 2016, new growth, before wiring.   Current height excluding the sacrifice top branch 19 cm  +/-
The yamadori in 2013

Vlad

Member





I too, love deciduous all through the year, in leaf, without leaf, in autumn....ive never seen a purple crab before, its progressing well and nice colours

BobbyLane

Member






my nellie

Member





End of October:
Regadless of what the other trees are busy with this small apple tree is still focused to finish its growth.  
First half of November:
Few nights with a temp drop close to -7°C  (19°F ).  I have expected that the leaves will be frozen...No way. They are there and "seemingly still working"
Current height: 23 cm.  The leaves are far too big,  but I guess that this will be solved within the next few years and a pair of sharp scissors.   Happy to see the small branchlet  down on the right.

Vlad

Member






LanceMac10

Member





Nice surprise Lance. I have not seen many of them as a bonsai. The new growth has amazing colour... Very nice tree.

Vlad

Member





Nice colors!!!

@ LanceMac10 : May I ask which is the scientific name of the red leaf crab apple?

@ Vladimir : How would you rate the strength of the wood of apple trees? There is a feeling that it is not long lasting...

my nellie

Member





Hi Alexandra, good to hear from you.  In terms of wood hardness it is close to a cherry, a pear tree or even to an oak or a hornbeam.  You are right about the resistance of its deadwood to rot.  
A rot could be a problem for any part under the soil level but that applies for most other species anyway.  I use an acrylic resins - ( solakryl or paraloid )  to protect these under soil areas.   The deadwood above the soil level - the rot is less problematic there - I use a treatment with lime sulphur or a natural pine resin solution in etanol.    

As far as this small Malus is concerned - I think that a significant section of the current deadwood may be converted into an uro.   Or better to say I will be forced by the rot to do it.   But then I am sure the tree will stay around for good dozens of years.

Btw. wood resistance - it is quite interesting topic.  The wood of a true yamadori ( a tree collected from areas where it has only a very limited growth )   has significantly harder wood and will be more resilient then a typical garden tree or a tree produced from a seed  of the same species with ample supply of nutrients and water.  I also believe that the resistance to rot of such trees is much higher.
Last edited by Vlad on Wed Nov 21, 2018 12:01 pm; edited 2 times in total (Reason for editing : update)

Vlad

Member





my nellie wrote:Nice colors!!!

@ LanceMac10 : May I ask which is the scientific name of the red leaf crab apple?
Nellie,
This crabapple is a hybrid and as such it's botanical name is Malus x purpurea
Randy

Randy_Davis

Member





Hi, Vladimir!
Thank you for your detailed answer.

Randy, thank you too!

my nellie

Member






Similar topics
---
Permissions in this forum:
You
cannot
reply to topics in this forum