+4
David Brunner
leatherback
AlainK
Kev Bailey
8 posters

Jim Lewis was among the earliest contributors to the original BONSAI mailing list & alt.bonsai news group arising in the latter half of 1992. From these the rec.arts.bonsai message based Internet Bonsai Club developed. These were the first bonsai related groups on the Internet. Jim accepted the responsibility of administration for the the IBC in 1997 and kept the mail list going while constructing a graphical (website) interface which would accommodate photo attachments in addition to text messages.  With Jim's assistance, the next administrator continued the IBC website in 2004.
Jim remained a dedicated assistant administrator for IBC and often was the most reliable respondent to welcome members and respond to their questions. Jim initiated friendship & collegiality by sharing useful information frequently.  There were no questions Jim felt below consideration; by example, he reminded others to respect one another in mutual pursuit of bonsai appreciation.  
Struggling through his long illness without complaint, Jim posted often & graciously. He was hugely knowledgeable with a deep and unshakable respect for ethical action and the environment. Over many years, he was THE GREAT MENTOR to those new to bonsai on the forum. His contribution to the discussions has already been missed as illness prevented him from posting over the last 8 weeks.  He leaves a void that will be very hard to fill.
Jim was a family man, being married to Jackie for over 50 years. He spoke of his children & grandchildren with deepest warmth.  Jim was also a very good musician, playing instruments including the autoharp and with knowledge & skill.
In opportunities to meet other IBC enthusiasts, Jim often noted appreciation of sharing a good beer.  We'll think of him as our generous companion, saluting the friendship forged through bonsai with raised glasses.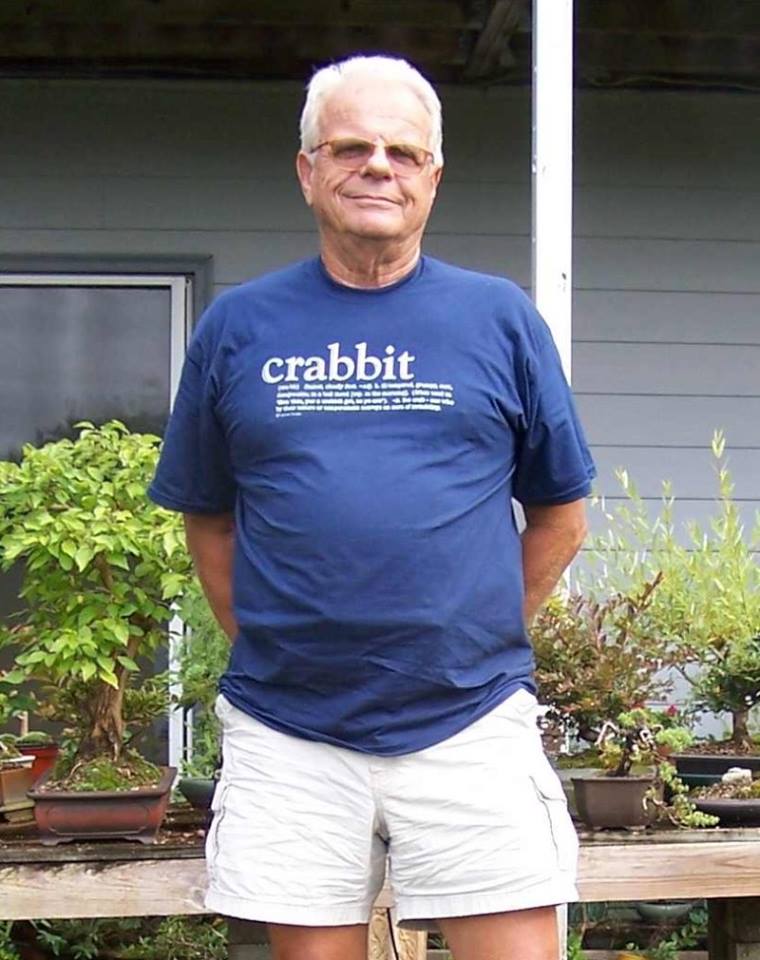 _________________
"It is not the strongest of the species that survives, nor the most intelligent. It is the one that is the most adaptable to change." - Charles Darwin.

Kev Bailey

Admin





A very good choice of photo.
He had some self-mocking sense of humour. For those who are not native speakers of English, here is the photo of a mouse pad Scottish friends offered me 15 years ago, I'm still using it:

AlainK

Member





Sigh. A hole has just been created that will be hard to fill.

leatherback

Member





Jim - you are and will be missed!  

I have been trying to compose some words to suggest how I do and will miss your presence here.  However, such words mostly elude me.  Alas, you are not here for me to turn to at this instance, as words never seemed to have eluded you.  

Please know you are, have been, and will be honored here.  You gave much more that you ever got!  Oh - and by the way - does that Osage orange need a home? (Teasing - it will not survive here, but thanks for offering!)

David B.
Thank you, IBC, for bringing Jim into our lives.  Thank you, Jim, for bringing IBC into our lives.  

Over the years, Jim touched us with his generosity & steadfastness.  He held a steady hand when when social, horticultural & aesthetic selves occasionally got a little too precious or indifferent.  When bigger issues were at stake than the thought of one person or one tree, Jim often helped tip a thread toward the bigger issue of friendship, environmental responsibility & humility.  He was always and naturally a teacher.

Over the years, Jim posted messages consistently at a rate over 2 1/2 times that of any other poster.  Stats available on rec.arts.bonsai newsgroup & IBC simply astound.  Consider that he was also administering or co-administering the forum for much of that time.  His administration duties alone have been a gift to community only a few exceptional bonsai enthusiasts share.

In his posts, Jim supported local, regional, nationai & international bonsai organizations consistently.  He encouraged even the least promising enthusiast to try & prompted enthusiasts with growing skills to try harder.  He required little (nothing that I can think of) in return though I hope he felt our deep regard and abiding love for his herculean contribution.

Early IBCers know that Jim carried the forum on his back when others fell aside, repeatedly.  In a real sense, this was & is Jim's place.

Spouses chide IBC stalwarts as they often feel widowed due to a bonsai &/or internet frenzy.  At opportunities of meeting Jim's wife Jackie, she seems to radiate Jim's deep love of nature as well as of people.  Jim's family may not know his profound significance to us, but I hope we enriched Jim's life outside of bonsai as he enriched ours.
Last edited by Chris Cochrane on Fri Oct 07, 2016 2:03 pm; edited 1 time in total (Reason for editing : typos corrected)

Chris Cochrane

Member





Should IBC have a permanent dedication to Jim on its home page?

DougB

Member





_________________
AAC Original Milwaukee Wi. Chapter - North America
aka beer city snake
http://wiscobonsai.com/

Kevin S - Wisco Bonsai

Member





When it's my time, to those I've left behind
My deepest thanks
Don't mourn my passing
Please continue your pranks
Until we meet again
My deepest thanks.........
https://youtu.be/g7slZfGy-xc

LanceMac10

Member






Similar topics
---
Permissions in this forum:
You
cannot
reply to topics in this forum