Hi,
At the Wednesday Dragon Bonsai workshop at Bonllwyn, I potted up for the first time my blackthorn today.
My son lent a hand.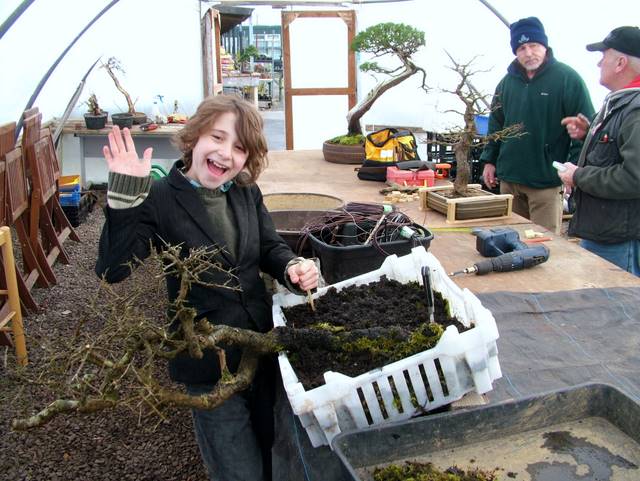 I use a large Mo pot I already had.. Not perfect I accept, but it fitted well and will do for a while until I find or have made a show pot.
The result. I am happy with this image. Now I'll wire and cut back to a few flowering buds.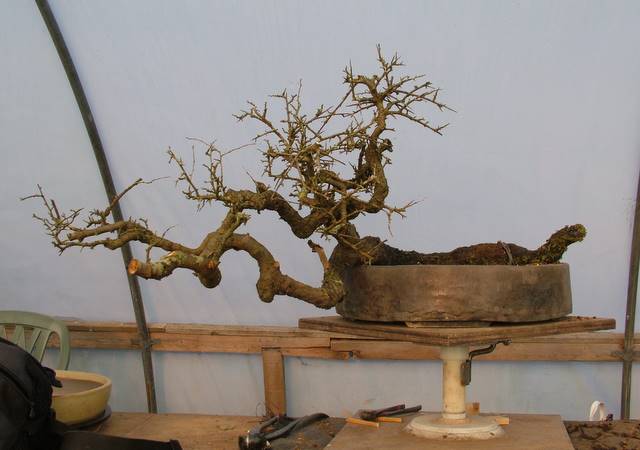 With time, some cuts and wire I think this tree can become a powerful image.

Jeremy

Member





Dear Jerry

What a beautiful son and a beautiful blackthorn !!
The tree is already a powerful image !
And so nice to see You again !

There is a question i would like to ask about the blackthorn.
As You know i wired mine in Nov. and planning to unwire
as soon as the weather is a bit warmer and bit more stable.
I would like to repot my blackthorn too this year.
It has been in the current pot for 2 years.
Is it wise to repot at the same time as i intend to unwire ?
Kind regards
Morea

Morea

Member





Hi MOREA,
Good to hear from you.
Thank you for your kind comments.
Tom is really getting the bonsai bug. He has no fear and loves getting muddy.
I.m.h.o. I can't see any reason not to do both close together.
Espescially if the wire has done it work and will only be at risk of marking the branches.

Jeremy

Member





Hi Jerry,

It's wonderful that you can share your love of bonsai with your son...he is indeed a "charmer"!

Being unfamiliar with the blackthorn, I did a search in "The Illustrated Book of Trees" which was published in London. The blackthorn or sloe (Prunus spinosa) is a wild plum. Where did you collect this interesting tree?
I imagine a wild shoreline or a windy hill.......or as the book described a wild thicket? I hope you show us it's flowers when it blooms.

Norma

Norma

Member





Nice start. I think I would use a taller pot with sides that are undercut to get the pot away from the tree.
I saw John Pitt's nice Blackthorne twice last year - once in the UK at Green Lawns show and again over in Italy at the BCI Convention in St. Vicent. Very impressive tree.

Rob Kempinski

Member





Norma,
You are now a fully paid up member of Tom's fan club.
Blackthorn are a challenge to collect. They have a root not unlike a large
parsnip
.
The fine feeder roots are usually a long way from the trunk. You will need to dig a large hole to collect one and only a small percentage then survive.
The thorns are hard and snap off like glass and can cause serious injuries, poisoned fingers, etc.
This tree was collected a long time ago, 9+ years ago. It has taken this time to develop the fine roots and vigour.
I love blackthorn. They make a wonderful Spring image, flowering in April, before the leaves break. The crakled jet black bark with the small white flowers made a fine contrast. as you note Norma, Blackthorns conjure up powerful images in the viewers minds eye.
Rob,
John has done a great job with this tree.
I totally agree re: the pot, I will see what John has next time I see him, or ask him to make me one in the not too distant future.
I hope to create a deeper cascade in the future, the roots are not yet correct to allow me to rotate the tree at present.

Jeremy

Member





Very nice, Jerry. I had hoped to pull together some friends to send you birthday wishes on February 1 in a suiseki thread, but must apologize for getting sidetracked. Your son looks very happy while engaged with your efforts. I seldom look at the bottom of the home (galleries) page where members birthdays are noted "for the next 7 days" but caught yours and, more recently, John Tapner's. John (in Australia) will be 75 on this day next year. I hope I remember him on that date, but will PM him, now (as I wish I'd PM'd you).

Thanks for continually sharing, Jerry. More displays and an occasional stone, please.

Chris Cochrane

Member





Hi

Jerry i collect mine from old stone walls they seem to develop a better nebari Brian
Hi Brian,
Good shout.
Old stone walls are our rocky Alps.

I have my eye on a very interesting hawthorn growing out of a old stone wall. Great ribbed nabari and twisted trunk.
I have been watching it for 8 years. The farmer tells me he plans to re-point the wall and when he does he'll let me have the hawthorn.

John Pitt suggested a good idea for collecting B'thorns.
Ring bark the trunk, pack with moss and create an air layer. Wait and cut once the roots have developed.
This solves the parsnip rootage problem.

Jeremy

Member






---
Permissions in this forum:
You
cannot
reply to topics in this forum