Hello, I am totally new to bonsai. I'll try to be quick, I am in huge need of help! I did try very hard to ID my bonsai through all the sources I could find online. I read the post about taking pics for ID purposes, I tried very hard to follow the guidelines. Here's my little bonsai's story: I have grown orchids and other houseplants for years and I always admired bonsai and wanted to have one. Last week at a local nursery, I found this little bedraggled thing that had been stuffed back behind some large houseplants. I asked the nursery manager a few questions. She said she did
not
know what species it was, how old, or basically anything about it. I mentioned that it appeared to be just putting out new leaves, asking if this was because it lost them over the winter? She said she thought no, it lost its leaves because it had been left un-watered for too long. Then she said she would give me half price on it, and I said ok why not....I couldn't leave it there seeing how hard it was trying to live. But I'm out of my depth - the biggest problem is I don't know anything about how to care for it, because I'm having such a hard time IDing the species. I have not seen anything like it. Once I know the species or even the family, I can look up the proper care. Also its leaves seem very yellow, and I did lightly fertilize it today. But it had barely had time to dry out - the soil seems to stay so wet, it takes forever to dry. So ANY advice is greatly appreciated - the species, ideas on if it should be repotted, anything helps!!!I truly thank you for sparing the time to help my little bonsai.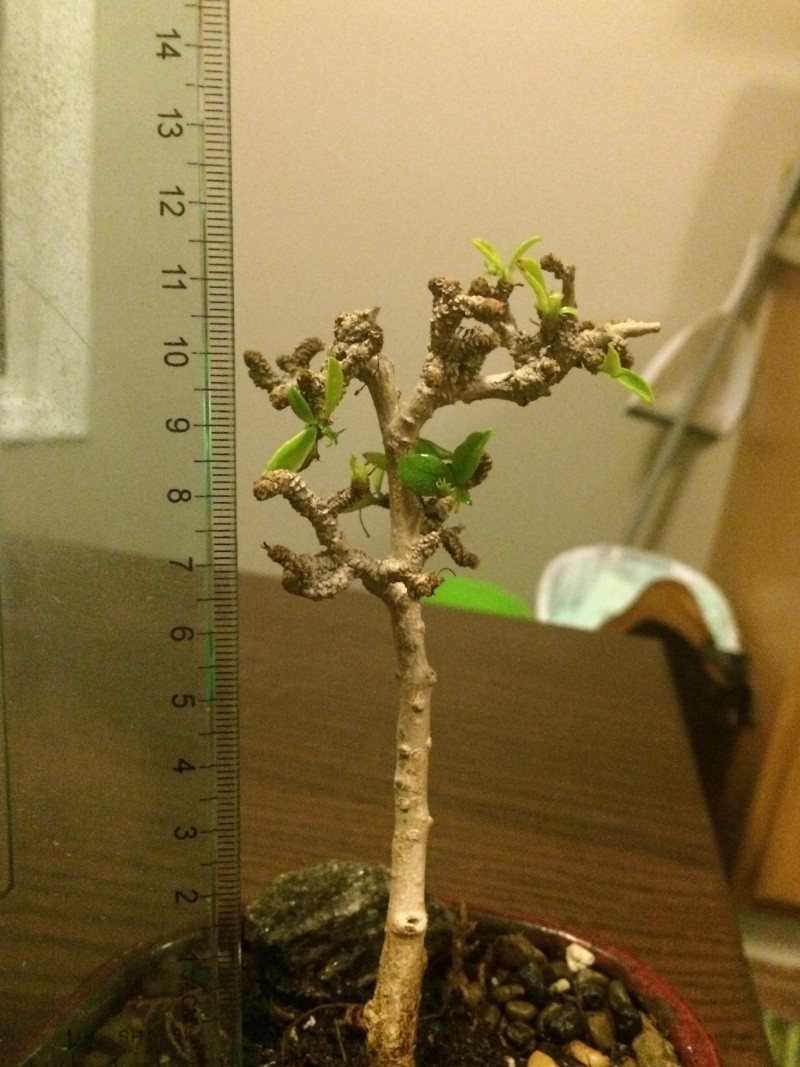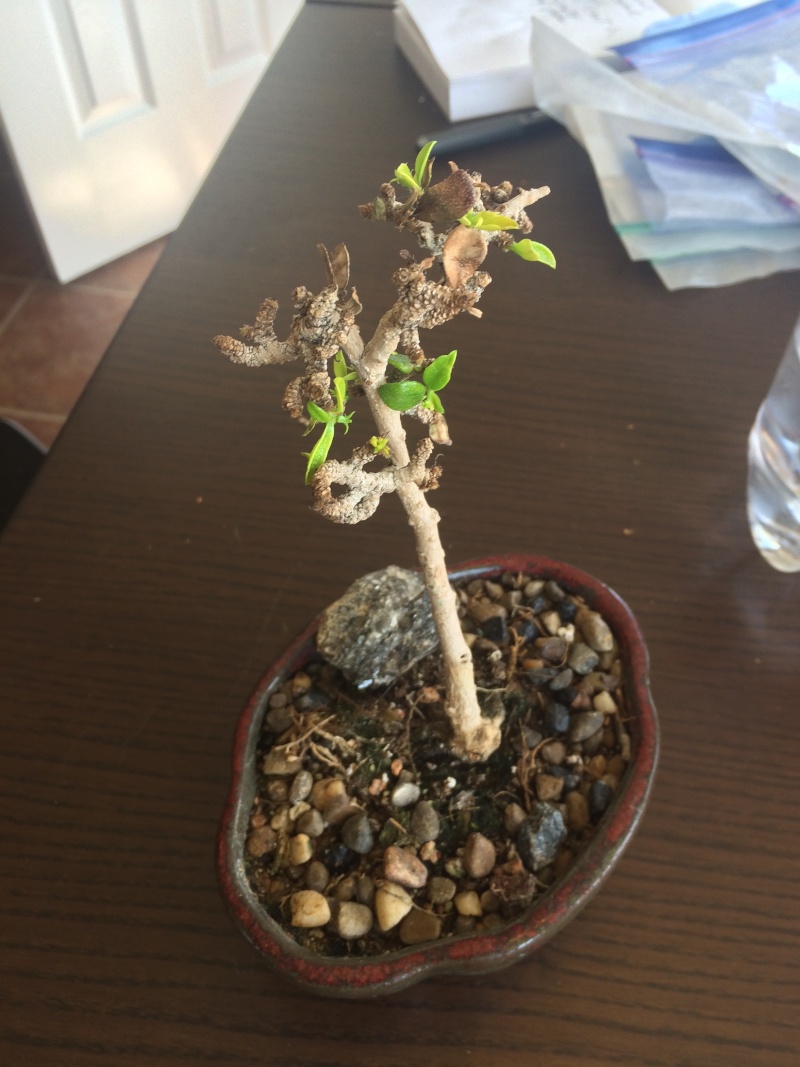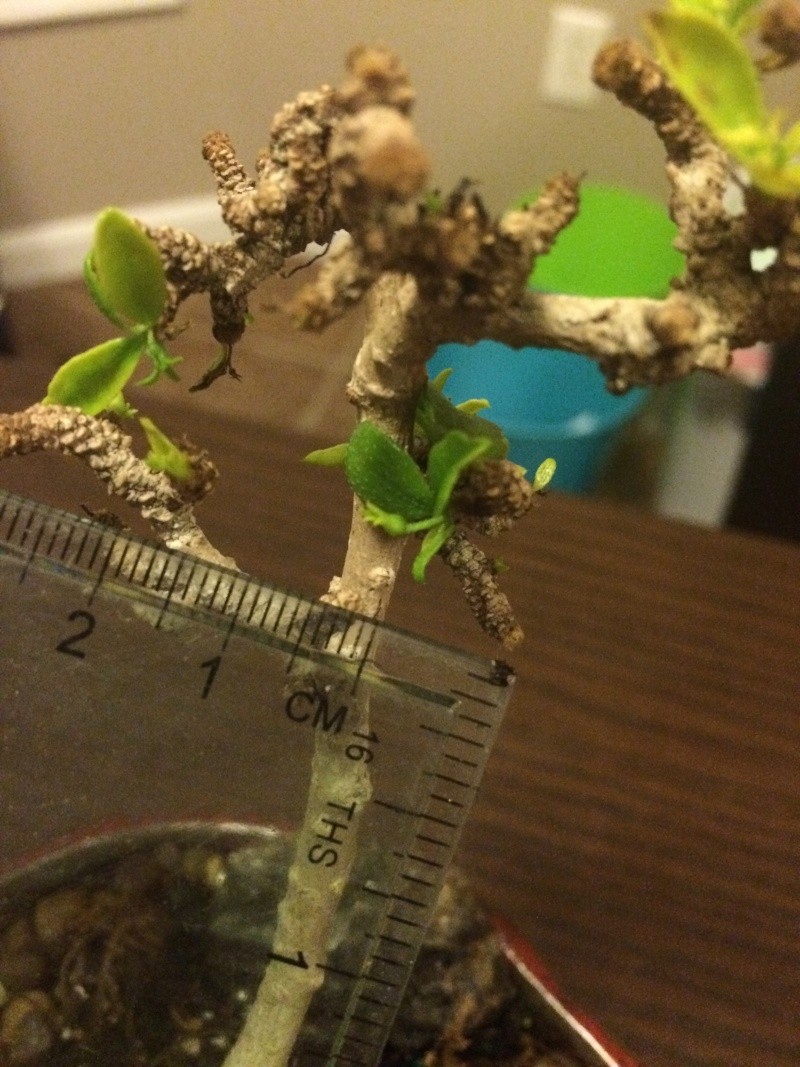 Sorry I almost forgot. I am in Maryland, USA. I doubt this is a native tree. The scale is in cm. I tried to show the leaf texture, which seems to have light hairs on the one mature leaf. Most of the leaves are very yellow, and do not look healthy to me, except for the one darker green leaf that you can see in most of the pics, at the center of the plant. I tried to show in the pics everything in the guidelines, how they are sprouting from the branch, the small blossoms or buds can be seen. The texture of the bark. The branches are very knotty or warty, I don't know how to describe it. The leaves are not succulent. Thank you.

Tom

Member





Thank you!!! I guess I had so much trouble IDing because of the warty branches, which I couldn't see in any other picture of species. Probably because most pictures so the plant fully leafed out, and so the branches are hidden. Anyway thank you!
Carmona (Fukien Tea) - have a reputation for being difficult, they aren't that bad but need specific conditions to thrive and won't do well if these are not met:
Absolute min temp 50F - needs to be fairly constant, high humidity, plenty of natural light. I mention light because I believe these do better indoors in the right location than outdoors due to wide temperature variation (at least in the UK). Keep moist, no particular feeding needs but mine does well with a balanced liquid feed at normal strength every few weeks. Use a free draining soil, 50/50 organic/inorganic works for me, there is no dormant period as such so repot at any time.
Hope this helps - have to say though, I have found that buying any tree because you feel sorry for it usually ends badly, hope you fare better than I have in this regard!

Dave
I treat my FT pretty much as I do my ficus, though I find they demand much stronger artificial grow lights in winter than ficus. They don't like dry soil and will drop leaves when that happens, but they will do the same in soil that is soggy most of the time.

I would repot in the middle of summer for best results and protect from afternoon sun until recovery, but as stated other seasons work.

Oh, and mine are kept outside in summer, right alongside my ficus, getting lots of sun and humidity. That's where they look the fullest and grow the most, ime.

Precarious

Member






Similar topics
---
Permissions in this forum:
You
cannot
reply to topics in this forum