Boxelder (Acer negundo) is not a common material for bonsai. The growth is generally quite coarse and relatively large compound leaves. However, they also seem to handle typical bonsai training and even overly aggressive root and top pruning. I have a fair sized one in my yard and in the process of cleaning up the hundreds of seedlings that come up every year, I always seem to pot up a few. Most end up in the hands of new club members so they have something cheap that can take frequent abuse as they learn. A few show some promise and end up in my collection.
The tree below was a seedling collected sometime shortly before 2010 and was selected because the bark appeared to be rough rather than the typical plain, waxy pale green of young boxelders. it was probably grown in about a 7" (18 cm) plastic bulb pan for a couple of years and then a 10 x 2" (25 x 5 cm) saucer for another year or two before going into the bonsai pot it is now in. it is about 10" (25 cm) tall after being cut back a bit last week after I took it to the Inland Empire Bonsai Club meeting. I knew it needed to be cut back, but several people suggested I regrow the apex so I cut 4" (10 cm) off rather than the 2" (5 cm) I was planning. I plan to create a multibranched crown from this point and anticipate a final height in the 14-16" (36 - 41 cm) range without leaves (another 3" - 8 cm) taller and very bushy with leaves). It will always be a little coarse compared to Japanese maples, but I think i can get it looking decent for a winter show in a few more years.
This particular tree tends to have a fairly short initial node (often 1/4 to 3/4" / 0.5 to 1.5 cm) and then takes off with a more typical 2 to 4" (5 - 10 cm) internodes (the mature tends to multiply both of those by about 5). I have done some defoliation and it seems to respond well, but I have not done it systematically. The nebari and rest of the surface roots are coming along nicely a well.
Is anyone else crazy enough to try to make a bonsai from boxelder? What is your experience to share with the group?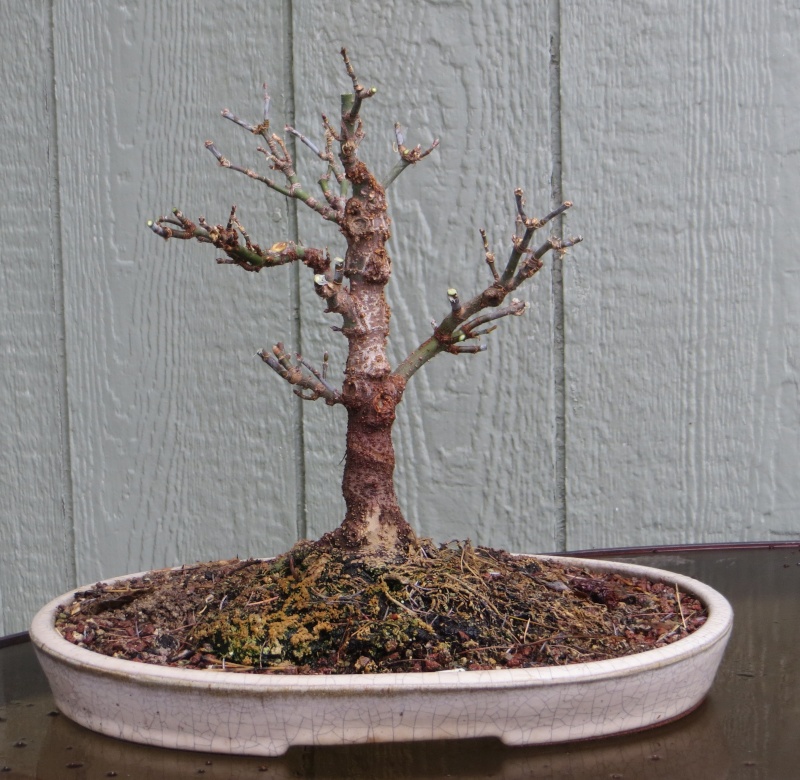 My experience with them is that they are not worth the trouble. (take up the room of something better)

MichaelS

Member





I have a suggestion for you on reducing the inter-node space after the first set of leaves. As soon as the 2nd set of leaves start to elongate cut them off right at the first set of leaves. The tree will respond with a new set of leaves, again with the short inter-node space. You then continue to cut the next set of leaves etc to build ramification. I have been doing this with 2 Viburnum's that have really long inter-nodes. Sometime I forget and I just cut them any way. It also reduces the leaf size as the first set of leaves are never that big.

Mike

Lost2301

Member





My only experience with boxelder comes in my line of work. And that is to cut it down and spray herbicide on the stump to kill that too.
They sprout heavily out of stumps so chopping shouldn't be an issue.
They grow fairly fast but with rank growth.
the problems with box elder you list are reasons I have not tried one. Box elder in a good autumn will have fairly ordinary looking yellow autumn leaves. Most years, around here any way, they go from green to brown without any fall color. In general, if I were to work with a coarse branching tree with large leaves, I would choose sweet gum, at least that one has good fall color.

But the tree you have solves 2 issues, it does have unusually rough bark, and it does have at least some short internodes. I can't offer any advice except keep on doing what you are doing. It might become something in time.



Leo Schordje

Member






---
Permissions in this forum:
You
cannot
reply to topics in this forum