Hello all,
I have to admit I am really new to growing bonsai, in fact i'm new to growing period. So I did a lot of research and finally decided on a kind of tree I liked. Went to the local grow shop and bought a big old ugly sturdy tree so that I could cut pieces off and clone it to give me a head start on growing a tree up the way I wanted it. After acclimation and a few extra weeks of newbie caution I cut off a few clones and stuck them in some soil. After a few weeks I thought I would check the progress and man was it going slow. But from what I read online and in all my books, that wasn't that abnormal. I figured, well that's the way it is, just got to deal. So a few weeks after that the wife wanted me to grow something we could eat( she doesn't share or understand my fascination with bonsai). So back to the internet for research I went. We live in a little one bedroom apartment so I was looking how to maximize grow area and get as much as possible so I landed on aeroponics. And to be honest I was amazed with what could be done with it. I cut a strawberry plant into 4 pieces and stuck them in there and the bottom half of some romaine lettuce i bought at the store. Well withing a week the strawberries had roots longer then the top of the plant and the romaine had sprouted out like crazy. But i'm straying away from bonsai, so I thought to myself this works way to well. And then light bulb. Why not stick some bonsai cuttings in there it has to speed up the process! I went to my computer searched YouTube and google....but i couldn't find anything, same with my books. It was like someone smashed that light bulb on my head. But hey whats the worse that could happen, so I tried it anyway.
And here are my results after 9 days: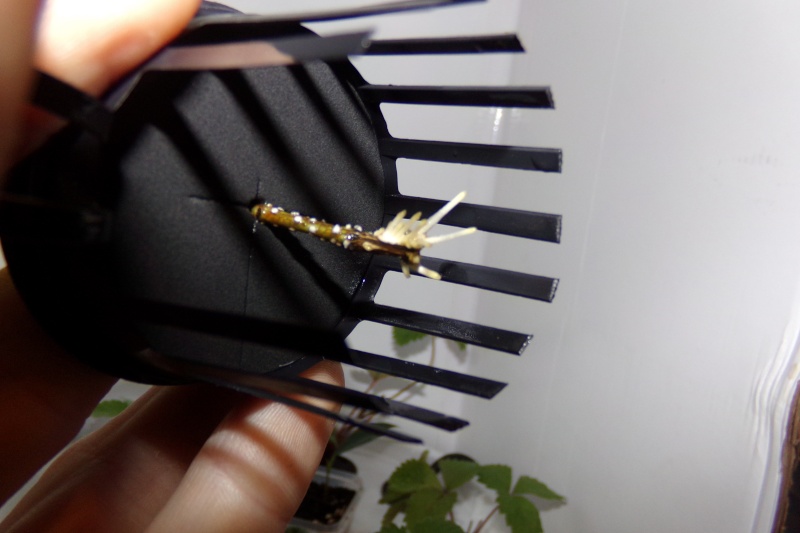 I'm sorry if i rambled on to much, this is my first post, and I have to admit i was nervous to post anything. Well thanks and enjoy... oh yeah my tree is a ficus mircrocarpa
Thanks for sharing! I'm going to file this away for future experiments, especially on larger stock! Let us know the results if you try to root any other woody cuttings (especially something that is harder to root than ficus).
Nenno wrote:...the wife wanted me to grow something we could eat( she doesn't share or understand my fascination with bonsai).
there are many edible species that make fun bonsai and some even being quite convincing as trees
rosemary being the first that comes to mind...
lots of branching, small foliage and ggggnarly trunk...
lots more out there too
i scored this book not long ago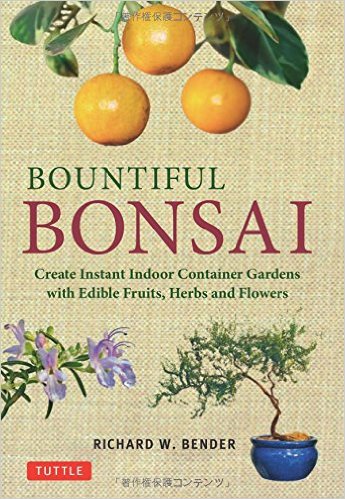 i know that digresses from your post a bit, but its always good to get the other half stoked !

Kevin S - Wisco Bonsai

Member





I will definitely update on other trees i try to clone in there and post before and after pictures with dates on them....And I will definitely mention that book to the other half we are always looking for more food to grow!
It seems you are cloning ficus microcarpa which root pretty easily on their own. In the summer you can root much larger cuttings with ease. I'd be interested to see how this works with more difficult tree varieties.

DreadyKGB

Member





right on dready...
i've whacked off whole ficus branches and got them to root...

still... like everyone said, looking forward to future results.
_________________
AAC Original Milwaukee Wi. Chapter - North America
aka beer city snake
http://wiscobonsai.com/

Kevin S - Wisco Bonsai

Member





Everything i've read says you cant clone woody stem plants in aeroponics, so that is going to be my next experiment. Since I am so new to bonsai could someone give me a suggestion on a tree that is harder to clone. Thank you to everyone who left a comment I didn't think anyone thought this was cool or cared!
I would probably try with some easier to root deciduous trees like trident or japanese maples and see what results you get. Prunus species can be quite difficult and would be worth a try.

DreadyKGB

Member





For what it is worth. Nenno, you are in Grand Rapids area, and it is the cool of autumn there. (by me too) Ficus throw roots easily when the soil they are in is warm, 80 - 85 F is ideal for rapid rooting. I suspect the soil for your cuttings was too cool to root easily. The "cloning machine" probably kept its water a little bit warmer. That could explain the rapid results. This is good, and good when you want cuttings "out of season" so to speak.
I think the cloning machines have gotten ignored by the bonsai people as being a "gimmick" to extract money from the marijuana growing crowd. The technology is sound, I've seen interesting things other than reefer rooted that way. There is no reason to not try woody plants in the machine. I recall seeing cuttings of some species of pine rooted that way. I think there were additional hormones used, it was a while back and the memory isn't what it used to be.  Rooting pines is NOT easy, and don't try it until you have had experience with other woody plants. There was a complicated protocol followed for the pines. I'd say you've stumbled on something good. Cloning machines usually can't make more than a dozen or two cuttings at a time, so commercial growers use more elaborate set ups in order to produce large numbers of cuttings. A mist table or chamber with bottom heat under the media is what the commercial guys use. The cloning machine more or less accomplishes similar environment, but using mist, and no media. Neat idea and it works. They are significantly more expensive than a pot of peat moss, which may be why you don't hear much about them from the bonsai people, they are always saving pennies for that next signed exhibition pot.
As to trying temperate trees, that need a winter dormancy, I suggest waiting until after February first. In your area, most trees will have had sufficient dormancy that hardwood twigs will be ready to wake up when you stick them in the machine. Trident maples, Japanese maples (less easy), forsythia, flowering cherry & plum and many others might be worth a try. Another reason you don't find "Bonsai" references to using cloning machines is that rooting cuttings, and propagating seedlings is more a nursery activity, its a precursor to bonsai, but the rooting of cuttings isn't really a "bonsai activity". Try search terms for rooting woody plants but don't add "bonsai" as part of the search. Since all bonsai trees at some point started out life as either seedlings in the wild or in a nursery, or as cuttings, there is an important "job" of raising these young plants with bonsai in mind, properly training roots and encouraging low branching is important. So this is a valuable aspect of the hobby to learn, and there is a need for it. Your ficus cuttings could be respectable little trees in less than a decade, 5 years or so if you go with shohin size bonsai. Other species may take more time, though some other fast growing species could make nice smaller bonsai fairly quick too. Go for it.
I also endorse the "Eat your bonsai" idea. For indoor trees, look for Eugenia, Pomegranate, jaboticaba (rarely sets fruit indoors), kumquats, other small fruited citrus, Ugni berry (a guava relative), Malpighia (Acerola), and a host of other tropical fruit trees. It can be fun tracking some of these down. The common edible fig, Ficus carina, can make a nice medium size bonsai. I even saw a kiwi vine trained as bonsai. And if you extend out to outdoor winter hardy trees, almost any fruit tree can become bonsai. The big issue is while you can manipulate the size of the tree and leaves, and get them to be quite small, fruit almost always stays full size. It is very strange to see a full size 'Red Delicious' apple on a 12 inch tall little tree. Proportions don't work, but they are fun novelties regardless and even some of the Japanese masters will have the occasional fruit tree, K. Murata comes to mind.
So explore, and check out the Grand Rapids Bonsai society, they meet at the Fredrick Meijer Gardens on the east side of town. You can learn a lot from attending a few of their meetings, even if you don't join, and do check out their shows there.

Leo Schordje

Member





The soil clone i did was in the summer it just was kinda slow to take off. It eventually did(i mean its a ficus, how could it not). I think anyone who does take cuttings should look into a cloner. I made both of my buckets for about 17-19 dollars a piece. I just hope i can run these aero-gardens year round w/o an issue. I may have to figure out a way to make my diy air conditioners cool the water down all summer long. I wish I would have taken pictures of the clones a few days after the posted ones because the roots we atlast 5 times longer. I have already planted them. The growth rate was absurd. I also plan on seeing if a tree can be grown completely in aero i just need another bucket now.
After a little looking and some talking with the other half I think the next food bearing plant will be a Calamondin-Minature Orange tree. Its suppose to taste like a sour lemonish orange....im very excited about the idea.
Does anyone know of any other bonsai groups in the Grand Rapids area? I have only heard awful things about the one Leo mentioned.
Thank you to everyone that has replied so far!
I believe there is a bonsai group in Ann Arbor, a bit of a drive from Grand Rapids. The character of clubs changes and evolves depending on which personalities are dominating the group. I live equidistant between Chicago and Milwaukee, and 15 years ago, when I was deciding on which society to join, the character of the Milwaukee group appealed to me more. I still occasionally visited the Chicago group as a 'silent observer', and its character has changed dramatically as certain personalities lost interest in dominating that group. Now a days I am quite comfortable there too. Clubs are useful even if you don't like all the personalities involved. Even by just occasionally attending Grand Rapids, when they have a speaker of interest to you, you can learn a lot. Or just hit their shows to see what people are doing with their trees.

Be sure to plan a weekend trip to the August show of the Midwest Bonsai Society, at the Chicago Botanic Garden, it is about a 4 or 5 hour drive from GR, but it is a top notch show if you can get away for a long day trip or a weekend trip. The vendors at the show alone are worth the trip.

Leo Schordje

Member






---
Permissions in this forum:
You
cannot
reply to topics in this forum