Held yesterday at the Pacific Bonsai Museum. The class was instructed by Young Choe, a kusamono artist trained in japan. Her home page...
KusamonoChoe.com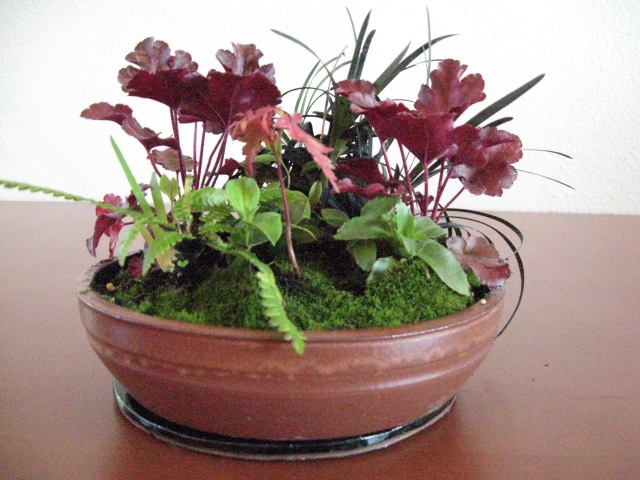 The photo was taken as it sat on the floor of my tokonoma

dick benbow

Member





Any more pics from the class?  I would like to see what you learned from the class.
I'm sorry for not having any photos to share. I took tons but they were all on young's camera
The class started at 10 am and proceeded with a slide show of various original designs of her's and her instructor in Japan. Hopefully her home page will help tell the story. The presentation took and hour. The next hour was devoted to the creation of the kusamono, selecting from a mirade of plentiful subjects. The last half hour was used to show how they could be displayed on various Jittas....
My take on what most who attended were weak in were how to place the plants wih respect to the pot. For example one pot was an unglazed three legger, and the front for viewing was created with no regard to the stance the pot would make in the display. Hopefully the one leg in front, or two perfectly aligned and visual....but both students who received those pots had the front somewhere in between.....
Many had no concept of making the arraingement to suit a sesonality or to match up with a pine or deciduous bonsai.
Of the 9 folks in the class two were men and rest ladies.
Most were built with tall spikey grass in back and then various flowers along the side and center. Something you'd expect to see in spring or summer ( kinda late now)
My favorite was a mixed combination of black mondo grass arching over lots of small flowers popping up thru-out the display.
Again I hope her home page will give you some ideas.

dick benbow

Member





I think what I liked about the one I created was that I really thought about texture, color shapes.....

dick benbow

Member






Chris Cochrane

Member





She also spent time with Ryan Neil preparing kusamono to go with trees juried for the artisan's cup in september at the Portland Art Museum.

I think what I learned about young that impressed me most was that she had to learn Japanese ( she spoke korean and english) in order to study with her teacher in japan.

Thanks for the link to Mchael's website, as i was anxious to see what was accomplished.

My understanding is she will be back again to the NW from the other Washington including the artisan's cup...

dick benbow

Member





I was particularly taken by the way the two independant similar pots were put together and the image they produced.
There are times when telling a story in the "toko" that this might give an extra second look, which was needed.
For example if a evergreen was used as the bonsai, and the scroll pictured a mountain scene.
A low bush blueberry would tell you the time of year with the maturity of it's berry. I believe a double pot (yet single statement) might be just perfect
to give that additional emphasis and a better look.
Again glad the url was posted to get that look. Also I had heard thru the grapevine about Vicki's sudden emergence as a respectable pot mker and was glad to see
what she was producing.

dick benbow

Member





So we can all learn, I wrote my sensei who studied years with Mr Mitsuya in japan his thoughts about my "comments" and here I share them with you....
"This is certainly a beautiful kusamono, but I would not personally use it as a shitakusa, mostly because of the pot, which is very formal, and as you said, draws a lot of attention to itself. The second reason is its apparent size, which appears to be about 12 inches wide. Lastly, it is helpful if the shitakusa "addresses" or faces the bonsai. Assuming that arrangements approach the viewer as a secondary movement, the container draws our eye to the left, while placing the main plant dead center adds ambiguity – a nice, not excessive bit of tension for a kusamono as the main element of a display, but a bit troubling if it is supposed to be serving a bonsai."

on the road to knowledge, together


dick benbow

Member






---
Permissions in this forum:
You
cannot
reply to topics in this forum