Inspired perhaps in part by the kusamoogo, I thought I'd share today. My girlfriend and I finally attended a Carter and Holmes Orchid Growers open house and sale last weekend. It was absolutely amazing. I restrained myself to only two purchases, one of which is something I hope will make a nice kusamono when I can get it into an appropriate container. Dendrobium Abberans. Sorry for the white background, but it's all I had this morning.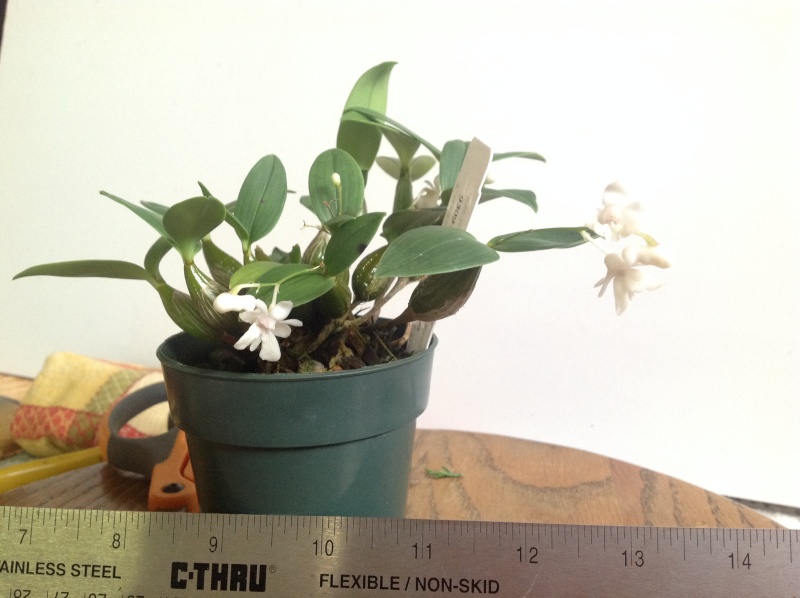 Jesse McMahon

Member





Jesse McMahon wrote:Sorry for the white background, but it's all I had this morning.
well, maybe we can let it slide this time, but dont let it happen again !
i'm not much of an orchid guy (i have 3) but i like the delicate flowers on that one... looking forward to seeing its new home.
_________________
AAC Original Milwaukee Wi. Chapter - North America
aka beer city snake
http://wiscobonsai.com/

Kevin S - Wisco Bonsai

Member





Great choice for an orchid as kusamono (in the loose, USA sense of the word)
Glad you are close enough to Carter & Holmes to be able to browse their greenhouses rather than just mail order. They are a good, decades old company with a nice variety of orchids.
Dendrobium abberens is in the Laturia group of Dendrobiums, this is means it grows all year round, so no hard dry rest necessary. keep the potting media moist, no prolong dry spells and it will keep growing. If you accidentally dry it out completely for a day or two it won't kill the plant, but it will slow or stop growth for a while. It likes intermediate temperatures, it will be happy when night temps are anywhere between 55 F and 70 F and daytime can be "what ever". This group in general is famous for having flowers last a long time. Individual blooms can last over 3 months, sometimes several months more with really good culture. They like about 50% sun, about the same as for Cattleya orchids. It should send a flush of blooms at least once a year, possibly twice a year. The plant you have looks "full grown", it won't get much taller, just "bushier" - it will keep adding more growths. Great choice. I have a hybrid from this species, Dendrobium Micro Chip, and it is definitely going to be used as kusamono soon.
I have a "stale" page on my website with some of my 2010 and earlier orchid kusamono, if you haven't seen it, I hope it gives you a few ideas.
http://www.schordje.com/leosorchids/myweb9/kusamono.htm
Thanks for posting, would love to see what pot you choose for this one. Glad to find another "orchid nut" who also does bonsai.

Leo Schordje

Member





Nice little plant, look forward to seeing it again.

Orchids are amazing, so much variety. At one time I had a modest sized collection (100-200 plants). I remember how I got hooked, I was living in Albany NY at the time (in grad school) and visited a local grower, which at the time was called Scheeren Orchids (I believe Walter Scheeren is now in Hawaii, his daughter and son in law took over but not sure if it still exists). Anyhow, I walked into a greenhouse filled with blooming phalaenopsis and dendrobiums in the middle of winter and was immediately captivated.

Still have a phal and a couple of dendrobium nobile hybrids and always have to fight the urge to buy more...I just keep reminding myself of all the trees I already have to deal with...that helps!

coh

Member





Now you gone and done it, Leo I blame you......  
I never thought to combine orchids and kusamono, I have a small flowered Phalaenopsis, I believe 'Tom Thumb'. Maybe with the long roots not the ideal test subject, but it is the smallest I have.
Edit: in my excitement I forgot what a gorgeous little flower Jesse, does it have scent?

arihato

Member






Leo Schordje

Member





Thanks for the feedback, everyone. And thanks to Leo for all the awesome care info! I'm not a complete rookie to orchids, but I certainly spend more time on my bonsai horticultural knowledge these days than I do on my orchids. You could definitely say I'm a bit of a nut, though.
Arihato-It scents only once or twice a day I've found, and it's very mild. A little sweet and musky, but not very heady. I like it.
I'd have been back sooner, but I just finished surviving finals week. Whew...
I'm proud to include another picture from today that has me excited. This orchid was my first attempt at a wood mounted keiki, and that was six years ago. The keiki came from a huge mother plant that my mom has been keeping for a very long time, and I must confess that I don't recall the particular cultivar. Iris identified it for me on here once, but I've since forgotten. Regardless, today it finally decided to grace me with a look at its first blossoms. To say I'm excited is really a bit of an understatement, but I think you can all probably relate.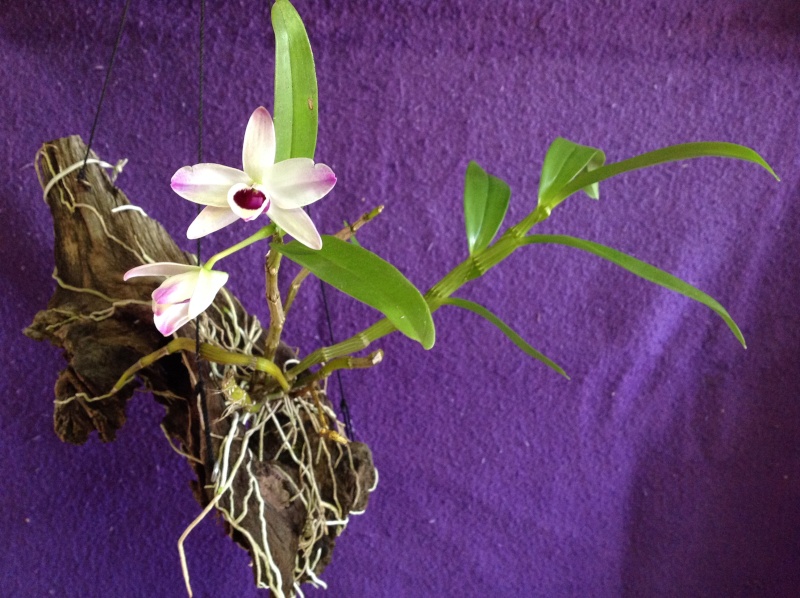 Jesse McMahon

Member





I like it. The name escapes me too. Was it a species or hybrid?

Great growing,

Orchids on sticks - tricky to work into a bonsai display, but totally cool.

Leo Schordje

Member





Nice dendrobium. I'm hoping to get mine to bloom this season, they've skipped a couple of years due to neglect.

Chris

coh

Member






---
Permissions in this forum:
You
cannot
reply to topics in this forum