Currently in bloom, hopefully the blooms will last until the Sept 13 & 14 Milwaukee Orchid Society Show at the Mitchell Domes, and if possible, maybe the Sept 20 & 21 Milwaukee Bonsai Society Show at Boerner Botanic Gardens * yes this is a plug for both up coming shows of the clubs I belong to.
Oeceoclades roseovariegata is an interesting terrestrial orchid, from Madagascar, it is found growing in the shade of the baobab trees, in an area that is very arid, but does have frequent heavy night fogs. So it gets water regularly but mainly at night. The leaves have a cryptic color pattern, it is almost invisible when placed on a layer of dead leaves and rocks. I love the colors of the foliage, which is the reason I grow it. It is in a fir bark, pine bark, perlite & hort charcoal mix. The pot is roughly 3 inches in diameter, and about 4 inches tall. It gets watered about once a week, and is grown year round in the brightest location in my light garden where temps do not fall below 60 F. Seems to be an easy grower, though it grows quite slowly. The plant in the photo is over 10 years old and has never been divided. It is fairly rare, in my 40 years of growing orchids I've seen this species offered exactly twice, by 2 different vendors over the years. Other members of the genus Oeceoclades are also rare, except one. Strangely  Oeceoclades maculata has become a widely naturalized species, almost invasive, though it does not force out native vegetation, it does colonize disturbed areas. O. maculata can now be found naturalized in Florida and Texas USA and in several places in South America, Europe and likely other places. Unfortunately O. maculata has the least attractive foliage of the genus. The other more uncommon species all have interesting color patterns & interestingly shaped leaves.
I have always been intrigued with the idea of orchids as kusamono, the only issue that holds me back is that in winter space in my light garden is at a premium. There isn't much room for wide shallow pots. My hobby business is orchids, the bonsai are my hobby when I need a break from the business of orchids. So for space reasons I planted this in a cascade pot that would take the same space as the plastic pot I would normally grow it in. Right now it could hold its own I think in a display where it is the main focal point, but the pot is not flattering. I think it has become nice enough that it deserves more space in the light garden - What color and shape pot would you use?
Would you be able to display it with a tree, or would it always have to go in a display where it is the focal point? Is it too gaudy to share the stage with a tree? I like the cream color because it makes the color of the leaves "pop" - but is there a better color choice? What do you think?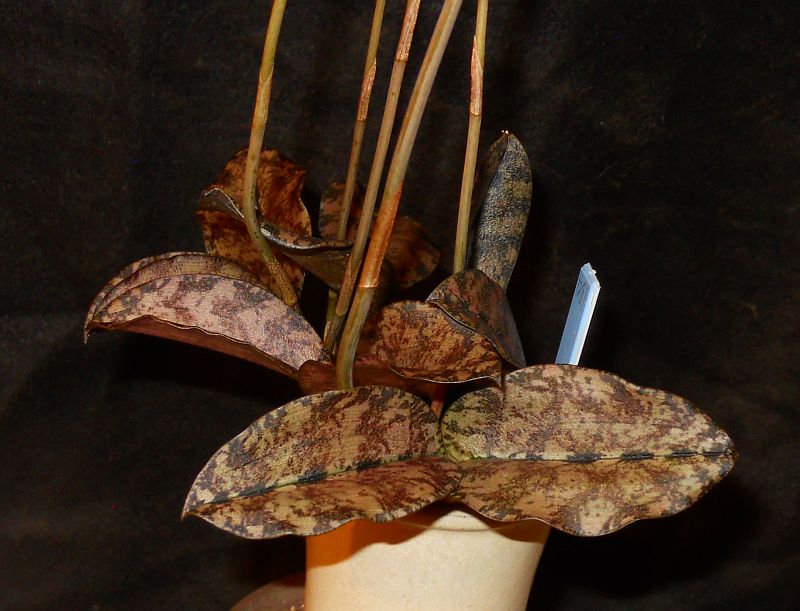 Leo Schordje

Member





Leo Congrats the Oeceocladis is absolutely beautiful. The pot also compliments it well.
I know this is not an easy orchid to grow.  We have Oeceocladis...mmmmm gawd now the name escaped me.  But commonly know as the Snake Orchid because of the pattern on the leaves which is very similar to yours.
We keep the Orchid on the farm in Kwazulu Natal, for it is to cold and wet  in the winter here.
Ive been grwong orchids as Kusamono for a long time.
This Oeceocladis of yours will definately looks very nice at an exibit next to a Baobab tree like this one that was at the show.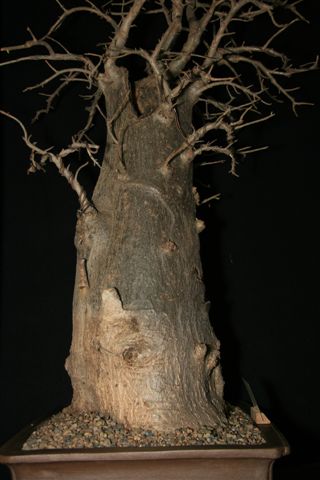 Check out my Dendrochilum that is in flower now.
Love and light

Andre Beaurain

Member





Thanks Andre - and you are right, it would be right at home next to the baobab.

Leo Schordje

Member






---
Permissions in this forum:
You
cannot
reply to topics in this forum