I picked up this Brazilian Raintree a little less than a year ago at our state Bonsai Convention,
from another vendor, as part of a trade for my artwork. It was around 5 feet tall, stuck in the
corner, propped up against the wall, cause it kept wanting to fall over. It had a top that I had
removed (sorry no pics) that shot straight up, a lot of rough cuts of old branches that had been
removed, which I clean up.
I have never owned a raintree before, had plenty of opportunities to do so years ago, when they
were not as sought after, and the price was relatively cheap. As far as the trade, it only cost me the
price of some paper, and my creative time, so I felt I couldn't loose, besides... I saw a tree with
character, that most obviously passed on... I will be creating a flat top, which is often done with
these... I have some progression picks that are more up to date but wanted to know what you guys
thought ??? Would you have picked this up ??? Thanks...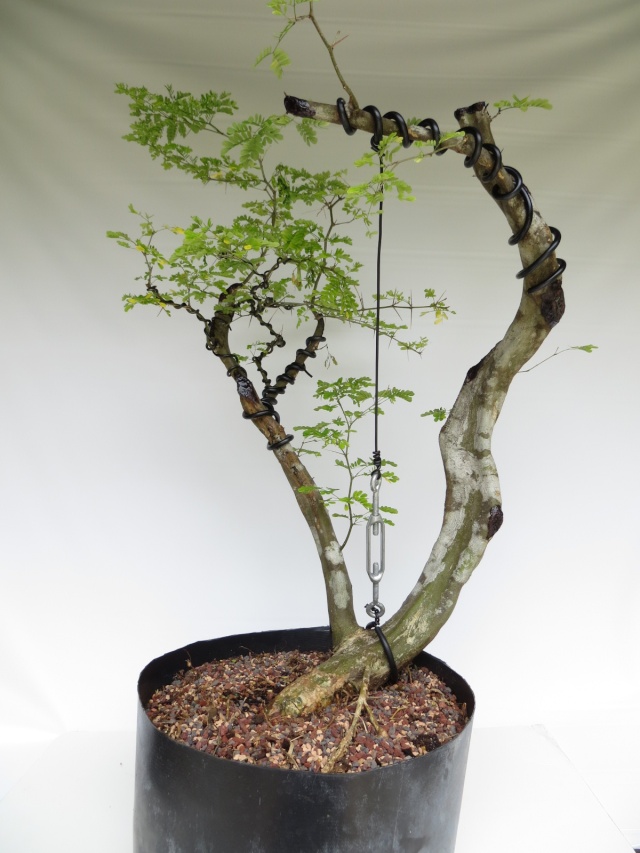 stacy allen muse

Member






stacy allen muse

Member





I like the virtual.I didn't really like that small lower branch till I saw virtual.I get it now.Look forward to seeing the future pictures.

dave

Member





this has potential to be a nice mother/daughter composition - the smaller branch looks so nice on its own, I would be tempted to hack off the mom

kirk@localbonsai.com

Member





Very nice. When I think flat top this is what comes to mind. I wouldn't change the direction you're going with it.
There are two styles that are used for trees that resemble flat top...one is Pierneef style and the other is flat top. Both have different branch structure.
The BR tree that started the craze of flat top was styled by Charles Ceronio as a Pierneef style trees.
He has a lovely book: Bonsai styles of the world where he explains how to style this two styles since he invented them.
On SA forum there are some guide lines to both styles, but I never figured it out until I bought the book.
Charles is very sick at the moment and in intensive care , or I would have asked him to post for you some pictures from his book, but he is such a swell guy I know he would not mind posting one page of his book if you want me too.

Neli

Member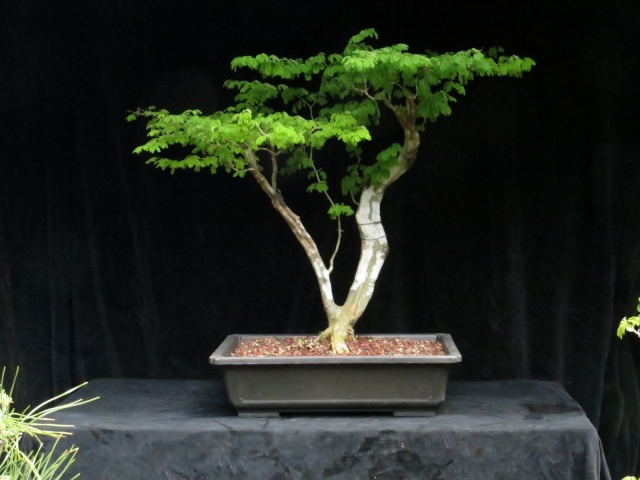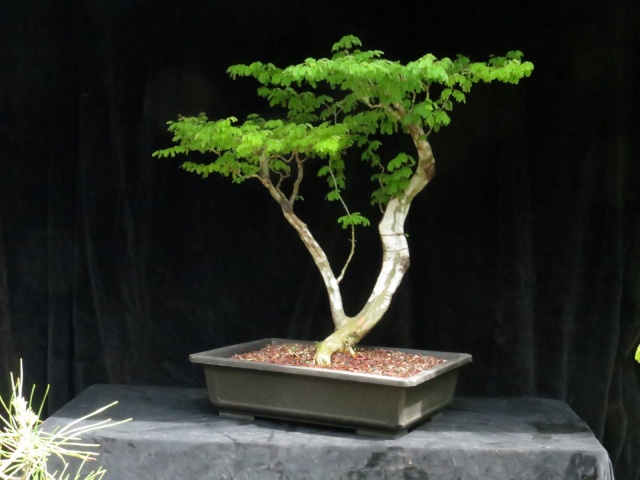 Sorry, I took so long to get these up, just took these this morning...
This May I will of owned the tree for 1 year, I think the tree has come along
way in such a short time... It obviously has a very long way to go still.
I recently repotted it in proper soil and had to do quite a bit of major root
work, so for now I will just be letting it grow out for a while, to gain strength,
but at the same time loosely retaining it's shape.
The pot I eventually see this ending up in will be a very shallow, large oval pot.
Like the ones used more for forest plantings. I want to try and accomplish an
African savanna look, with grasses, that one could imagine a cheetah or a lion
hanging out in. 

stacy allen muse

Member





Thanks everyone for the compliments !!!
And Neli, sorry to hear of Charles condition. I met him 6 months ago when he came to Florida. I was vending
and he wanted me to perhaps paint a scroll with monkeys. It sadly, just fell be the wayside...
Send him my well wishes if you get a chance.

stacy allen muse

Member





At the moment there is communication only with the wife...but I shall try to give him your message.

Neli

Member






Similar topics
---
Permissions in this forum:
You
cannot
reply to topics in this forum