I like shohin and mame bonsai.  I have an increasing number in my collection. Because these types of bonsai trees are seldom exhibited as individual trees the choice of a  proper stand is important and sometimes difficult . When I exhibit these trees, be it in my home or at a bonsai exhibition, i generally find that I do not have a stand to match the trees I have selected to display.   Although we make a number of stands for shohin and mame bonsai I always feel that the stand I have chosen is not quite right.  Lastly most shohin/bonsai stands are not always easy to transport.
With this in mind, I have been thinking for quite awhile about designing a different type of shohin/mame stand which is both flexible and reasonably compact.  The components of the stand (a base along with 3 sets of legs and 3 different tops and bottoms) are shown below.

The individual stands can easily be assembled and taken apart. For the components shown above there are 48 possible choices.  One is shown below ( I apologize for the parallax.  The legs of each stand are perpendicular to their respective  top and bottom.). Note that the stands can be positioned as desired on the base..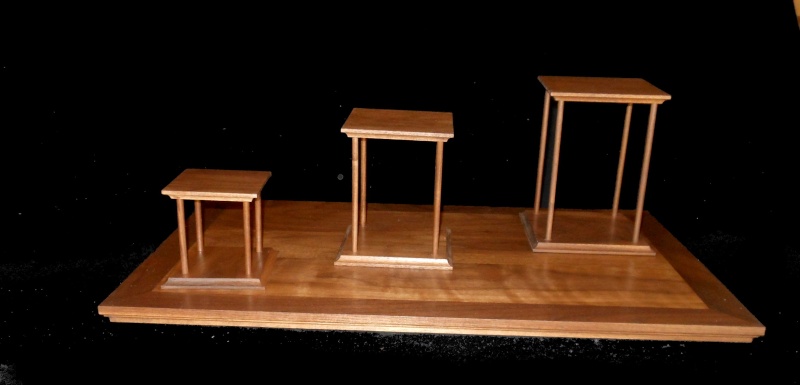 Below I have made a display of a few of my shohin Ficus burtt-davyi figs (Again apologies for the parallax)..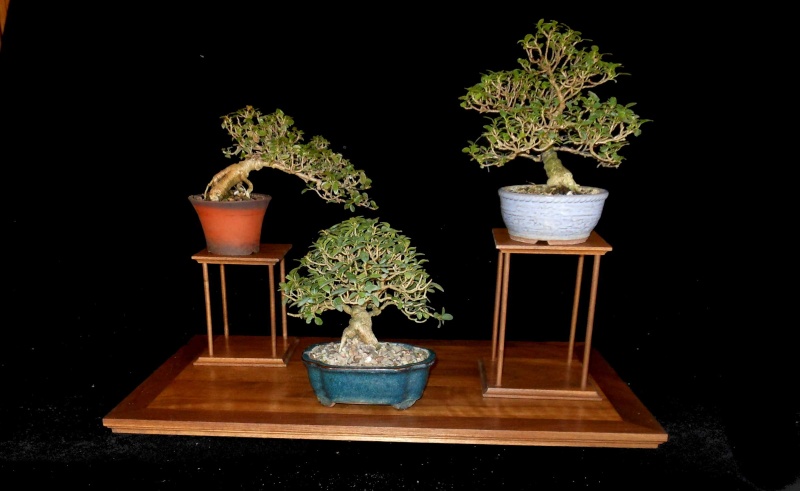 Enjoy. Hank
Last edited by Hank Miller on Tue Jan 28, 2014 11:54 am; edited 1 time in total

Hank Miller

Member





Hank, I did enjoy...thank-you. Some of my bigger more involved stands are also constructed in such a way as they can be completely taken apart for easier transportation and I REALLY like that concept. Thanks for sharing. Sometimes the K.I.S.S. principle makes a lot of sense

dick benbow

Member





What a great idea! I am always hunting for just the right stand for that special tree and your idea ha provided a great solution.
Thanks for sharing.
Jaybird

Jaybird

Member






---
Permissions in this forum:
You
cannot
reply to topics in this forum