Hi, I'm surprised you have not heard about Norio Kobayashi (not related to contemporary bonsai artist Kunio Kobayashi).
He is the most prolific bonsai author ever, publishing "Bonsai Magazine" the most influential bonsai magazine ever. He published 518 issues (I have them all) in a span of about 40 years.
Norio Kobayashi is perhaps most famous for beginning the now annual Kokufu Bonsai Exhibition in Japan with Count Matsudaira (who started shohin bonsai). Addition information can be found in Robert Baron's excellent website:
http://www.phoenixbonsai.com/days/DaysApr.html
By the way, that book you got has been reprinted many, many times and became part of the Japan Tourist Bureau's series.
Enjoy your treasure and learn.
Bill

William N. Valavanis

Member





Hi Bill

I should be ashamed not to know the name, when hearing how famous he is, and how much he stands for.
I am not a bookcollector, but this can not be an excuse in ths matter...Many thanks for the information, and the link...I will go straight to it...I assume my book is a reprint too.

Kind regards Yvonne 
When I read the title I though that I had the same book, but it is the same title from a different author from Kyuzo Murata, mine is a 17th print 1980. It was one of the first books about Bonsai I bought.

arihato

Member





Hi Yvonne,
I have a copy printed for the "Tourist Library" volume 13. I love this little book. Check out the photo of the Japanese Wisteria on page 101; tree, pot, carved root stand - its awesome!

Todd Ellis

Member





Hi Todd
I will look for the visteria when the book arrives
Does anyone know something about Arihatos book?, it is also has some age
Kind regards Yvonne
My Book arrived today...and this is funny, the advert said printed in 1960...but it is printed in november 1952, strange.....must have been very popular, as a tourist bought it the same year, Price 350 yen...the older edition ( second edition) from june 1952 must already have been sold out.
Look forward to read it, it does look instuctive....it will be interesting to read if bonsai is being grown very difrent from back then, and now.
And yes Todd, the wisteria does look pretty and unusual in the display with the tall rootstand
Have a nice day...Kind regards Yvonne
I was living in Japan then. 350 Yen was about 95cents U.S. back then, as occupation forces kept the Yen fixed at 360 to the dollar.
We got the book (and about a dozen others in the Tourist Library series) in Kanda, which was/is the bookseller's district in Tokyo.
My copy has a 1953 copyright. The first edition came out in 1951.
We did no bonsai then. I think we got this primarily because the old gentleman who lived in the home just below ours on the hill behind Ueno had several pines in his backyard. We never met him, unfortunately. Also, there started to be an annual bonsai show at Ueno Park/shrine while we were there. We (my mother) didn't try our first bonsai until some time in the early to mid 60s. But we used this book as a guide.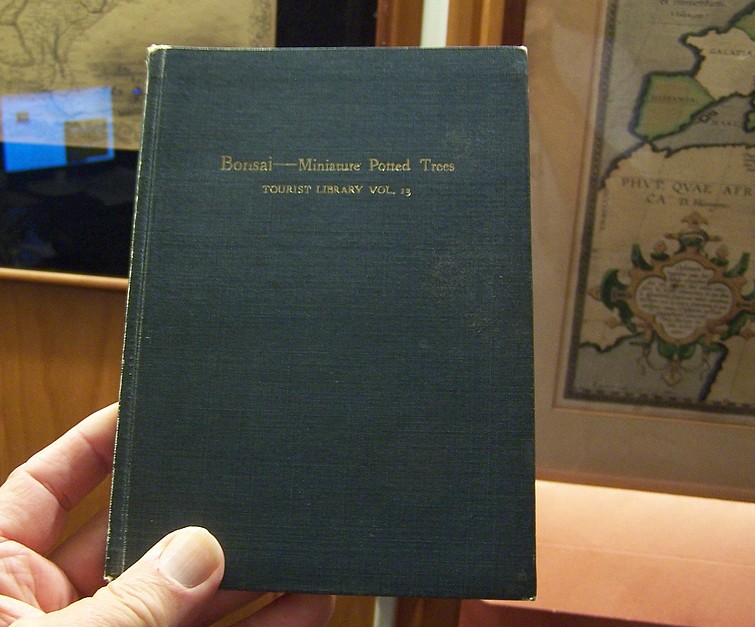 JimLewis

Member





Lovely story Jim
I first met bonsai when I was about 10 years old...a American exchangestudent lived next door to me, in my hometown back then, Soenderborg.
He was incredible dedicated and made a bonsai from a beech, it was breathtaking...it was just for fun, he made it during the summer, just to show us kids what bonsai was, at the same time was he telling us, it could not survive because of the wrong time to do it....I felt very sad, I really loved the tree.
I am sure this guy still make bonsai, and probably is famous too.
Kind regards Yvonne

---
Permissions in this forum:
You
cannot
reply to topics in this forum