Hi, i am new to the forum & to bonsai so appreciate all the expertise here.
My escambron, a small 6" coolected specimen I bought here (south FL) in the spring was thriving for a few months but rather suddenly has yellowing leaves.
I dont think it's over/underwatering.  Should i check the roots & possibly repot?
Other tips?
Thanks!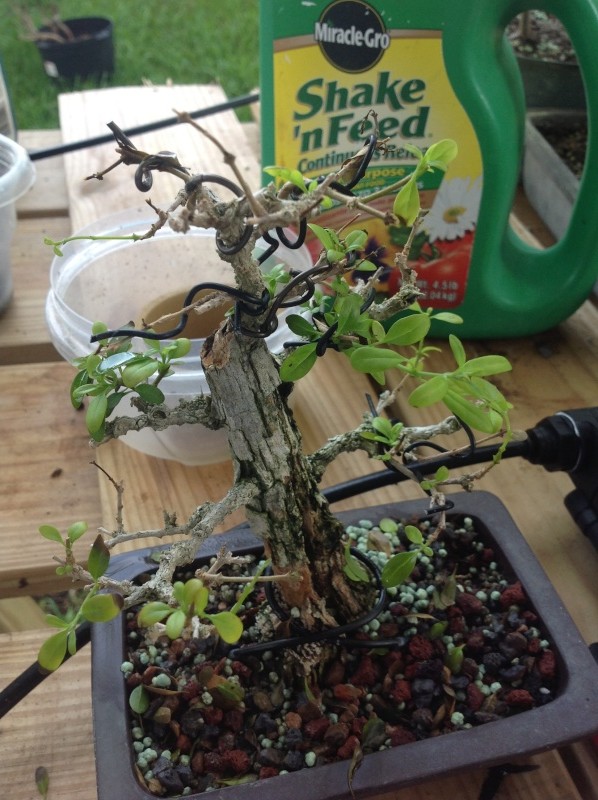 Last edited by Alan33140 on Wed Jun 26, 2013 12:47 pm; edited 1 time in total
Alan,

it helps if you can send an image.
Khaimraj

Khaimraj Seepersad

Member





thanks -- took me a few tries to get that to work but now there is a img in the OP
_________________
Jim Lewis - lewisjk@windstream.net - Western NC - People, when Columbus discovered this country, it was plumb full of nuts and berries. And I'm right here to tell you the berries are just about all gone. Uncle Dave Macon, old-time country musician

JimLewis

Member





I wouldn't be overly concerned about the pale leaves on your Escambron.  The pale leaves on your tree just look 'tired' to me, and are ready to fall off and be replaced by more.
Here is a picture of one of mine I took today, and as you can see it has a few pale leaves on it as well,
They love full sun, and will grow like crazy when placed outside.  I had to put sphagnum moss on mine as a top coat to help retain moisture in the soil.  They can be some thirsty little devils, and it's tough to keep up with watering chores when they're really moving.

Auballagh

Member





Alan,

Repot. Yellowing leaves on a clerodendron are a sign if the tree being pot bound. Also, they like a sandy mix. Too much organic soil usually leads to entirely too much water retention and yellowing leaves.

Being a vine/like species, it will bounce back quickly.

This tree isn't recently collected, perhaps a year or two.

Regards,

Jose

jrodriguez

Member






Similar topics
---
Permissions in this forum:
You
cannot
reply to topics in this forum