Hi all,
i just acquired my 3rd material. im from the Philippines, It was given to me by my mother in law as a christmas gift. idk, but i think it is a ficus something tree. can you tell me some suggestions and give me a virtual on how i can trim and style it? giving cascade, is it good? the stems?branches?
i see leaves with yellow spots?what does it mean?is it sick?acid?stain?shall i remove them?
i se curled leaves, like an insect laid an egg in it. what should i do?
tell things you might need to enhance my plant..
thanks
-stephen

depiques2ry

Member





Ficus, maybe retusa or microcarpa. The tree has been starved for light and maybe fertilizer. Cut back hard, repot and fertilize, give as much sun as possible.
In your part of the world it will grow very fast.


Billy M. Rhodes

Member





hi bill, when you say "Cut back hard", what does that mean?
is it ficus green island maybe?

depiques2ry

Member





Ya, hey. I too have been hearing that term thrown around in this site, yet no one will define its term. PLEASE do tell.
OK, in this case I would:

1. remove all the leaves.

2. cut all branches back by 2/3

3. remove bar branches, double branches, etc.

You will be left with a stick with a few stubs

Repot in good soil.

In you climate the tree will grow out and be something to work on in six months.

As it grows, keep pinching growth tips to encourage branching.

Fertilizer with a good house plant fertilizer according to package directions.


Billy M. Rhodes

Member





like this?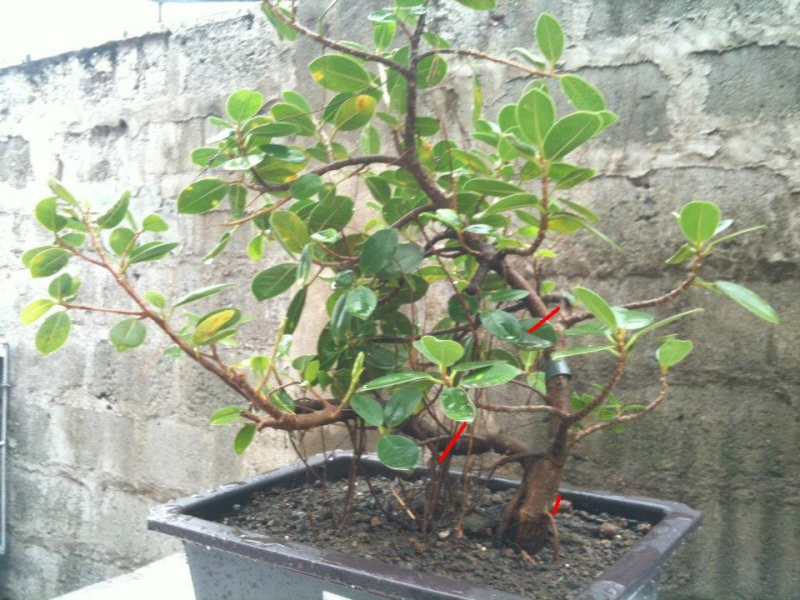 depiques2ry

Member






Billy M. Rhodes

Member






Similar topics
---
Permissions in this forum:
You
cannot
reply to topics in this forum