This is a fukien tea I bought more or less finished during the first half of the year. About 2 months ago it was repotted in the brown/red pot and will be repotted in spring into a shallow rectangular cream colored pot.
The gap at 1 o'clock (top right) is being filled in by a branch at the moment to give a rounder canopy.
When the tree was ready for repotting.
After repot in temporary pot. I feel it is a bit too deep. Will post a picture of the next pot soon.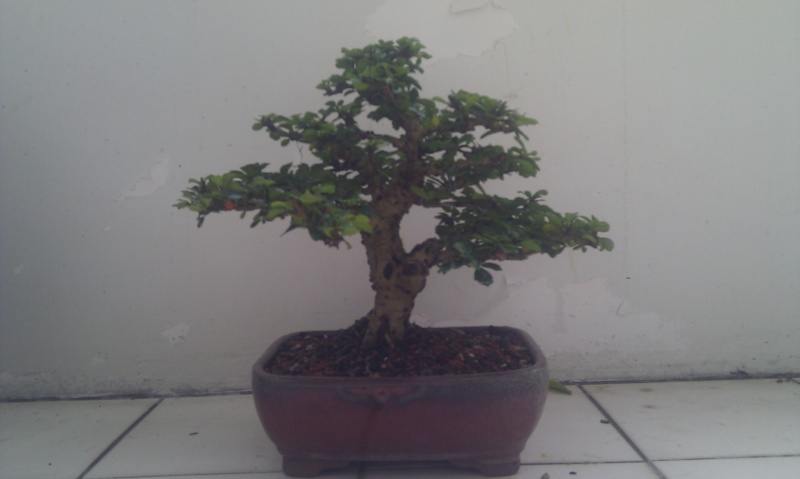 Comments welcome as well as suggestions.

Cockroach

Member





This is a fairly nice tree other than the base that seems a little weaker.
I agree with aman btw maybe you could show more of feminine side with a feminine pot. Fantastic tree though, I want one

Jake16

Member





Hi guys and thanks for the comments. Have a slight idea about feminine and masculine trees. But would you mind explaining a bit more about why the tree is feminine and what shape, size etc pot would better suit it.

Cockroach

Member





Well if the base of the tree was wider then it would be more masculine. I dont think the tree is completely feminine just slightly more feminine. I think the pot should be half that height and wider. Feminine pots have softer lines to it. The pot could be a lighter colored, beige/cream or something like that.

Jake16

Member





I am assuming not, but is there a way to thicken the base more as I do agree it could look a lot sturdier at the base.

I will try to get a picture of the intended pot this evening after work.

I have toyed with the idea of an air layer between branches 1 and 2 in the future. Then turning the base now into a semi cascade/cascade and the top part into a whole new tree.

Another thought that has crossed my mind was to split the trunk as a member here did with a chainsaw on a larger tree (sorry forgot his name but sure you know who). The filling the gap with stones to make a RoR appearance as yet another person on this forum has done.

Cockroach

Member





I guess you could do that, I think with time as you nebari gets bigger it will help. If the tree buds back well I would say grow a sacrifice branch.

Jake16

Member





Cockroach,
have you been here-
http://www.sidiao.com/index_e.htm
Enjoy the rotating tree on the front page, I gave you the English version of the page.
Have you approached any of the masters in Taiwan ?
Is there a language problem, as I caught a bit of conversation between Neli and you, about you living in Africa [ from there ?] ?
Anyhow the lower branch can be grown on to help fatten the base, but you would have use a larger amount of soil.
Tree seen from close or tree seen in the distance ?
So do you want to open the air spaces around the branches [ negative space ]?
Fill out the canopy?
Do you wish a drawn diagram of the possibilities ?
Until.
Khaimraj

Khaimraj Seepersad

Member





Hi Khaimraj,

Thanks for the reply. I am thinking of contacting Mr. Lo who lives near me in the new year.

There is no language problem. Yes I grew up in Africa but moved here 8.5 years ago and subsequently learned to speak Chinese.

I am not against putting the tree back in a training pot for a season or three if it is going to help the tree that much. When you asked, "Tree seen from close or tree seen in the distance ?" would you mind explaining this concept a little further as I have not really read up about it. Thanks.

I am trying to fill out the canopy a bit but also retain enough negative space. I am not sure if I want to go for the super manicured look and do like natural looking trees.

And lastly, YES PLEASE, I would love to see some examples of possibilities.

Cockroach

Member





Yes Go and visit Master Lo! (Min Hsuan)
...If I am at your place I'll visit him and his garden everyday.
regards,
jun

---
Permissions in this forum:
You
cannot
reply to topics in this forum