This grewia was my first attempt at a root over rock and I learnt a number of things, amongst which two of the most important were........
1. Choose a rock which has lots of pores or craggy nooks and crannies for the roots to get a good hold.
Dont pick a rock which is relatively smooth because it will take forever for the roots to bite onto the rock, and
2. Leave the thing in the ground (or deep pot) for at least two years.......
Dont be impatient like me and pull it back out after only 10 months.....
Anyway, time will correct some of these beginner mistakes...
From 2005 - just after it was recovered from its deep training pot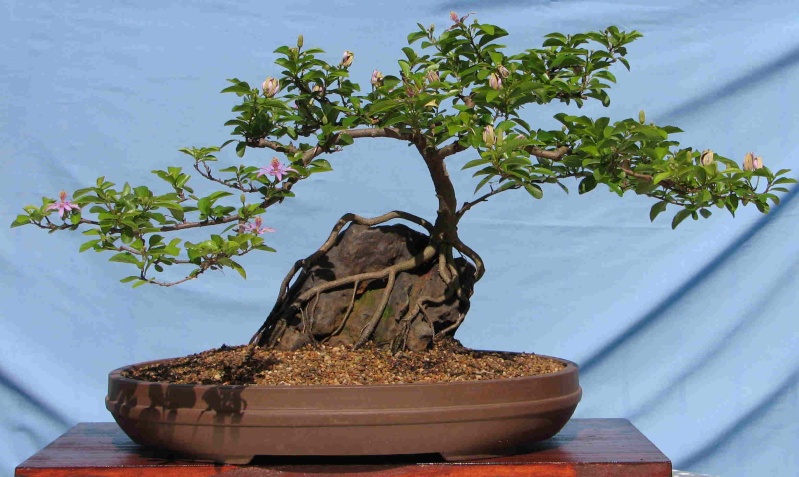 From last week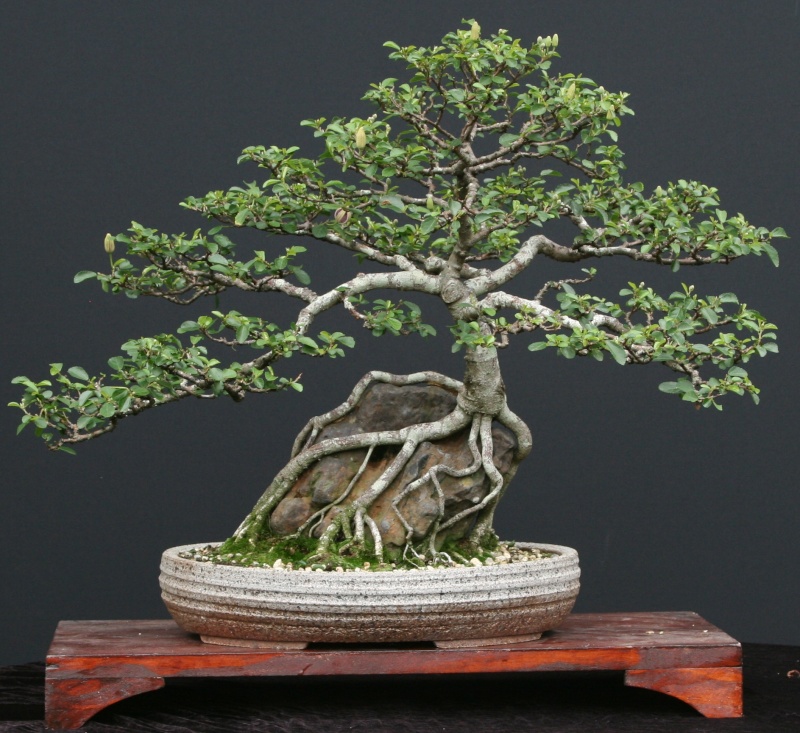 Regards
Steve
[list=1][*]
Hi Steve ,
Simply wonderful !!
Ciao , Daniele

-Daniel-

Member





Time does the job best.

That is the hardest thing to teach someone who is just beginning in bonsai -- and some of us old timers, too.

Very convincing root-over-rock.

JimLewis

Member





Yes very nice progress...time does the job good [as Jim said]

yamasuri

Member





That's developing very nicely!

Do you have any tips on growing/styling grewia? I have a small "pre-bonsai" plant that I'm trying to grow...it puts out new growth and lots of flowers, but the new growth is very short...I cannot seem to get it to grow long shoots that will make the trunk (and overall plant) larger. Keep in mind that I'm in a pretty cold (US zone 6) climate so the plant is indoors under lights from October to May.

coh

Member





Thanks for the kind comments guys.

Chris,
I dont have any secret cures to encouraging growth that I can share with you.
I fertilise regularly as per other trees and find that if unchecked the growth will extend readily. It seems to take a little while to get going but once a branch has established itself as that and something other than a stub, it will extend quite quickly.

The only thing I have noticed for flowering is that if you want to encourage a more profuse flush of flowers then cut off the spent flower the day it has finished and it seems to promote many more flower buds. This can be a bit of a chore, but well worthwhile.

Unfortunately if you constantly keep it trimmed and in check, then you are also likely to be cutting off the flower buds (sorta self defeating....)

Good luck with your tree when the warmer months return

Regards
Steve


Similar topics
---
Permissions in this forum:
You
cannot
reply to topics in this forum