This is one of my favorite foliage plants of all time. The name is Pogonatherum crinitum, dwarf bamboo grass. This is the variegated form, which is even more elegant. I bought it at the Violet Barn, Naples, NY. Glasshouse Works also sells it. It is originally from southeast Asia. I tried dwarf true bamboo a few times, but I can't grow it decently in my conditions.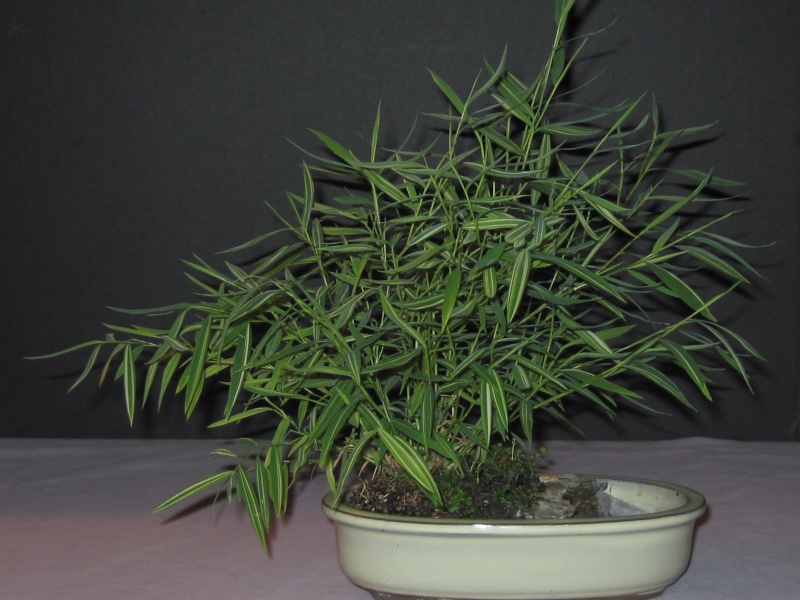 This is sort of a kusamono. The ground cover around it is Nertera granadensis. They seem to like the same conditions. Pogonatherum is said to be the only ornamental grass that grows indoors. It is perfect for a group planting because it is a clumper. It sends out no runners. It grows by sending up more & more stems from the same footprint, until you have this fountain of feathery foliage. (Say that three times fast.)
I bought it last July. It was happy outdoors in part shade, & is equally happy under fluorescent lights. It does seem to like being right up under the tubes. I don't know how well it would do on a windowsill, since my plant room also has added humidity. I water it every other day, because Nertera likes frequent watering. Otherwise it probably does not need so much water.
So far I have not had any trouble with insects or disease, but I am keeping a close watch for spider mites.
I feed half strength fertilizer weekly or less.
According to the literature, Pogonatherum will bloom in cultivation, but rarely. It has little typical grass racemes at the ends of the stems. Apparently it does not need a dormant period. The only other care instruction I found is that when it gets ratty, you lift it, divide, & repot.
I think this planting would be especially fitting as a traditional summer display on a bamboo mat.
Iris
Last edited by bonsaisr on Wed Nov 21, 2012 3:09 am; edited 1 time in total (Reason for editing : Additional comment)

bonsaisr

Member





Iris

I could definitely envision a few mini orchids at the base of that clump, not only for color, but also as a textural change in foliage as well as for adding perspective and depth. Thats if you think they would all work together horticulturally.

-Jay

drgonzo

Member





Sorry, I don't know any miniature flowering plants that prefer exactly the same conditions. The orchids that hobbyists grow are nearly all epiphytes and require a different substrate and drying out between waterings. Miniature begonias & gesneriads require higher humidity. There is a miniature flowering trailer, Lindneria, which requires cool temperatures. I think I'm stuck with the Nertera.
Iris
Last edited by bonsaisr on Thu Nov 22, 2012 2:11 am; edited 1 time in total (Reason for editing : Remembered the name.)

bonsaisr

Member






Similar topics
---
Permissions in this forum:
You
cannot
reply to topics in this forum