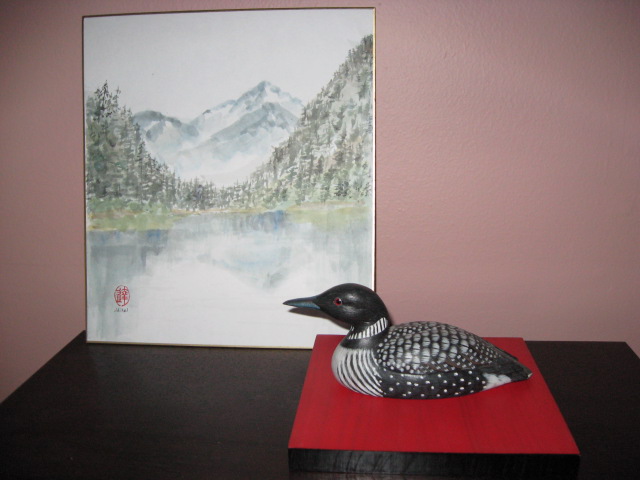 some remodeling in the alcove room halted my abilty to display in there on the scroll. I did want to be able to share my latest shikishi board scene. It's of a deep clear mountain lake that I commissioned because I wanted to use it with the loon tenpai. Atleast
you can see how they go together. I have several american white pine types (limber and whitbark) that would go nicely with the loon and new art.
I have one more piece of art coming, of bull fighting, like the Niigata Koi breeders do in late spring and early summer. I'll share it when I receive it. I have a variety of koi patterned figurines to use as tenpai to go with it. Suprisingly, many of these Koi folks also have a nice collection of satsuki which would seem to be a natural bonsai for the time. thinking a nice shiro utsuri koi figure to use with the colorful flowers. The fish is black and white so it would not compete with the bonsai.

dick benbow

Member






Coupla fighting bulls housed and operated by one of the koi breeders in Niigata

dick benbow

Member






Norma

Member





matsuba...the pine cone....how woud you use that in a display? You couldn't use a pine as your main bonsai as that would be redundant. I like your resource person

dick benbow

Member





I've used this scroll 'shikishi' with a bronze lingbi mountain stone. The white on the peaks suggest winter which is what I wanted with the frosted pine needles. I agree a pine bonsai would not be suitable but a winter silhouette of an understory tree or a winter azalea could be a possibility. My club seldom has winter shows so this shikishi will be used in my home displays for now.

Oh yes, I did want to mention I mounted the picture on art board with gold painted framing. I have several shikishi I purchased in San Francisco which served as inspiration and size guides. I love changing them for the seasons and usually use them for stones.

Best regards,
Norma

Norma

Member





thanks,Norma....I'm finding and it sounds like you are too, that display can best be practiced and enjoyed within the confines of one's own home.
I do think this keeps one's skills active and better refined so when the opportunity for public display occurs occassionally, the skills one develops makes for a nicer prsentation.

dick benbow

Member






Similar topics
---
Permissions in this forum:
You
cannot
reply to topics in this forum