Tom has been kind enough to say he will critique this tree, and I would welcome anyone joining in. It has been grown as a houseplant for 50 years (it was a cutting in the wife's office when she was a sprig of a girl - both have matured slightly over time!). It is 90cm (c.3ft.) tall - 70cm (c. 2ft 6 ins)at widest foliage point. She has agreed that she would be pleased if IBC could suggest improvements in shape, design or style.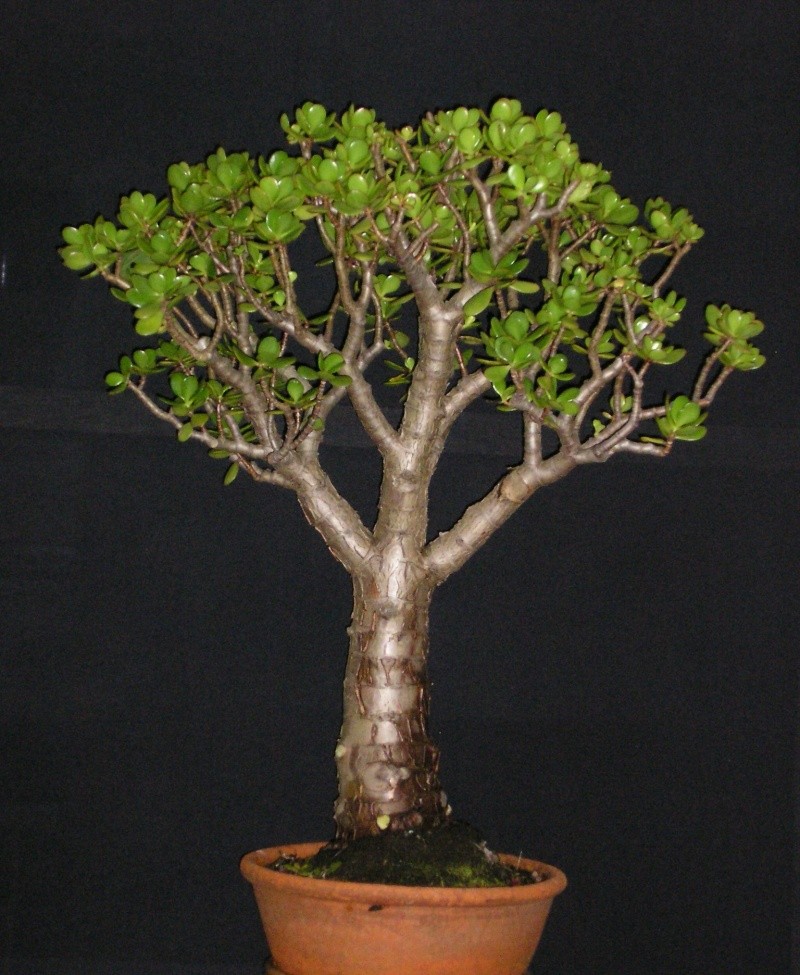 If it is beyond that stage please say so, and it will remain a houseplant. All and any - feel free. Cheers. Rick. p.s. Obviously a new pot is needed.
Hi,Rick...I think this is a fine Crassula specimen...looks like an argentea...I really like the texture of the "trunk." It has quite a history as you have written. I agree regarding the container. After repotting maybe you will want to maintain the tree as is. It looks really healthy and not very leggy. To begin with I would keep the branch tips pinched back...this might stimulate some back budding. It's size now is a bit large for bonsai imo....if you decided to go that route I would imagine a pretty radical reduction would be in order.

I don't know your zone, but here in zone 6 I put my jades outside from about the middle of May to the end of September in full sun. They seem to do well. I fertilize with a low nitrogen fertilizer. Do you have any photos. of yours in flower?

Hope this helps somewhat.

Tom

Tom Simonyi

Member





Hello Tom and thank you for your response. I did think it was a bit mature to restyle, but it is as you say quite a good and healthy specimen. It goes outside the house every year at the end of March, but into the unheated greenhouse until all risk of frost has passed - then into the garden until the forecast says frost. It has just come in today - hence the discussion with my wife, and then yourself. It has never flowered but we live in hope. It has produced many plants from cuttings - and they are generally given away. It will now sit on the southwest facing windowsill in my study until next year. It's been a very wet year over here, but it does not seem unduly concerned and it is in free draining medium.
Thanks again for your help - wish you the best. Cheers. Rick.
Hi Rick, and you are most welcome....it was so nice to hear of the great history of this plant. May you and your wife continue to enjoy it for many years to come...

Best regards,
Tom

Tom Simonyi

Member





Thanks - and now I shall start on her Portulacaria Afra!!

Similar topics
---
Permissions in this forum:
You
cannot
reply to topics in this forum