Here are some pics of the second maple I have in development. As before I've been cultivating them for about 4 years. Two years ago it was trunk chopped and allowed to grow wild for the last two seasons. I cut back most of the wild growth before putting them into cold storage for the winter. I would appreciate any thoughts or suggestions the forum may have for their continued development. The trunk is ~1.5" in diameter and they have been pruned down to about 10" high.
View #1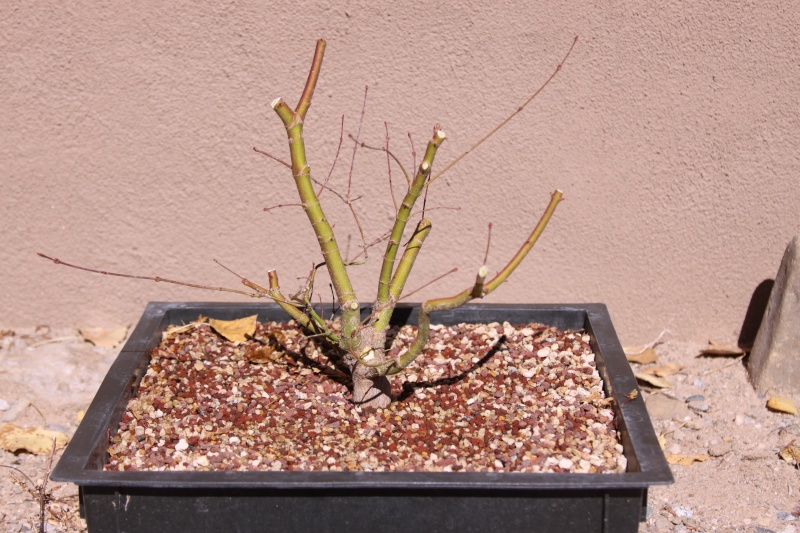 View #2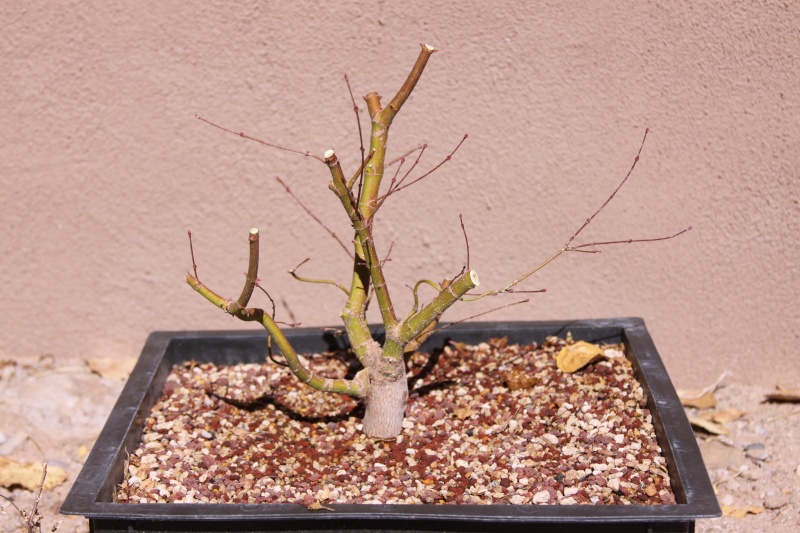 View #3
View #4
Is this Amur maple? If so, then get as much movement into those branches as you can while they are young, they tend toward being straight arrows in normal growth.
This is an Acer Palmatum. Thanks for the tip. I definitely noticed how straight and boring the branches can if they aren't wired.


Yeah, sorry I read this thread before your other one, and then realized it was Palamatum. I do think that both these could use some branch movement before they take on more girth. The do seem a bit straight to me.
Cheers!
Cordon: "I cut back most of the wild growth before putting them into cold storage for the winter."

Although the energy starts to flow down in the roots by fall, most people prune the top strongly in late winter/early spring to ensure maximum budding (since the energy stored in the roots is at it's maximum at that time). Brent Walston has great articles and explains very well how to manipulate plant energy to your advantage.
Nice maple! I love Acer P's. Do you have a shot of the roots? If not take a pic next time you repot. I'd like to see them.
Ian

Sorry Ian, no pics of the roots during the repot. I did do a little bit of rootball editing. I hope those changes continue to enhance the root spread.
I suggest you cut the straight bits back even further to get more movement. You can then decide if you want to cut back to a leader and side branches as in a typical bonsai design or if you want to keep the multi-branch/trunk rounded canopy that is starting to develop and is often seen in maples along the streets. The extreme version of that is seen in some of the images from Walter Pall's thread on Fantasy Trees.

Similar topics
---
Permissions in this forum:
You
cannot
reply to topics in this forum