Hi everybody,
will browsing trough a ton off old Bonsai related pictures, I came across some off the first thing that we ever bought on EBay! It's a stone from China with a amazing clear image of a man on a rock fishing with a rod. Even the fish he caught could be seen! I could not believe my eyes, how amazing was that?! And how great would it be if we could win the bidding battle that would follow when the bidding time was almost gone!!! We did not expect to win this amazing stone, because we figured that everybody out there would want to own it! That we won it for a reasonable low price should have been a warning to us, but we were happy for a while! That was until the stone arrived.......

Below: The pictures off the stone as shown on EBay. Height about 28 cm/11 inch.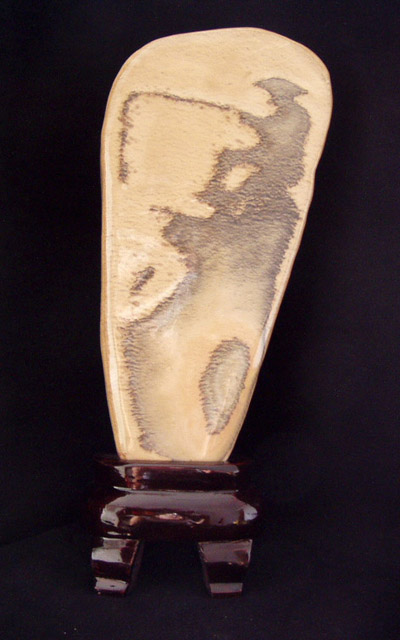 It was.....it was.... soooo obviously hand made!!! And not even that well!!!

Like I sad: There is a sucker born every day!!!!
I can laugh about it now, but then.....boy was I
!!!!! I was soooo mad, that I did not touched Chinese food for at least a few days!!!


Cheers,
Hans van Meer.

Hans van Meer.

Member





buyer be ware, we've all be there,
my first eBay looked too good to be true,
and it was...
I bought a "chrysanthemum" stone on E Bay that the chrysanthemum was painted on.

Billy M. Rhodes

Member





Hi Hans
Many of us has tried it...it is some of the learninglessons we have to go through. Buying from photos can be difficult.
Also, even if you have the stone in your hand...they will always find a new way to trick you....you have to be really sharp.
Your stone was maybe sold as a piece of art, just like Bills stone....and not sold as a natural stone (fraud.)
Who knows
Kind regards Yvonne
So far we have been fortunate buying on line and particularly on ebay (not that we have bought that much). Only once did we receive a "second" that was sold as first line All Clad. I think that seller has been removed from ebay.

I have several chinese stones that I have been watching but have been hesitant to pull the trigger and buy. The seller was recommended to me by someone who had bought multiple times from this seller but am still hesitant. I think I feel better buying from those who have a positive reputation in the bonsai/suiseki community.

Sorry you received inferior (fraudlent?) material.

rdennis

Member





Hi Rdennis

I used to buy chinese stones on Ebay...I am no longer interested in this, as I think the stones, I find in the nature now, much more pleassent...They come with a nice Story.....
Back then was the dollar and the yen VERY cheap, and the euro strong....stones was very affordable.

It is safer to buy from sellers with good feedback, no doubt about that, and if they have "buy now", is it not unlikely they give you a discount if you ask, also is the packing of the stone nice and safe....

But back then, there was a seller who had the most lovely natural High class stones...and I bought more than a handfull here, as they was VERY cheap, also the shipping.
From this seller did I buy them one at the time, as the stones was so poorly wrapped, that some of them arrived broken, and was sadly thrown out....to have more stones in one parcel, was not a option...Despite the inbetween broken stones, was it a treat to buy from him, as if they arrived safe, did I have a very nice stone....and very affordable oo.
This seller had so much poor feedback, he closed him self, due to the poor packing.
Hes stones are still my favourites.

Also was there back then a stoneshop in China, with classy small gobistones in nice daizas...( my avatar)...it was a more expensive shop...here I bought two....This shop has closed, I think it was too expensive.

I had one very "funny" experience with a another favourite stone of mine, I bought in China on Ebay...again a very affordable fantastic stone....See the largest stone in "my gallery", placed in a daiza I made.
It had been thrown so many times arround in the shipping, that the soft box it was placed in, now was soft like a pillow, and all the chips was in the one side....I could feel the stone inside, through the box....my hart almost fainted....The stone was intact, nothing had happened....five minutes more in shipping, and it had been broken.

Theese days is both the yen and the dollar very expencive, and I would not have been able to have all this fun theese days... it was a nice short chapter in my life, one of the more funny and enjoyable.

Kind regards yvonne





Similar topics
---
Permissions in this forum:
You
cannot
reply to topics in this forum