This Dwarf Alberta spruce '
Picea glauca
'Conica,' bonsai was originally worked on during workshops conducted by Yuji Yoshimura and was from the collection of Lucille Miller. It was displayed in the 2010 US National Bonsai Exhibition and is now in my collection and care. My friends and I are preparing many of my finest bonsai for photographing for my new book. Yesterday while we were cleaning up a Dwarf Alberta spruce we discovered an unusual growth with a cluster of short needles and lots of buds. This natural formation is called a "Witch's Broom" and is the source of many dwarf and unusual plant cultivars. For example, the Little Gem Spruce resulted from a witch's broom from the common Bird's Nest Spruce.
As can be notice in the attached photos the witch's broom is young, about two years old and it will be carefully watched to see how it develops, it may become interesting with the short needles. Now, if it would hold new shaped after wiring, it would be GREAT!
Bill
Dwarf Alberta spruce
Close up of witch's broom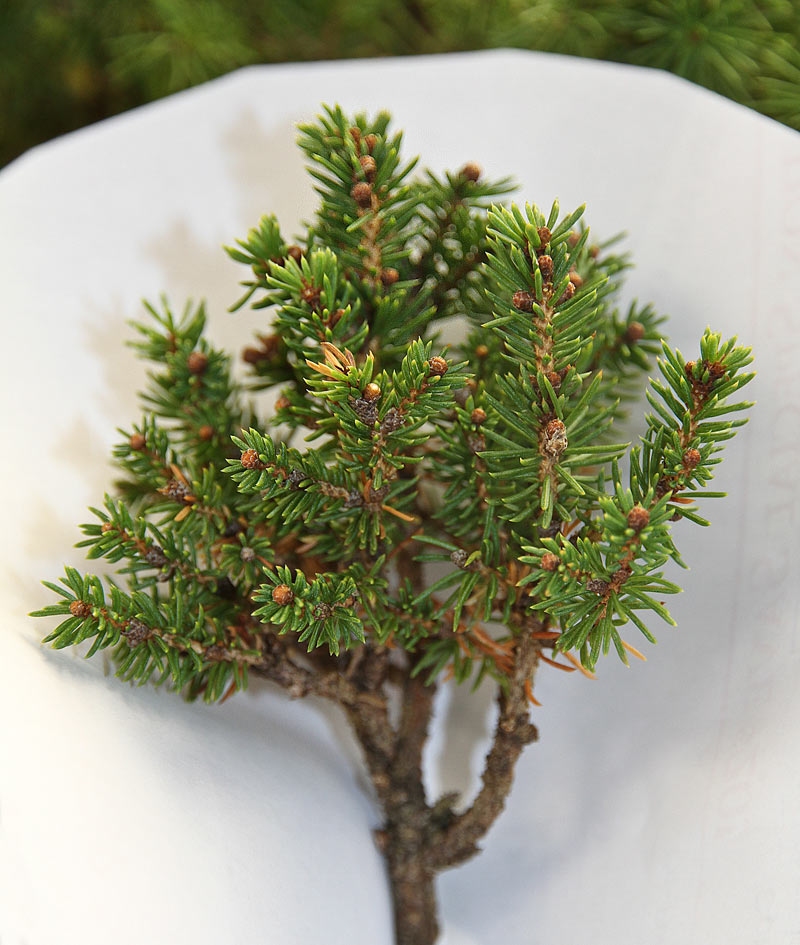 Witch's broom detail

William N. Valavanis

Member





Hi Bill, this must be a 'First' In bonsai, I have seen witch's brooms in the wild... well spotted!
Bill,
Not sure if you've seen this (or if this is true)....
http://www.doorbell.net/lukes/a010501.htm
"It has been determined that a very tiny parasitic plant, the dwarf mistletoe, is the culprit that grows on the twigs, eventually producing wounds that completely change the growth characteristics of the infected part of the tree and eventually the entire plant. Gradually the rate of growth of the branch on which the mistletoe has invaded becomes so thick and bushy with extremely rapid-developing twigs that it literally grows the tree to death, much like a cancer.
Unfortunately once even a small bushy witch's broom has been discovered on a spruce tree you can be assured in most cases that, because the "infection" is systemic, the tree is doomed."

Poink88

Member





Very cool Bill, will be interesting to follow this. Would it get it's own cultivar name?

@tony, I believe I have a dwarf zelkova that was a witches broom off of a normal bonsai zelkova. It was made by Anne Spencer, when I bought the tree, her well kept and meticulous notes came along with it, and it would seem that it was a cutting off of a normal tree, but a bonsai. Along with the notes came some photos of the parent tree, I'll take a look when I get home tonight to be sure this is the case.
well that explains what the term"witches broom" means thanks...at least you dont have to climb the tree to get this one

-keith-

Member





Yes, IF I decide the new variant is worthy of introduction I will name it and that will become another cultivar of Dwarf Alberta spruce. I already have a name selected...

Yes, it's a good thing (for my feet) that I don't have to climb the tree to get propagation wood. Decades ago I was up a tree next to the Long Island Expressway taking cuttings when the police caught me. Fortunately, I was able to talk my way out of the situation explaining that I was simply taking cuttings so others could enjoy a new rare plant.

Some plant hunters will find a witch's broom and propagate a few plants then return to the original and kill it so they will become the only source of the new plant. Not too kool!

In 1970 I introduce the Dwarf Japanese zelkova, Zelkova serrata 'Yatsubusa', from Japan into the American bonsai community. This cultivar rooted easily and grew very twiggy with smaller foliage. Unfortunately, I don't have specimens any more.

Bill

William N. Valavanis

Member





Well once I looked at the photos, it's just an airlayer of a dwarf zelkova. So it would seem that I have one of your progeny of yatsubusa. It was an airlayer done in 06. Nice plant, thanks!
Dear Mr. Valvanis:

I am a member of the Midwest Bonsai Society in Chicago and had the opportunity to meet you there a couple of times........ formerly on the Board and Editor of the Newsletter.

I observed that your treatment of this tree [Spruce with Witches Broom] that you allow the challenging branches of this tree to exhibit some upward movement and do not appear to want to fight the resistance of this tree to maintain downwardly wired branch positioning.

Is this your intention or do you periodically wire everything down.

Best regards,

Daniel Dolan
Chicago

Similar topics
---
Permissions in this forum:
You
cannot
reply to topics in this forum