Hi Everyone
I am new to the forum
and would appreciate any help/advice given on this Baobab
I have no experience with baobabs and would like to know the way forward where to cut and so on
I have it in a plastic pot just to see if the stem will thicken
also are the rocks around the pot are there because my cat decided that this was going to be his toilet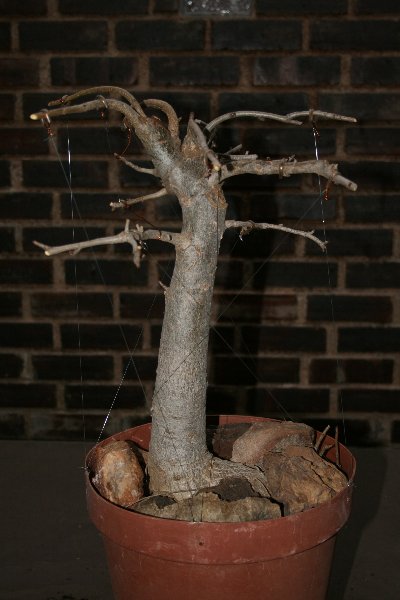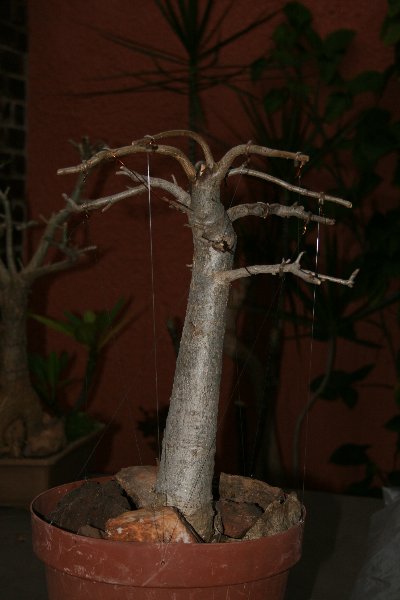 If you're in a winter rainfall area, just make sure that it gets absolutely no rain during winter. Many down here in the Eastern Cape are over wintered under cover.

Marco Giai-Coletti

Member








Welcome to the forum. Wish I had one like that.

There are baobab discussions already on the forum, you should be able to find them with the search bar at the top of the page. Keep us posted!

R

Russell Coker

Member





I think you have a good start there, turning the baobab in a Baobab style....ooo original!!
The buds should start swelling about now, as soon as the buds burst, get rid of the cat litter soil, transplant it in a rich very well drained soil, in a very big pot, put some bonemeal and rapid raisor in the soil. Let it grow as much as it can.. the roots that is, still keep trimming your top. Wounds heal very fast.
It does very well when you cut the roots back later.
As Mario said NO WATER IN WINTER!!
Also it wont grow indoors.
Remember a Baobab is the worlds Largest Succulent!! Treat it as such.
It will help is you say where in SA do you live? Welcome to the Forum.
Love and light
Andre

Andre Beaurain

Member





Thank you all for your input,I know that I must not water in winter and I only keep it indoors in winter .In summer I keep it in full sun.Andre I stay in Johannesburg and have had this baobab for a couple of years,I will re-pot as you said to a bigger pot.must I do it now or wait for the buds they normally start shooting towards end Sept.also should I cut any branches or leave as is.Thank You once again
But you dont get rain in Winter in Joburg. So why do you keep it indoors?

About cutting the top, I'm not the bonsai expert here, all I know is my own taste, and I wouldnt cut anything for now. I think its going to be great.

Wait for the first green leaves to appear. Before transplanting.

Andre Beaurain

Member





It's lekker to see some more of us joining the forum!

Marco Giai-Coletti

Member





[quote="Andre Beaurain"]But you dont get rain in Winter in Joburg. So why do you keep it indoors? Frost
Howzit Chinas!

First thing I'd do is start looking at photos of attractive wild baobabs on the internet. There should be good styling cues out there for you!

Cheers,

Andrew

Similar topics
---
Permissions in this forum:
You
cannot
reply to topics in this forum