I'm not completely sure what this is, some kind of chamaecyparis or thuja.I would love a definite ident. It was a completely neglected garden potted plant when i rescued it and have been nursing it back to life. I just noticed tonight that some of the tips are a little brown and i'm not sure what it is. It could do with a repot as the soil i used is a couple of years old now and there are liverworts stating to grow .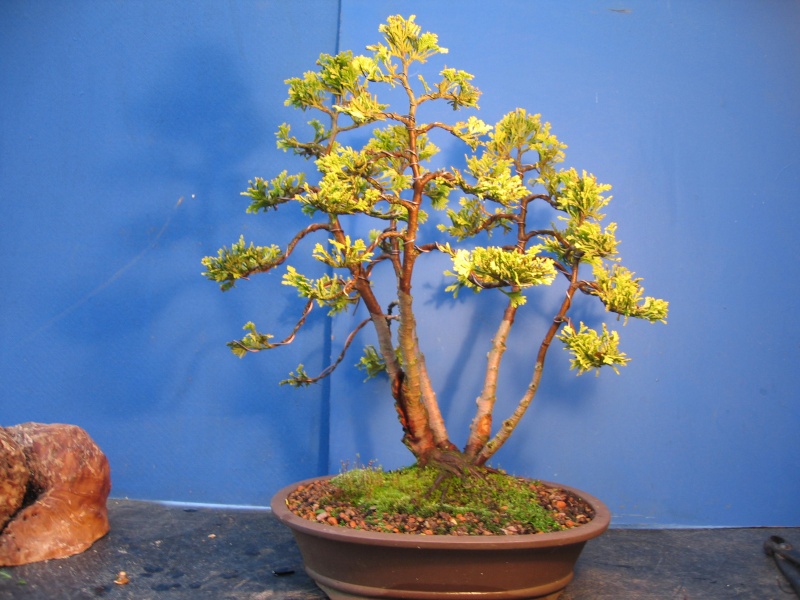 Smithy

Member





I'm afraid I can't help with the ID, but the brown tips on the foliage and the liverworts suggest overwatering. I'd try keeping it a little drier.

Tom

Member





That probably means keeping it under cover for a while with the amount of rain we seem to be having at the moment. I haven't watered it manually for a while . I think you are right though as it does seem to hold onto the water. The soil was a bought one last year and i found it did go a bit cloggy . I have used mainly cat litter this year and found it a lot better.

Smithy

Member





I see no brown tips or liverwort, and I've got my reading glasses on! It appears healthy to me and the moss is inevitable in the UK this summer. OK, Wales most of the time!

_________________
"It is not the strongest of the species that survives, nor the most intelligent. It is the one that is the most adaptable to change." - Charles Darwin.

Kev Bailey

Admin





The liverwort is around the back near the trunk but i have been picking it out. I took a lot of the moss off around the edge as it was taking over. Yes the moss grows freely around here.
I must say the brown tips were not on the really new growth so i wasn't too worried . I'll get a close up tomorrow.

Smithy

Member





Looks like a golden Hinoki or a thuja to me.
I was going to say one of the false cypress. Looks OK for the time of year to me.
_________________
Jim Lewis - lewisjk@windstream.net - Western NC - People, when Columbus discovered this country, it was plumb full of nuts and berries. And I'm right here to tell you the berries are just about all gone. Uncle Dave Macon, old-time country musician

JimLewis

Member






luciano benyakob

Member






Smithy

Member






Similar topics
---
Permissions in this forum:
You
cannot
reply to topics in this forum