Dendrogeek wrote:Marcus, can you expand on the type of bark you use? I know that the bark products in the UK differ from those in the USA.
Hi,
I use a fine chopped Douglas fir & pine bark that comes already sieved to a very useable 5-10mm. It is an excelent high quality product with no mess, no waste etc. I tried buying big sacks of micro landscape bark but it is a very poor comparison, needed loads of sieving and at least half is too big.
orchid/bonsai bark
cheers Marcus

marcus watts

Member





it must be a year now since the tree went through the styling so here is a bit of an update.
winter; I left the tree out in the most exposed part of the garden and the foliage took on the bronze/brown appearance you see on japanese trees in winter. This followed a chat I was having with a friend where we said how virtually all the western bonsai junipers you see stay green year round - this got me thinking that we are potentially over protecting these trees.
the late spring here meant the tree was still bronze in early May ! and i must admit to looking a lot closer than normal at the needles to make sure they were not actually brown - what a difference the next 8 weeks and a mini heat wave makes.
Here was the tree 6th july - un-pruned so far this year, just letting the new buds extend. i think this is the most important part of the trees calender as it puts on vital strength from this period of free growth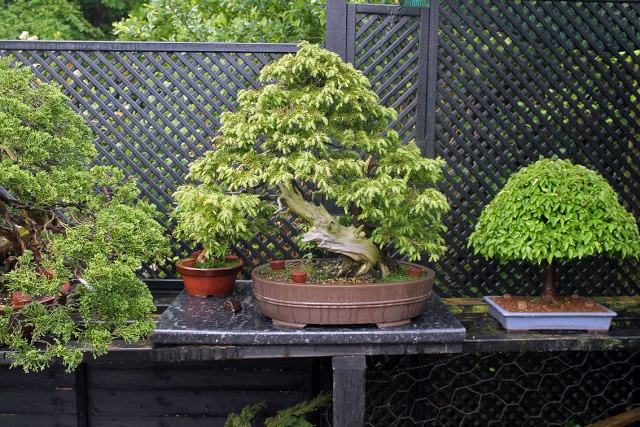 a week later i have pruned back the new shoots with scissors to the required lengths in the upper and middle tree while the bottom branch is preserved 'as is' to give it a few more weeks strength building. I moved a cheating branch that was coming from the main trunk all the way across the 2nd trunk (behind it) so that the original tree had foliage in the lower right area - the branch was old and hard so i split it 50% so that it would move out of the way and become a back branch - the split was sealed straight away and the foliage left unpruned so it stays strong and heals fast
one week after first picture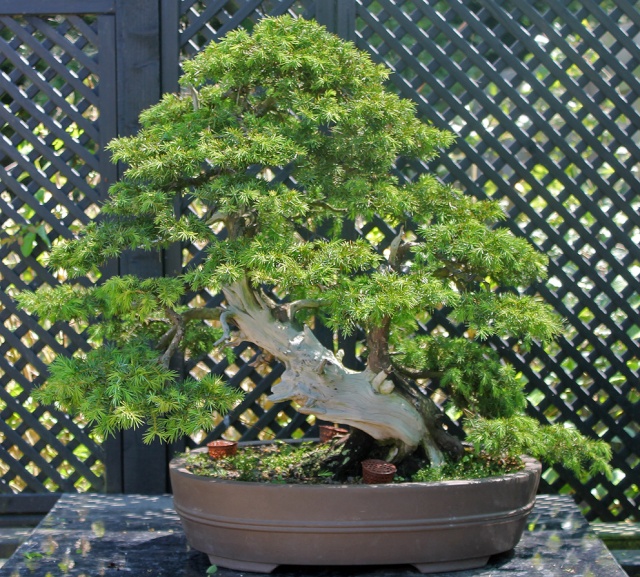 next year i will repot again as i have changed my thoughts on soil mixes - a little research seems to show that bark depleats nitrogen as it slowly breaks down and i started asking myself why it was in the mix...ie what purpose was it providing ? my simple akadama, pumice, kiryu blend is giving best results so i'm sticking with the proven mix that visibly works rather than one that has additional bits added.
cheers

marcus watts

Member





Hi Marcus,

I agree with you about the next repotting. I wouldn't use any bark at all.

I lost a Itoigawa over the last few years due to the breakdown of the bark in the mixture.

Perhaps you can use your mix of 30% Akadama, 30% Kanuma, 25% expanded fired grey clay balls, and see how that works.

I've certainly changed my mind set concerning juniper mixes. I transplanted some of my larger Shimpaku that were turning yellow on the tips of the new growth

into a mix with no organics in them and they are bright green as they should be.

I'm using Boon's mix:

1/3 sifted "soft" akadama
1/3 sifted red lava
1/3 sifted white agricultural pumice
Some horticultural charcoal

It's a great mix for Shimpaku.




Again, very good looking tree!

Gary Swiech

Member





Hi Gary,

yes bark has no valid place in a bonsai pot i feel - just on the tree !

the fired clay balls are out for me now too - they are too large and being so light they shift while watering . i've noticed the top section of the pots not having many roots when using this mix yet my trees in a soil made up of totally even sized heavier particles are rooted solid top to bottom. This last year i've taken more care to sieve my soils using the standard 3 sieve set and now use the particles that sit on top of the middle size for the lower aeration layer and the particles that go though this sieve for the rest (minus the dust) - it is very firm and very even sized - trees potted this spring are very happy in it too.

cheers Marcus




marcus watts

Member





Thank you for your detailed account of this trees styling. I particularly found the part about, allowing foliage to grow during early summer and then trimming them to harden up for winter, very interesting. I've been told in the past not to trim junipers during their main growth cycle and wait, and it's those little things that you said which clarifies understanding further. cheers.

---
Permissions in this forum:
You
cannot
reply to topics in this forum