October is a great time to find cheap plants in nurseries like Home Depot. Almost all plants were on sale last year... the below Japanese Spirea (Spiraea japonica 'Goldflame') was originally priced at around $28 and I got it for $7. It was growing in a 5 gallon pot.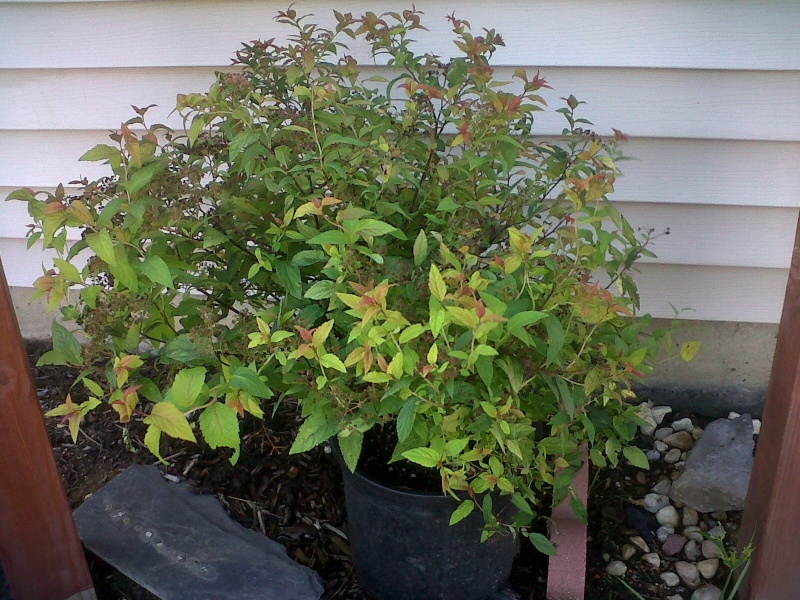 Below is the same tree after heavy pruning this Jan.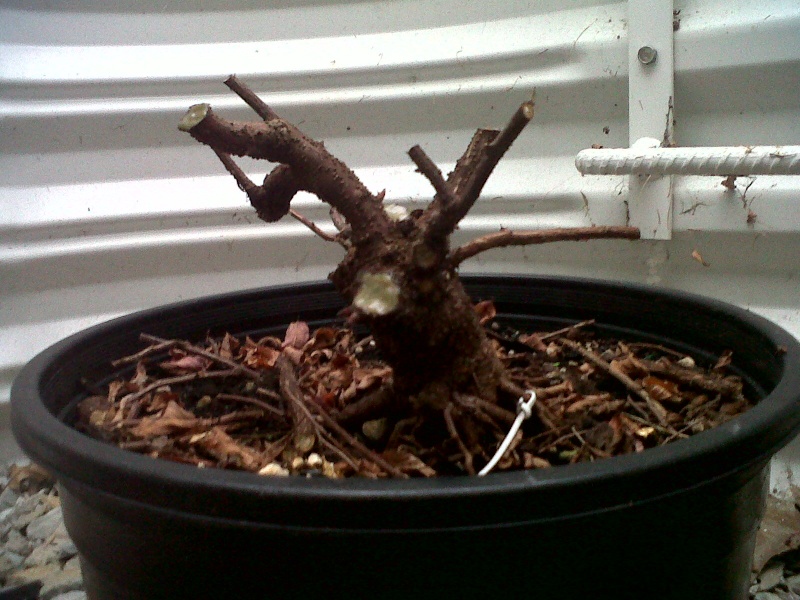 When repotting, the 5 gallon pot was pot bound with a heavy matt of root mass. I sawed off majority of the root mass and combed/trimmed the remaining roots to allow for air and water through it. I planned to pot it in a Kazuhiro (Ikkou) pot since it complimented the dark bark color. Here is the tree as of today (responding well to the drastic root pruning).
By summer, I am hoping to get enough foliage to create a nice silhoutte that fills the canopy. In the below picture, I outlined the canopy.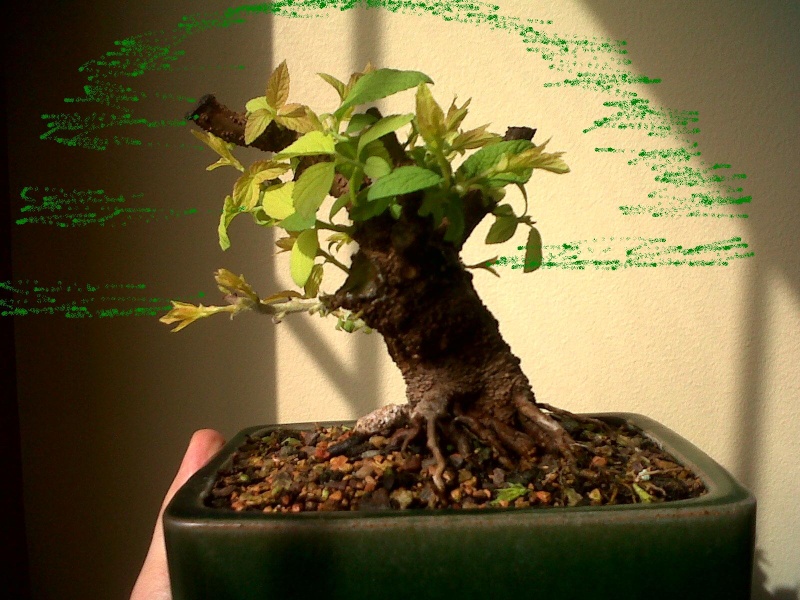 Let me know your thoughts and concerns.
- S
looks like a great candidate for shohin

I did the same thing last fall at several nurseries in order to get some candidates to shave down to shohin


dick benbow

Member





Oh...
This reminds me of the Gold Mound I killed last year because I worked it too hard at the wrong time. Oh that tree had such a trunk!

Word of caution, go easy on the roots..but you have done your work at a more seasonally appropriate time, great little tree!
-jay

drgonzo

Member





Dick,
Thanks for the kind response.

Jay,
It is very hard to find a Spiraea with a single trunk, leave alone a nice trunk. Hopefully, it wasn't a pricy mistake. Although I did the top and root pruning at the right time, I am still monitoring its growth very closely and babying it with the right amount of water, mist-spray, and soon fertilizer.

Next week once the temperature stabilizes above 40F, it will go out on the bench with full sun.

- S
The 24 dollar lesson I learned with Spirea was that once they gear into flowering mode they shouldn't be worked hard until flowering has finished and the plant reverts back to vegetative mode. For me it was mid june. If I had let the plant finish flowering I could have cut it back very hard and had a good response of new growth.
I'll never love another spirea like I did that one...

until the next big trunked beast comes along that is.....

-Jay
The "gold" cultivars tend to produce single thick trunks, I generally only look at those when I'm out cruising...

drgonzo

Member





Bonsai4Me has a detailed account of training a shohin Spirea.
Iris

bonsaisr

Member






---
Permissions in this forum:
You
cannot
reply to topics in this forum