Hello has all,
I have presented this juniper to you that I have since three years. I did not find too much inspiration to form it. Here my last work on him.
2010

2011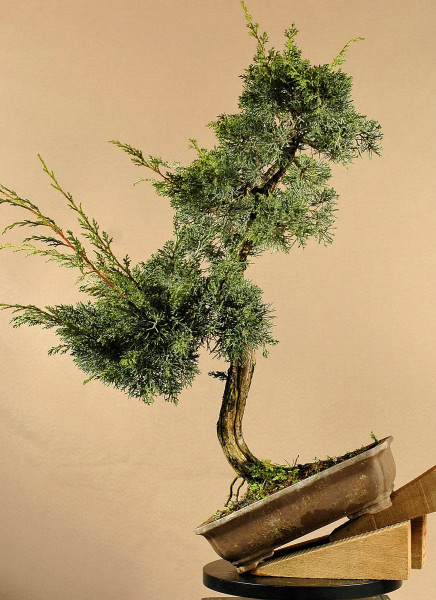 I decided to work it in this angle to give him more movement.
I cut this low branch which seems to me really badly placed.


I clean the whole of the trunk and I brush it to emphasize the veins.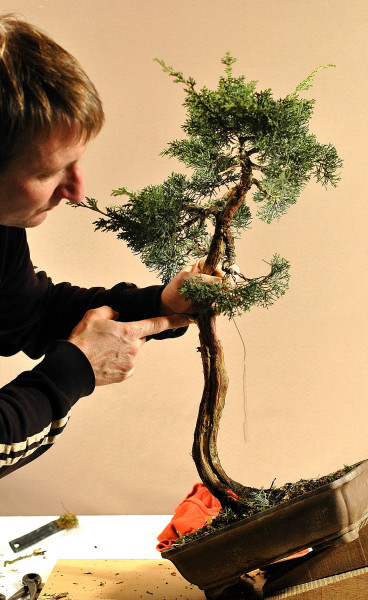 I position the whole of the branches by posing binding. I refine a jin a little higher.


End result… next stage repotting!!


Nejikan

Member





hi,
speaking totally personally i find pictures of the trees much nicer than pictures of people posing while working on them...... (to set the camera up or get someone to take your picture while holding the tools is all a bit ????.........).

As you say though a tricky material tree to start with but for me there was a lovely tree to be made from the branch you cut off - i'd have cut the top off, carved a short but curving jin and leaned the trunk over, making the branches and apex from the one bottom branch. With a shari curving up the trunk to join with the jin it would have been a very nice juniper.

The bits still left are not doing anything for me as they are, but if i can bend the trunk a lot with photoshop...............back soon

Marcus

marcus watts

Member





Hi Fabrice
Good job the first styling. Maybe a little tilt to the right. Just to maintain the best roots.


Gretings Pavel

Pavel Slovák

Member





Salut Fabrice,
I agree with Pavel. The angle of the tree would look better, slanted towards the right, like in the first picture. The roots look more natural and give stability to the tree. Nice Literati potential!
Best,
Todd

Todd Ellis

Member





Hi all,
It sometimes happens to me to work in team, but here, I made my photographs only. The cameras are very practical and that does not pose any Marcus concern.

Thank you Pavel and Todd for your idea, I will correct that with repotting without problem.

Nejikan

Member






---
Permissions in this forum:
You
cannot
reply to topics in this forum