I have posted this composition before but am still tweaking it....I changed the angle of the suiban completely because I wanted to create the impression of a person(s) approaching the beach. The material below the water line was fashioned from a mixture of clear epoxy and sand. It has taken me quite some time to get to this point, but I am pleased with the composition. I welcome input as always.
Regards,
Tom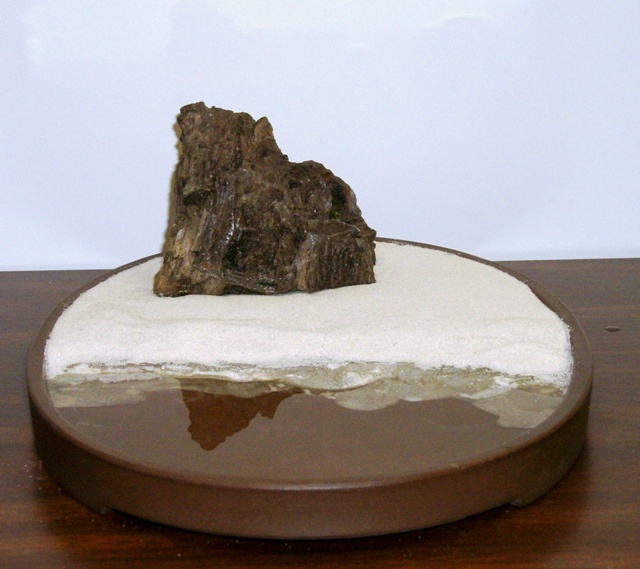 Tom Simonyi

Member





Hi Tom
It is is pretty little naturescene, with a little ying and yang ower it, and if you are happy about it, can I understand.
But it has for many reasons nothing to do with exhibit of suiseki. I think you know

Kind regards Yvonne
Yes, Yvonne....and thank you, I fully understand what you are saying....regarding suiseki I realize this composition is way outside the box to be considered as such...my passion for creating it was driven by my love for the peaceful nature of beach settings. If others share a love for such settings they may enjoy it...that is why I shared it.

Best regards,
Tom

Tom Simonyi

Member





A somewhat more pleasing angle I think.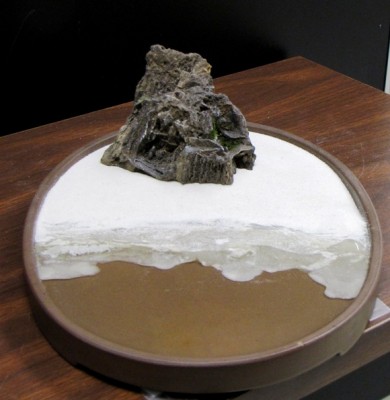 Tom Simonyi

Member





Hi Tom
Your stone look lovely...but the presentation looks wierd to me....I guess I am too stuck in traditionel suiseki

Kind regards Yvonne
I like things that are a little different, especially if they are shared with other tradional methods of display. I say that while shuddering when i think of stones on cushions. I don't know why but that offends me. a friend of mine
brought a little creativity to his frog stone by making the daiza look more like a lilly pad.( t op left in the pic) Different, it was displayed at our show
in conjunction with Bon Odori at the White River Buddist temple, this frog was a big crowd pleaser.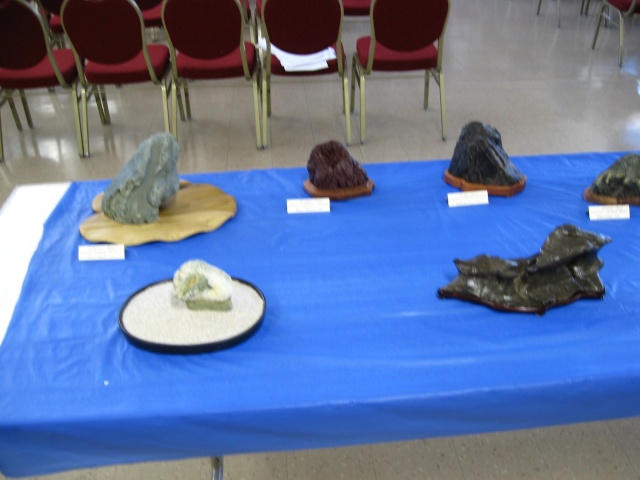 dick benbow

Member





Hi Dick
Do you have better photos?, I would be happy to have a closer look at them all
The frogdisplay is diffrent from the other stones...but it is still traditionel.....traditionel is many things

maybe you never saw a very good stone on a very nice cussion....This is really old tradition, as far as I know is it originated in China.
Kind regards Yvonne
Thanks for the info on the cushions...thought it was more of a modern day development. So now maybe i can be more tolerant ( but I still don't like the looks

)


dick benbow

Member






---
Permissions in this forum:
You
cannot
reply to topics in this forum