All,
I have had this old japanese suiban for something like 20 years and it was old when I procured it. I have decided to use it for a forest that I'm working on and would actually like to know more about the pot maker and his history. I have been able to identify the pot maker as Mr.MIZUKAMI Shinji of Japan but cannot find any information on him and the timeframe he was working as a container maker. I bought this container at an auction in California from the estate of Bob Kato who must have run a bonsai nursery in Belmont, CA. I don't know if Mr. Kato was a member of the San Francisco Bonsai Society or not but it's highly probable. I'm also very intrested to know from those of you with more information about whether this is one of those collectable kind of pots. I have included a picture of both the container and how I plan to use it for a Trident forest as well as a picture of the chop mark. Any information on the pot maker, age of the container that anyone might have would be greatly appreciated. I love knowing the history of things.
Chop Mark
Last edited by Randy_Davis on Mon Nov 14, 2011 7:59 pm; edited 1 time in total

Randy_Davis

Member







Randy,

I find him using 3 chops and a signature. The first reads "Suishou-ensei" and the other reads "Hekisui", as does the signature. Although it's on the Tokoname page and the bonsaipotplaza page, this chop isn't in my Tokoname catalog from the '80's that I translated. I think I'd wait until Ryan comments before I'd drill any holes in it.

Russell Coker

Member





Thanks Russell,
I have no plans to drill holes in the pot at all. It's only a 1 inch depth container and the tridents will do fine with some bottom moisture. In addition to the chop mark it also has an ink stamp on it that seems to say "cheristar japan" enclosed in what looks like an azalea flower outline. Not sure what it means or if it has any significance but it's there. Here's a picture of it.


Randy_Davis

Member







I kinda figured that was your plan.

As far as the ink stamp, I've never seen that before. Maybe it's the importer/exporter(????).

Russell Coker

Member





I have a small pot with a similar chop/mark.. It also reads CHERISTAR then CHINA and under CHINA, it seems to also have JAPAN at the bottom. The plant is a small cascading Toyo nishiki quince.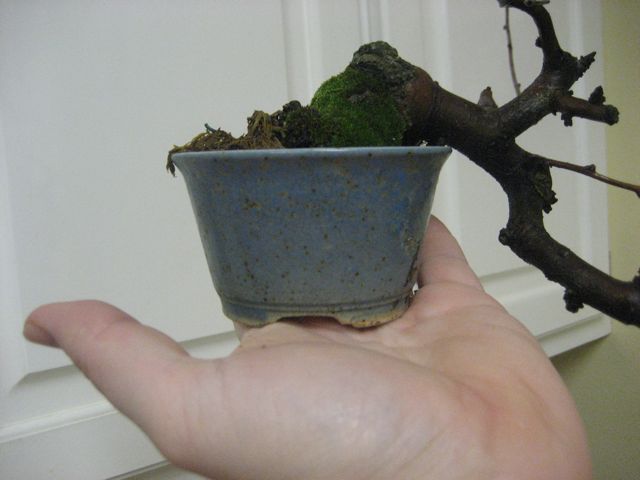 That's a great little pot Lawrence. Does it have any other marks?

The more I think about it, it seems that someone asked about that mark here before - or was it the old forum??? I need a bigger memory card.

Russell Coker

Member





No other marks except for some ink-printed dimensions.
Hi Randy, and everyone else!
As Russel and Randy indicated, the pot is a Suishoen Hekisui pot. They're not especially valuable in any form or size, Best as I can tell, Mr Shinji made production pots and was never a "master" as designated by the gov(tee hee, neither are some of the best potters of the modern generation!) In my opinion they're of better quality than similiar era production pots, for the size. They go at auction in Japan for between 1500-5500¥.
Now on to the Cheristar mark. I've found maybe 3 or 4 score pots with this stamp, of varying degrees of production quality, every one located in the west. From mid range Tokoname to cheapo Mizutani and even cheaper Molded Chinese and Korean. From this I've deduced that "Cheristar" was a Japanese export company that operated in the 70s and 80s, though these dates are exclusively deduced from approximating the age of the pots I've seen.
http://japanesepots.wordpress.com/
---
Permissions in this forum:
You
cannot
reply to topics in this forum