At the recent GSBF convention I ordered a new Suiban for the stone from Jim Barrett. The new suiban will be 2 inches longer and Deep Green in color.
I thought I might share the stone today. It is uncut.
[img]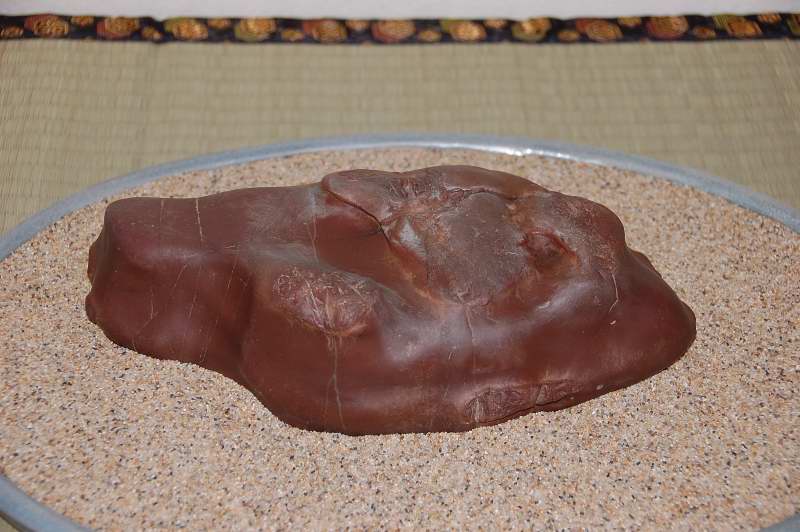 [/img]

al keppler

Member





Will the new suiban be deeper too? I'd opt for a tray two or three times deeper than the one in the photo.

Did you show it wet?

Mike Pollock

Member





It will be about 3/8 inch deeper and no rim.

I have not shown the stone in an exhibit yet. It will be featured in this years Toko-Kazari at the Lee Institute for Japanese Art.

http://www.shermanleeinstitute.org/events/kazari2009.html

Jim Gremel won last years event. It is judged in traditional Kei-do. Yes, it will be shown wet since it will be in a suiban.

al keppler

Member





BTW the scroll is painted by Shunjo in the year 1859. It is the original mounting.

al keppler

Member





Hi Al,
Thank you for posting.
I very much like the feel you display evokes.

I agree with the suiban size changes.

The scroll is very fine. Is there a reason the stone and scroll are not centered?

Jeremy

Member





Hi Al,

This a gorgeous stone .... I'm really envious of the wonderful collecting rivers in your area. I'd love to know from what river it was collected !

I love the subtle scroll with this dynamic stone but I agree with Mike that the stone needs a deeper suiban. The deep green sounds like a perfect choice. Also to complete the formal display I'd recommend a stand or slab under the suiban.

Thanks for sharing and I hope you show us how it looks once you receive the new suiban.

Norma

Norma

Member





Hi Al

Is the stone is red jasper in chalcedony?

That is beautiful one I 've ever seen. I also think that It needs a bigger tray.
Thanks you for sharing.

Best regards,
HuuHiep

HuuHiep

Member





---
Permissions in this forum:
You
cannot
reply to topics in this forum