Judge for yourselves via pics below.
I wrote an article about this a few years ago which is here
http://bonsai4me.com/AdvTech/ATJapaneseWhitePine.htm
The pruning/needle plucking method outlined there is very effective.
I cut loads off this at the weekend but it's still a little fluff monster and trending towards a bog standard Japanese style tree but I can live with that.
Any comments welcomed
thks
TimR

wabashene

Member





I'm a super-noob in the bonsai world, but from my very un-educated eye, the 2011 picture looks much nicer than the older pictures...so take that for what its worth.


parabellum_9x19

Member





hi,

i'd say more still needs removing to create actual branches in layers with the all important spaces between them. there are probably a few too many actual branches for a compact tree so the overall siloette is still one of bushy needles all over. If the main branches are selected and the pads wired down a little to make domes it will instantly look more tree like and refined.

very nice piece of material to work on though, and nice and healthy too.

best regards Marcus

marcus watts

Member





Yes thankyou both.
This was purchased as a long term project tree and -Yes- there will need to be less of it ultimately.
I still need to pull a lot more needles in the strong areas this season
There is quite a lot of secondary branches developing now (red) would allow cutting back of the larger branches (yellow) and give a more compact image.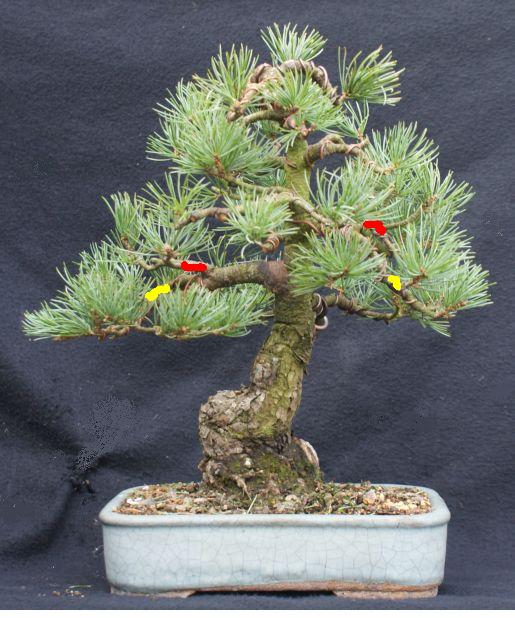 I also think it might benefit from being out of the Gordon Duffet pot (nice though it is) and in a pond basket , or in the ground even, to hasten development esp as this is not ready for a pot by any stretch of the imagination.
Possibly also a bit small - barely a foot high- to be really convincing.
60th B'Day coming up and I wonder if I could pursuade my wife to buy me a bigger one seeing as I seem to have acquired the knack of working with these

thanks
TimR

wabashene

Member






cram

Member





Sure, the nebari isn't so beautiful, but I like it in informal upright...
A good example of work for many years...

hin175

Member





Hello Mes amis.
Sebastian. C'est possible. Pas la première fois que quelqu'un a fait cette suggestion.
That's about as far as I want to go in French.

I know you have at least one good shohin JWP posted here
http://ibonsaiclub.forumotion.com/t4086-japanese-white-pine
so are aware of the strategies needed.
I've always seen this as an upright tree -as hin175-but it also has an annoying shallow
"C"
curve to the left all the way up which may need some radical treatment soon.
Thks for your input - much appreciated
TimR

wabashene

Member






---
Permissions in this forum:
You
cannot
reply to topics in this forum