Ka Pabling

Member





Hi Mr. Ka Pabling,

Very interesting, indeed! I have read some discussions about using them as bonsai. But this is the first time I have seen anything as interesting as these?

Are they some kind of dwarf coconut? How long can you hang on to the shell? As a boy, I have planted quite a few full size coconuts in my grand-mother backyard. I do remember they break a shell after reaching certain size.

Did you actually somewhat shine the shells too? I love to see them again in a few month times.

Best regards.

PROTONWIRA

Member





Problem is they can't be pruned because they are monocots.

Billy M. Rhodes

Member





Here is my pygmy date palm, Phoenix roebelenii, in 2009.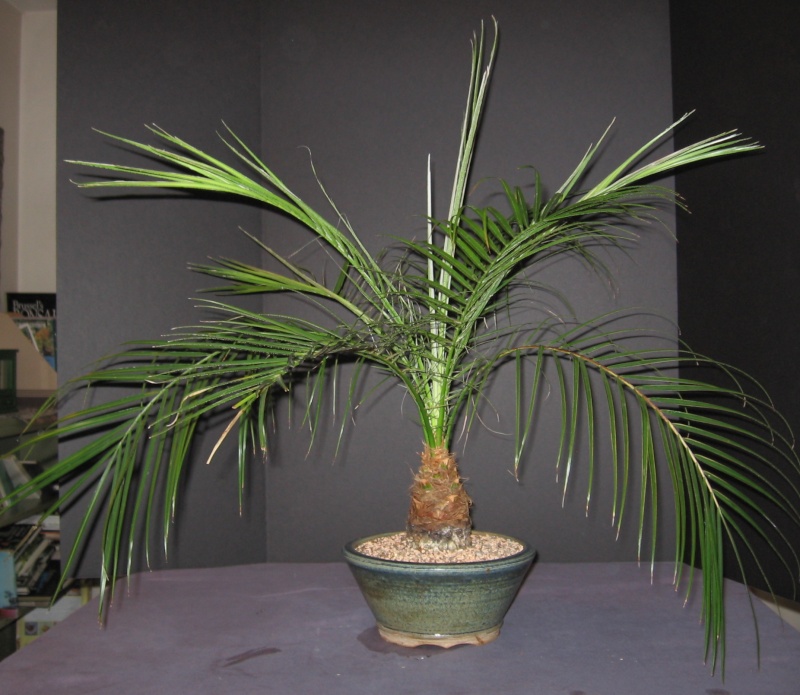 Bill Valavanis dubbed it a "non-traditional bonsai." I have had it for almost 20 years. The trunk is about 5 or 6 inches tall, 13 to 15 cm. Full size pygmy date palms are about 10 feet tall. You see them in the shopping malls. For me it represents a standard date palm, Phoenix dactylifera, which grows to 100 feet tall. This year the fronds are starting to reduce further. The Nick Lenz pot is 8.5 inches across, 21.5 cm. It spends the summer outdoors in the sun, winter in the unheated guest room. I root prune it drastically almost every year, usually with a saw.

Sometimes zone envy works.

Iris

bonsaisr

Member





Hi Daiviet,
I am glad you like it, the shell is polished and varnished to help preserve it, I am not sure yet how long this will last, I will post the development in few months.

Hi Protonwira,
So you also have coco bonsai in vn. can you ask how long the shell last? the tree I am sure will last many years.

Hi Iris,
Lovely date palm you got there we too have date palm here, its often used for landscaping.

Hi Billy,
You are right, since these are monocots, they cannot be pruned, and another thing, they cannot be wired!


As I have said earlier, I am not yet sure if this is considered bonsai. for those who say that it is not, please share us your opinion


Cheers
ka pabling






Ka Pabling

Member






---
Permissions in this forum:
You
cannot
reply to topics in this forum