Greetings,
Our Minnesota Bonsai Society had its yearly judged show last week and opened up a corner for our first stone display. The stones were new to many at the State Fair and seemed to be well received. Our judge was Jim Doyle and did a great job of assessing each stone and its daiza.
I will show a few of the stones ; please feel free to express your thoughts.
Norma


Norma

Member





Close-ups of stones: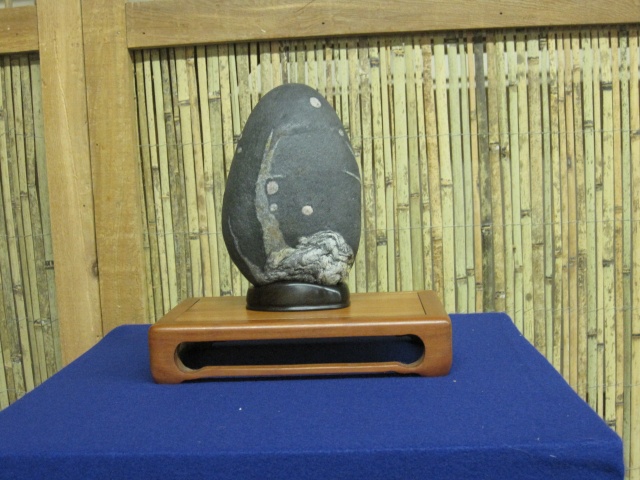 This is a picture stone from Japan and won the division award.

This is a special stone collected from the Mississippi River north of the Twin Cities.

Norma

Member





More stones:

An Eel River, California stone.

The hut stone and figure stone collected in Minnesota and South Dakota.

Norma

Member





more stones:
Chinese dolphin and thread waterfalls stones.

A California Murphy Stone..

Norma

Member





more stones:

A Trinity Mountain Stone from California.

A Mountain Lake Stone from California.

Norma

Member





Stone incredible beauty! Maybe the old man as last farewell to the world embraces hviezdy.Table inappropriate

peterbrod

Member





Hi Norma

The first stone is amazing....
All the rest of the stones, are also very beatifull.....Did you exhibit a stone?....thanks for sharing.

Kind regards Yvonne
Thanks... Peter and Yvonne,

I'm glad you liked the picture stone ... Peter you called the stand inappropriate. Could you make a suggestion for a better stand.

Yvonne, we were allowed to show just two stones so I chose the hut and the woman with a blanket to display. I have many finished viewing stones so it was difficult to choose but I thought these would resonate with the public and they are some of my oldest collected stones!

Best regards,
Norma



Norma

Member





I think dark, subtle, contrast higher. Distracting.


peterbrod

Member





Hi Norma
A lovely little quiet display, with very nice stones, the stand is nice with the stones

Kind regards Yvonne
Hi Norma,
overall stones are wonderful thanks for sharing,looking foward for some more. hope i could be there to see it in person

just a wishful thought...
take care,
Alex


ogie

Member





---
Permissions in this forum:
You
cannot
reply to topics in this forum