Another rock I found in Mallets Bay, VT. Almost looks like he's wearing a helmet.

ChrisA

Member





Hi Chris... Looking for an option to mount a suiseki-style landscape view, I'll offer an alternative which raises the most interesting area of the stone, which is nicely weathered. This could be a "head cover stone"
kaburi-iwa
-- a stone with little base (floor) under an extending protrusion (roof) suggesting a place for take cover from weather. Such stones must sit with stability in a daiza or suiban & should not be represented by a leaning stone cantilevered by a daiza. See text
Unkon Fu
(publisher Golden State Bonsai Federation) for drawings of a head cover stone compared to a shelter stone.
A " 'shelter/rain shelter' stone"
yadori/amayadori-ishi
has a more substantively extending floor. As noted in the Covello/Yoshimura text (p. 41,italics mine):
Shelter Stones (Yadori/Amayadori): The concave shape of these stones suggests a shallow shelter or temporary refuge formed by an overhanging cliff. To be classified as a Shelter stone, the floor of the shelter should be at least partially visible.
Head cover stone...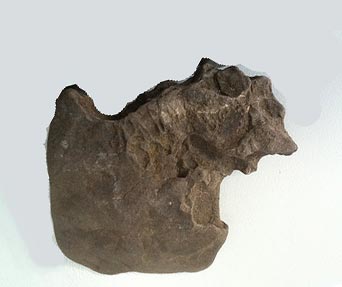 Chris Cochrane

Member





Hi ChisA

A very nice dramatick stone...I look forward to see, how you decide to display it. How big is it?

Kind regards Yvonne
Neat stone. I agree with Chris.

Paul Landis

Member





I like your idea Chris, but I really like skulls. It is also very slim and I think it would be difficult to make a base for it.

ChrisA

Member






---
Permissions in this forum:
You
cannot
reply to topics in this forum