Trying a new way to look at DRAGON ROCK. I feel that it has more of a landscape appearance with the long pot. As I round up more moss, I will cover more of the "ground"
Height is about 24 inches.
On the first Sunday of most months a group of bonsai friends meets at my place to work on their trees and get help if they want. I usually set up a display for their viewing pleasure and critique. Below is my dieplay for Feb. 6th.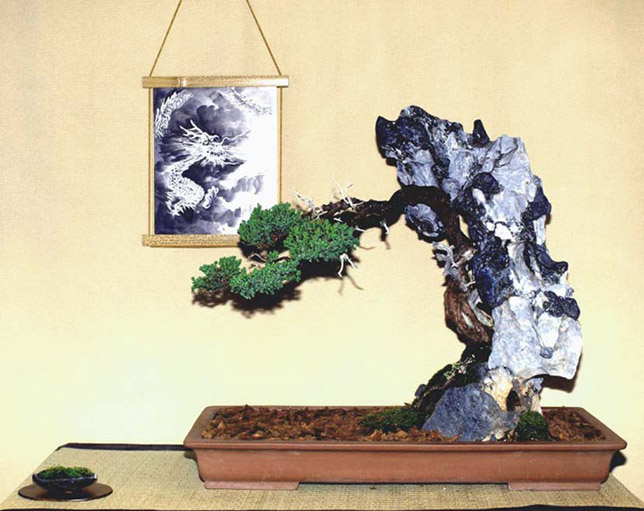 mike page

Member





This is a very nice composition Mike. the long pot is perfect. it will work well even without the scroll.
regards,
jun

Hi Mike,
Its good to see people thinking about the display element. If this is the "end" product of the production of Bonsai and I personally think it is then it is good to be aware early on of the way that the tree sits within a space. I love the image of the tree and rock and all be it the pot is close to being right I cant help feeling its still a little heavy and the wrong color, it may be improved with a clean and oil. A table is needed and a thin burr wood slab would suit even better. The space we have to display is never big enough and this is a great example of where another four foot would improve the image greatly. I like the direction of the scroll and the color complements the rock well.

Thanks for the post

Regards Chris

chris

Member





Hey Mike,
The whole composition... the tree, the rock, the tray, the scroll and the accent is PICTURE PERFECT
What more can I say....
Ravi

Ravi Kiran

Member





Hi Mike.
Really like your composition. Really beautiful.

Pavel

Pavel Slovák

Member





Thanks all for your comments. Very much appreciated.

Mike

mike page

Member






---
Permissions in this forum:
You
cannot
reply to topics in this forum