This is the first tree I ever got. It has undergone several different stages.
First I transplanted it several times. Into smaller pots, bigger pots etc without having any idea what I was doing. Then I cut it down a lot.
Then I had this redicilous idea to try to fuse it with my bigger ficus. It killed the big one. Then it was styled as a sad dancer as it was called.
I removed the styling again, and most branches was removed. It was styled this summer, and put into a small pot.
Now. Its at a stage where I just let it grow, but I would like so criticism. The branches grew too thick, so I wired them around the tree. I find them way ro circly, and with that I mean that they are circulating the tree cause of the length. I have had problems with backbudding when I have trimmed it, so I havent gotten too many branches. The wire is still on. It doesnt lose leaves and it looks to be in good health. I also like the pot. Wrong color though.
This is how it looks now.
The front.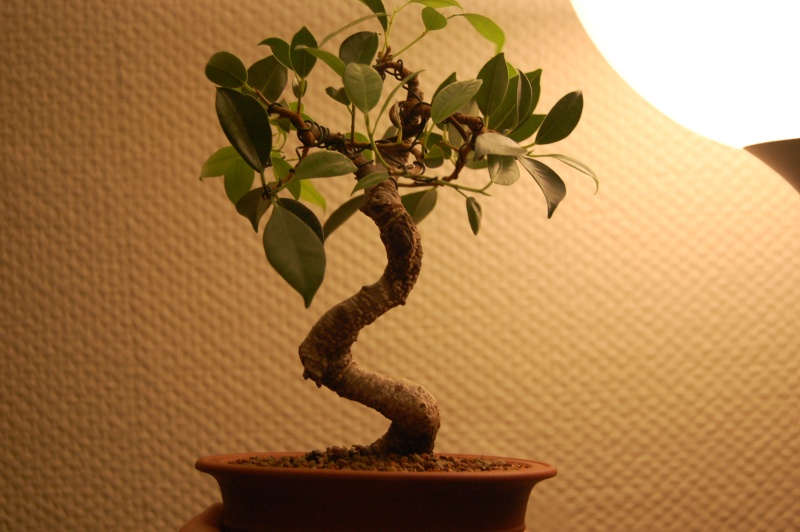 Closer. Sorry for the blurryness.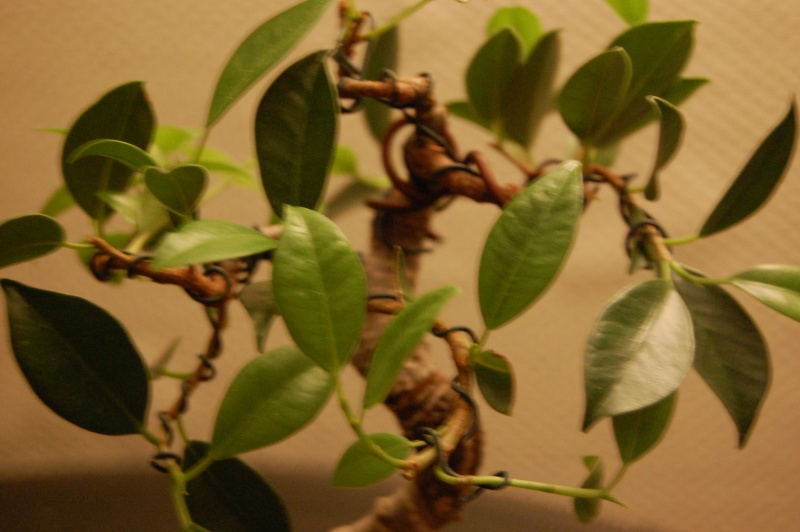 Shot from above.
Okay, a very lousy "virtual" if I dare to call it that. Just a very fast paint drawing that makes a small suggestion of what I have thought. The numbered branches are thought to be going backwards. The one at the bottom there is one that I would hope to graft there. Ive tried earlier, but they died in a few days.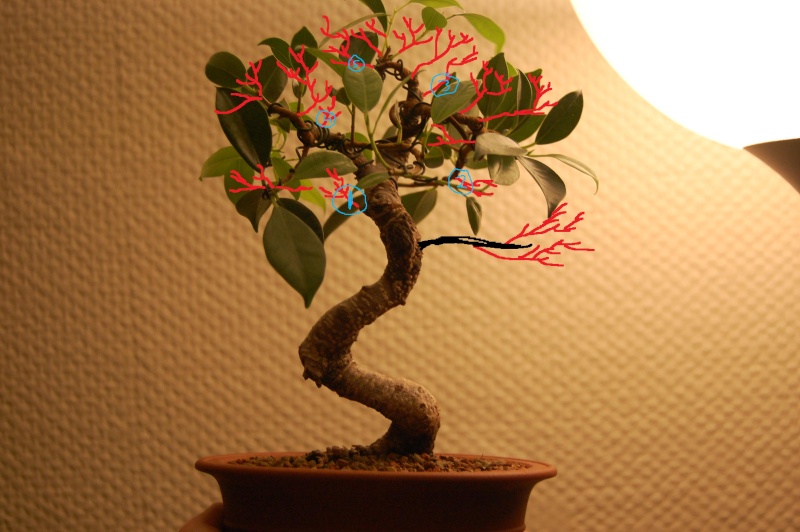 Considering to cut it back a lot next spring/summer.
I know its a cheap "s" shaped tree. But im trying my best. Since its my first tree and a gift, it means a lot to me.
Thanks.
- Storm.

Storm

Member





I have a tree like this that I plan on air layering sometime soon. If this were my tree, I would air layer where I marked, so that you would get a nice mame with some great movement, IMO:
Thank you for your response.
I remember now that I have gotten suggestions earlier too to air layer it. It is a good idea. But I will then have to practice it a bit first. I find it a bit risky to maybe lose the tree.
I have also thought about getting my hands on a small aquarium. So I can see if I can get some nice aerial roots going.

Storm

Member





Storm wrote:I have also thought about getting my hands on a small aquarium. So I can see if I can get some nice aerial roots going.
Aquariums are a great idea. Allow me to work on my ficus year round.
Storm,

ficus is usually one of the best trees to explore [1] Do you have the interest to do bonsai, [2] Learning to keep a tree alive, but to do the type of practicing you are showing on this tree, normally you need many trees [ 200 or so]

With that much attention, the victim usually ends up dead.

Normally, I suggest that one purchases 3 to 5 Bonsai, the more finished the better. Seems to tame the urge to want to wire everything in sight.

If you can afford it, get about 10 ficus plants and ease up on the special one. Usually the simple weeping fig [ Ficus benjamina ] is available in stores as bushes of some sort.

As aquariums go, can you get the cheap plastic ones or can you afford, a sheet of clear acrylic and just make a rectangular box with a lid. Down here in the tropics, these are the sheets used for signs and are not expensive.

Good to see you chugging along.
Khaimraj

Khaimraj Seepersad

Member





Thank you Khaimraj.
I can afford a cheap aquarium soon. But Im also thinking alot of getting a greenhouse. They are very cheap atm, so I think I should go for one.
I think im through the whole process of stressing the trees too much. I have had bonsai for a couple of years now, and I have 10 trees inside, all well alive, and about the same outside. Also have my eyes on several big oak trees im going to collect this spring.
When talking about what I wanna do with the ficus its ofcourse long term. Im going to remove the wire in not too long, last time it didnt set.
Then im gonna let it have the spring to get ready to summer weather.
My problem is that there is nearly impossible to get any cheap trees here I can work on. If Im lucky, there is either some very lousy chinese elms that are barelly alive, or fukien teas. Fukiens then have almost no branches, and they dont grow well here. I have one that I have had one and a half year. The only branches they have grown are two small ones. Its in bloom year around, but barelly shows any other signs of growth.

Storm

Member





Storm.

the island I live on, is known for it's Amazonian vegetation - leaves over 3 feet [91 cm] long - slim pickings for bonsai material, so I turned to hedges.

Perhaps in your climate, you may find such a solution. You have extreme youth on your side, as I once did, use it well.

Hedges means anything goes, any style, any ........

Oaks, ah oaks, love them so much, I use the Buddleia indica, indoor oak to keep my memories alive. Never going to bonsai masterpieces, but I can still at least touch the hem of an oak.

There is also a Japanese technique for fast trunk expansion that you can try in your green house, requires a coarse soil mix, two plastic rice colanders, one about 2 inches smaller that the other and placing one inside the other. Both are filled with soil. Once you get the growth going, you can fertilize heavily and build those trunks up to the size you need. Used on black pines, you should be able to do so with any other tree or shrub.
Until.
Khaimraj

Khaimraj Seepersad

Member





Why do you have the branches all tied up in knots? Keep them simple, with a few gentle curves. Keep the lower branches longer than the upper ones. I agree, air layer the ess off.
Iris

bonsaisr

Member






---
Permissions in this forum:
You
cannot
reply to topics in this forum