Thanks (for the "Noelanders 2010" stone photos), Toche... Can anyone identify the egg-shaped white stone from China with tan-colored webbing standing on its surface? Is it a naturally contoured stone? These are also encountered in repeated spherical nodules attached to a shaft of the same matrix & webbed-surface material.
Egg-shaped (repeated from exhibition photo above)...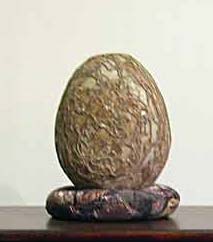 Spheres on shaft owned by
Potomac Viewing Stone Group
member & stone vendor Amy Guo...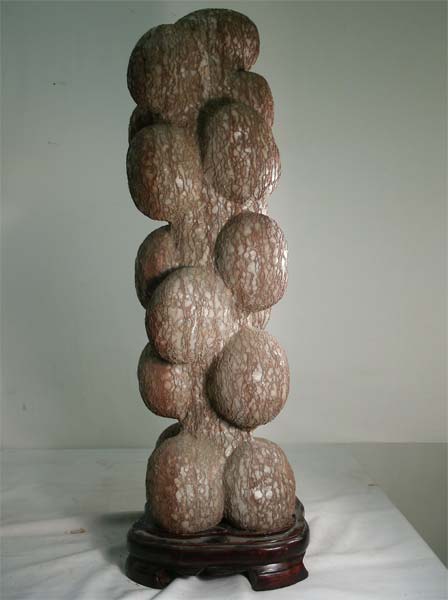 Last edited by Chris Cochrane on Sat Jan 01, 2011 4:05 pm; edited 1 time in total (Reason for editing : Split from the "Noelanders 2010" stone thread to allow separate discussion.)

Chris Cochrane

Member





Dear Chris Cochrane

This kind of stone is naturally contoured, it comes from China. If I can find more information, will I post.

Kind regards Yvonne
Hi Yvonne... Thanks for looking into information on the Chinese stone. BTW, I was recently reading Morten Albek' shohin bonsai book and noted one of the illustrations was of your trees. Morten is an exceptional contributor to our community-- he clarifies shohin practice to build bridges between cultures.

I hope you will ask knowledgeable friends the name for Japanese fitted wood stands for stones. In several recent posts, you refer to them as dai rather than daiza, and IBC friends expecting advice have followed your lead. We share regret when new enthusiasts to suiseki appreciation are misinformed.

As with suiseki & bonsai, there is no separate plural form for Japanese words-- whether one or more, they should be referenced as daiza.

Chris Cochrane

Member






Billy M. Rhodes

Member





Dear Chris Cochrane
It is very nice, you want to talk about dai/daiza...I used to call it a daiza, but I found people was looking at me, as if I did not know what was going on ( daiza could be a oldfasioned name). people call them dai, so I started to call them dai, it was not a problem for me. Even japanese people call them dai now a days. I am in Japan 2 times every year, and speak with stonelowers, so.


With many emoticons Yvonne
Hi Yvonne... In a year of living in Tokyo (at bonsai & suiseki artist/vendor Kunio Kobayashi's bonsai studio), I often was engaged in discussion of stones and their mountings. I attended lessons of the
Keido
school, as well, where "fitted wood seats" were consistently referenced as
daiza
. In fact, reference to
daiza
has been consistently accepted, understood & returned in conversation on my visits to Japan since 1997. I have had many translators help in discussion as well as Japanese suiseki enthusiasts who spoke English. I continue to see the rare use of
dai
by Western enthusiasts.
Daiza
has a long history on IBC & its related Viewing Stone (mail)List since 1997; though
dai
was the term commonly acknowledged in English-language articles & on IBC, previously.
Here is a passage from page 63 of Arishige Matsuura's latest book
An Introduction to Suiseki
(Autumn, 2010) translated & adapted by Wil Lautenschlager:
It is important that all suiseki be fitted with a daiza, even if the stone is one best suited for suiban display. Please note that the correct word is daiza, and not dai. A dai is a pedestal, of a type which might be used in an art museum or other setting to place any variety of objects upon. A daiza, on the other hand, is literally a "seated pedestal," which is made expressly for the display and support of one particular object, in this case a stone. Although they are very close, these words are in fact not interchangeable and should not be confused.
In fairness to your observation, I recall Peter Aradi (Tulsa OK, USA) visiting Japan and also finding enthusiasts referring to the seating for stones as
dai
. Searching archives, here is what Peter noted on IBC (September 17, 1997):
... Earlier this year we had an argument in this newsgroup over the correct Japanese term for a wooden base holding a suiseki
(viewing rock). According to several authors of magazine articles in the U.S., the president of the Japanese Suiseki Association stated in a correspondence that the "officially" accepted word is "DAIZA," not the previously used "DAI."

Well, while visiting Japan in June, everybody I have conversed with used the word "DAI" and corrected me when I used "DAIZA." Is it possible that even the Japanese disagree on some of the word usage and the "official" and casual words and meanings could be different?
Perhaps, Peter thought
Nippon Suiseki Association
was promoting unique terminology. Luis Fontnills (Miami FL, USA) responded the same day:
It's more likely to be a clever plot to retain Japanese supremacy over bonsai by sowing the seeds of semantic uncertainty to us Westerners ;-)
While Luis was speaking tongue-in-cheek, you are not.
There are bodies of Japanese suiseki enthusiasts who consistently publish poetic names of historical stones that differ from the consistent naming by
Nippon Suiseki Association
& its recently retired president Mr. Matsuura. Ben Nanjo (
Golden State Bonsai Federation
) consistently follows their practice in his book
Unkon Fu
(2005), but Ben refers to
daiza
, exclusively, in his extraordinarily insightful section on display.
California Aiseki Kai
also follows the historical stone naming practice which competes with NSA's, but agrees to
daiza
in reference to wood seating for stones. DAIZA appears widely recognized beyond NSA attribution. Who (or what organization?) promotes "DAI," as preferred?
Ernie Kuo (Southern California) wrote in the same 1997 IBC thread that Japanese bonsai enthusiasts in California
at that time
also commonly referred to stands for bonsai as
dai
. After discussion with many visiting professionals & in published articles, would anyone think of these tables as
dai
rather than
shoku
, today? We grow in understanding with experience and access.
Last edited by Chris Cochrane on Mon Jan 03, 2011 12:47 am; edited 1 time in total (Reason for editing : The post is clearer without the last (now deleted) sentence.)

Chris Cochrane

Member





Dear Chris

Again I am impressed about the amount of iformation you can, and like to come up with. Also do I like you want the right names for the wooden bases. Witch I can only agree to.
I do not speak about stones a lot, also am I the only member of ESA in Denmark....It is close to only in this forum, I have used the word dai or daiza. I do not study articles in magasines a lot, most of all, I just enjoy the stones.
The name of the wooden base is not important to me, and I have no problem with going back to the name daiza, if this is the correct word.
But have you thought about this ( I think, it could have been one of the reasons why I began to use the word dai) Daiza is for japanese stones ( I know dai is too, but...) China wooden basas must have an another name, I do not know it....The name for stones in western world is "viuving stones" and to call a wooden base a daiza for a stone like this, does not feel right for me....daiza is only for japanese stones.
Maybe it is needed to find an western name for the base. What do you think.

Kind regards Yvonne
Last edited by Chris Cochrane on Sun Jan 09, 2011 3:10 pm; edited 1 time in total (Reason for editing : removed 2 (of 3) identical copies of Yvonne's post)
Dear Chris

In an another topic can see you have come up the name "wood Seat". it is a good word for the western "daiza. I will use it in the future.

Kind regards Yvonne

---
Permissions in this forum:
You
cannot
reply to topics in this forum