My first stone, any comments will be appreciated, the daiza is not finished yet.  http://i11.servimg.com/u/f11/18/01/84/97/th/dsc01210.jpg
Hello Stoneblur,
Welkom to the forum, you joined the forum on the very last day of 2012!
Can you post a picture here in your thread,
i am sure everybody would like to see it?
Sunip

Hey blur!
Read my and other prior postings on daiza creation,
will save you much time and heartache!
read peter, yvonne, chis & others advise.
You've made a good start, just a little refining left.
I see your stone as a horizontal mountain range,
sand in a suiban might be a good second method.
stonener



I see a sunami. The main thing is you've attempted to make your own daiza. the first step on any journey can be the hardest. So good for you!


dick benbow

Member





Hello stonener,
thought of a suiban but there is just something about a daiza, and wanted to try it, but would want to check it in a suiban.

Hello sunip,
the rendering looks awsome i am going to practice carving

Thanks for the comments!
No problem blur, worth a try ether way.
But as I see it Sunip has done good, if a vertical.
As you say just a little carving needed now.
However if you don't mind I would like to offer,
what I see in your stone... "stargazer" profile looking up & left
Safari hat wearing scout staring up at the stars
if you look for square nose at top of stone now,
then follow down to left side to small v shape mouth cut out.
then find eye looking up and to the left a little,
it is were you think it should be, small dark oval shape hole.
Ether he is wearing a hat, nose now becomes brim or not...
stonener

Hello Stoneblur.
Maybe it is not necessary but some additional thoughts on the daiza.
The red vertical line is important be it the axis of the standing figure.
In my virtual i was thinking about three feet as it supports the movement in a nice way,
the red arrow directs the placement on the backside of the daiza.
(For feet is an option as well)
But exact placement depends on the stone, as i do not have the stone in my hand it is not possible to draw a definite virtual,
so please look at your stone for guidance.
I suggested this color as it gives the vertical shape a good basis.
Nice playing.
Sunip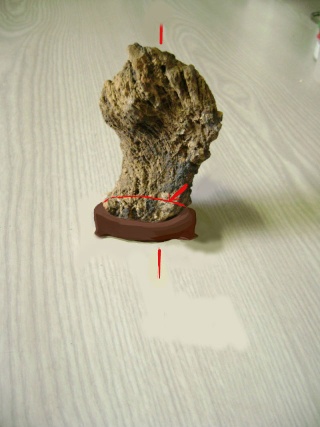 Hello stonener,

I would have never seen the face in that stone its amazing thanks.

Hello sunip,
thanks for the feedback and insight.
stoneblur

---
Permissions in this forum:
You
cannot
reply to topics in this forum