premna love hot humid growing conditions. mine are no exception. the trees are lush with new growth. lately, everyday has been devoted to working on a different tree - sharing some before /after pictures of work on two. the first tree is a semi cascade which struggled from the day I acquired it. branches would grow then suddenly die. trying to develop a coherent branch and foliage structure seemed impossible. recently, something clicked. the tree turned a corner and decided to grow. new branches popped everywhere. sparse sickly foliage has been replaced with an abundance of new healthy leaves. the first two pictures are front and back before work. front.
back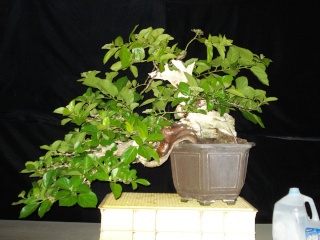 defoliation underway
front /after. defoliated, rewired, wood treatment, pot cleaned and oiled
back/after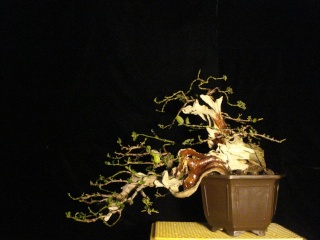 Last edited by kauaibonsai on Tue Aug 31, 2010 9:39 am; edited 3 times in total
I like this kengai. it has a untamed feel to it. the tree was repositioned in the pot to accomodate a new front then defoliated and rewired. many branches eliminated. keepers were repositioned. down the road, the tall apex part of the trunk may either be shortened or cut off. for now, long branches from the top have been wired and bent to lessen the impact. as the foliage and sub-branches grow, we'll see how this looks. for now, the work is done. before/after pictures follow. first two - new front/before.
new back before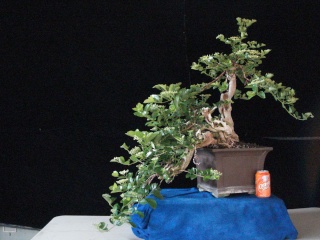 closeup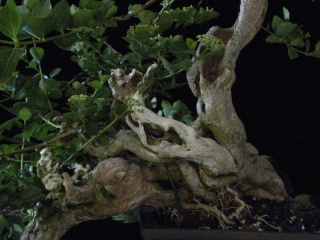 defoliated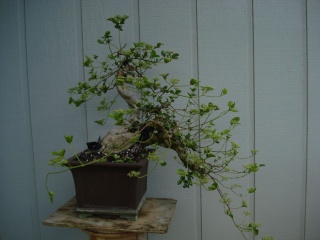 rewired, pot cleaned, front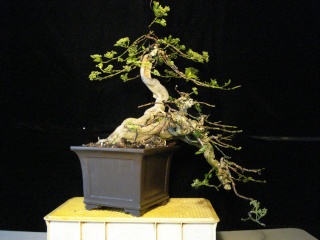 back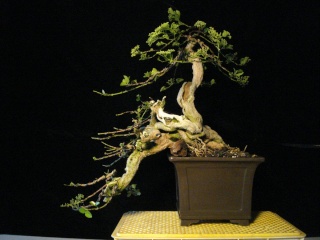 They are both beautiful, and show your talent well. I can't help but wonder if the second tree would be better without the tall part. Could it be air-layered?

You're in the pot forum again, btw.

R

Russell Coker

Member





yep! looks like I did it again russell. sorry. thanks for the kind words. for the second tree. the appearance of the upper trunk is less intrusive in the new front-which is what prompted the change. I'm waiting to see how it looks after the branches fill out. the upper trunk is part of the uniqueness of this tree, so I'd like to preserve it while lessening the negative visual impact. if that doesn't work, then I have the option to shorten or remove. old wood cuttings almost always root. so thats a quicker option than air layering - if it comes to that.

---
Permissions in this forum:
You
cannot
reply to topics in this forum