the first series of pictures were taken in august 2010, about 8 months after arrival of the bare stump. the tree developed many branches and healthy foliage and needed to be defoliated and wired. the trunk has much character, twisting and turning back over itself, highlighted by deadwood. after defoliation the abundance of branches can be seen. most of the branching was taken off save for the ones necessary for the future bonsai. the tree was wired. more than once I thought to reduce the height of the upper trunk for a more compact tree- but resisted the impulse preferring to see how the branches developed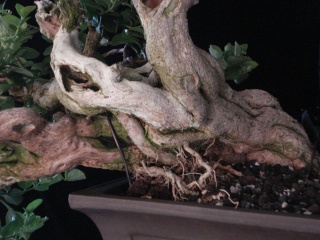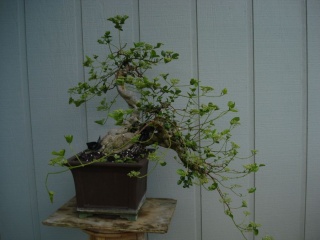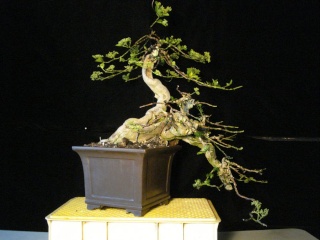 over the next 7 months the tree was fed heavily and encouraged to grow unrestrained. today, the next phase of defoliation, removal of wire , elimination of branches and rewiring occurred. defoliation is underway. all the wire has been cut off. the branches retained during the august styling have developed nicely, improving the look of the future cascade. older branches have thickened , lengthened and have begun to develop twigging. the overall look is much fuller. the upper trunk looks less awkward now. I am glad it was not shortened. as the upper branching fills in and the reducing leaves develop clouds of layered foliage, the trunk will be unnoticeable. we have not achieved bonsai status yet, but we're on the right path.
best wishes, sam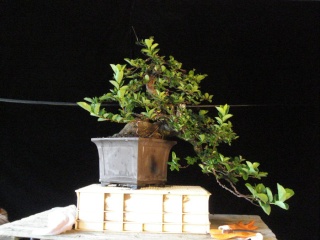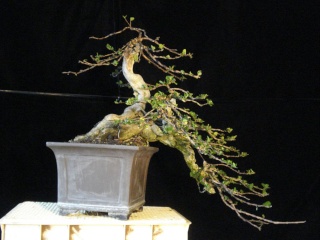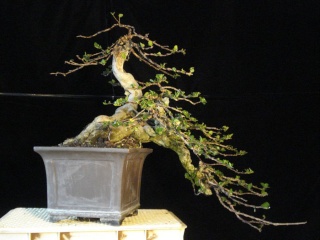 Sam, good works.

Cheers.

CJ

newzealandteatree

Member





Sam, lovely tree. Where did you find this beauty?
Todd

Todd Ellis

Member





Wonderful tree Sam. Very good work... Keep it up
Ravi

Ravi Kiran

Member





Very nice premma Sam.
plus a bonus in natural cascade form.
regards,
jun

It's coming along nicely. I like the rhythm of the branches you have set up.

Rob Kempinski

Member





NZ. thanks for the kind words

todd. thanks. the tree is from indonesia via robert steven

ravi & jun. we tropical guys are in the minority, but holding our own.

rob. thanks for the compliment. congratulations on being the new BCI president

best wishes to all, sam
Hi Sam
Very nice tree.
I really like this. Premna I unfortunately only in Indore with big problems. I tried two years ago. Unfortunately, unsuccessful.
Pavel

Pavel Slovák

Member





hi pavel. premna definitely like warm and humid. it took me a while to figure out that even our climate is not humid enough.

Good progress Sam. You were lucky..not easy to ship plants anymore now...

Robert Steven

Member





thanks to you I got many nice ones. have a safe trip.

best wishes, sam

---
Permissions in this forum:
You
cannot
reply to topics in this forum