Dear bonsai friends.
I like to show you my junipersu which I'm planning to design...if someone is in the mood and has some inspiration, all ideas, or even virtual and coments are very welcome. No fame will follow....but you gone make one person very happy

Here are some pictures from two different sides.
Regards,
Roland

rolandp

Member





Hi Roland

Can you post another 2 or 3 angles?

Just out of interest

Richard
I did a quick sketch for you from one of the pics you posted. In the drawing I drastically bent the top of the tree back over on itself; I don't know if this is possible. You may have to hollow the trunk. All the foliege would appear on the right hand side, you could bend some behind the trunk and have it come out on the left.
I also shaved some of the wood from the inside of the first curve to eliminate the reverse taper. I didn't draw much deadwood as I didn't know where the lifeline was on this tree, although I'm sure you'll want to carve it a little. Hope you like it.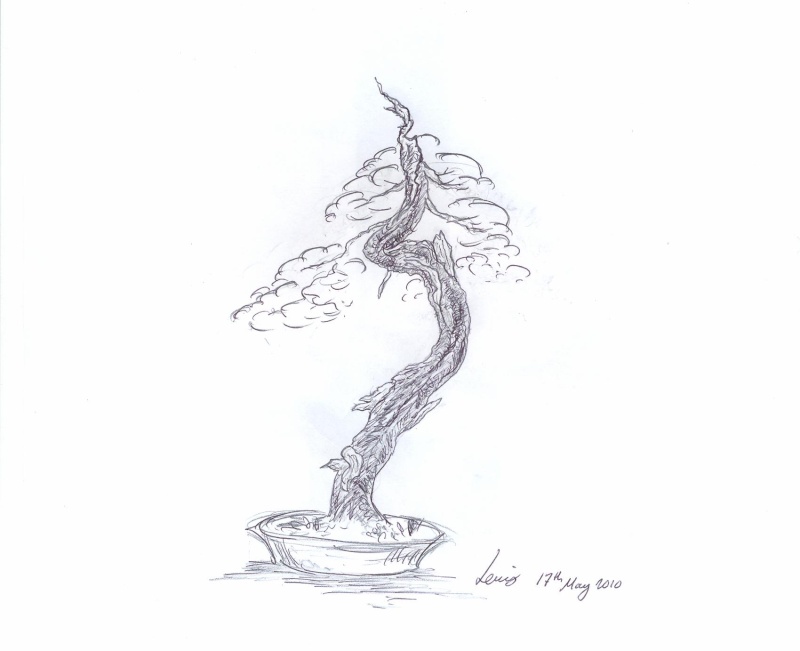 Richard
Richard,
Thanks a lot for this drawing. I like it a loooooot.
I only have to resolve the issue how to bend the trunk upwards...I don't know to what I should fix it...(wire will not be enough and there is no pot in the air

) But in any case I will follow this vision....thanks a lot, you really made my day.
roland

rolandp

Member






---
Permissions in this forum:
You
cannot
reply to topics in this forum