This is either the horn or the hophorn time will tell on that one, unless anybody is really good at identifying. Either way it translates into the most intense experience I have yet had in bonsai. It is from a 20ft + tree that rotted out and fell over and started growing as a long raft. this is the first 3+ feet of that. I had to split it at the bottom and switch the right and left sides to get the rootball to fit into the pot. As you can tell a lot of wood and sweat later and there you have it. Got a lot of good roots and I am thinking positive thoughts about it's chances of survival. It is a little early for this but what in the hell do I do with it when the time comes? Initially I had planned to plant it more upright in the pot, should I am for that in the future or should I shoot for a raft or cascade. all seem viable, no matter what I have some time to plan out my next move- Ideas?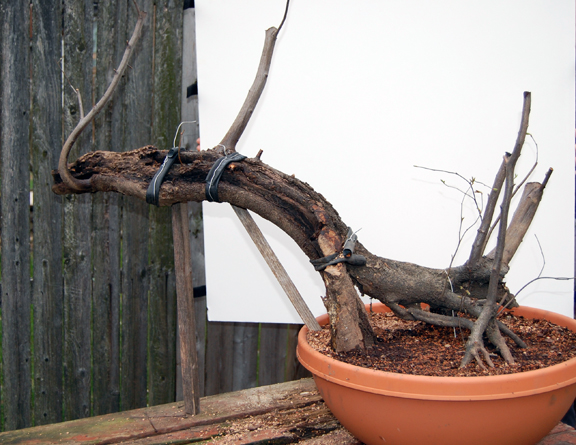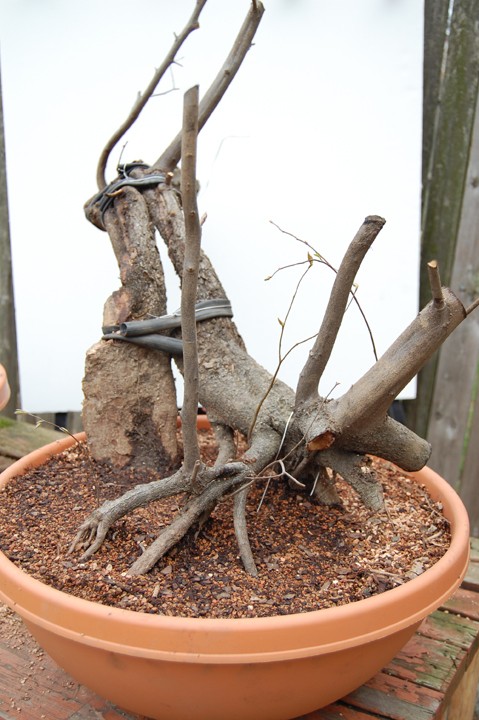 One key to identification is that the HOPhornbeam grows on drier sites. HOPhornbeam has a rough and brown bark when mature.

Hornbeam bark is smooth and gray -- tho not as smooth as American beech.
_________________
Jim Lewis - lewisjk@windstream.net - Western NC - People, when Columbus discovered this country, it was plumb full of nuts and berries. And I'm right here to tell you the berries are just about all gone. Uncle Dave Macon, old-time country musician

JimLewis

Member





HOLY poop Austin! I can't believe you managed to get this. From the sound of it was a quite the rush. I think you might be able to plant this more upright in a BIG box (I know you have the lumber heap) and make a split trunk upright. Something like this maybe
HERE
Or this...
HERE
I will have to come by to see what is really going on with it. Looks cool as heck though.
Last edited by Joe Hatfield on Fri Mar 26, 2010 2:15 am; edited 1 time in total (Reason for editing : DOH!)

Joe Hatfield

Member





This screams raft to me. It's an uncommon enough style, so when a piece of material is naturally
leaning
in that direction, I wouldn't fight it at all.

Nice collect

_________________
"It is not the strongest of the species that survives, nor the most intelligent. It is the one that is the most adaptable to change." - Charles Darwin.

Kev Bailey

Admin





Although I like the thought of it ending up like one of the trees Joe has posted, I would tend to agree with Kev that a raft is probably the better option. Austin, you mentioned it had already started to grow as a raft so presumably the roots are all doing the right thing for that. As Kev says, why fight against it if it's natural inclination (both meanings thereof) are towards raft.
Good luck with it whatever you do. Keep posting on its progress although I'm guessing this won't be next week!

_________________
"Espouse elucidation"
_____________________________________
my website

fiona

Member





Austin, I love finding trees like this which have many options. The tree will tell you what it wants after living with it for a while. I see a penjing style of tree, slanting, into a semi-cascade sort. The roots I see are telling me that it is hanging off a cliff. Eventually, the weight of the tree, and the erosion, cause it to lean beyond the rim of the pot. The right rock or rocks will enhance this illusion. Branches can be grown which can circle around the trunk; the top curvy leader is already, naturally, starting to do that - this would avoid a contrived appearance. Nice catch - have fun with it! Regards, Todd


Todd Ellis

Member





Hello,.....
The dragon has landed!
NICE

material!
Now if only time would fly,..........

Definite raft, do you have more pictures?
Would love to make a virt. in time (busy me).
Grtz from Holland where frogs are having there spring orgy........in the pond (Someone should forbid that!

)

littleart-fx

Member





Thanks everyone for the helpful suggestions. My first inclination, which was what made me go back and actually dig up the tree, was to do something much like Joe's second image. The natural tree was a raft, but like a windswept tree I believe rafts are very hard to pull off successfully, maybe this one will be the exception. Todd's cascade tree falling off the cliff suggestion I believe holds a lot of merit too and he is right about that top branch. I do think living with it is going to be the first though, it was a large tree and while I got many fine roots it needs time. Oh, but I can dream right.
littleart-fx wrote:Hello,.....

The dragon has landed!

NICE

material!

Now if only time would fly,..........

....... )
\
SOOO close to a haiku!

Joe Hatfield

Member






littleart-fx

Member






---
Permissions in this forum:
You
cannot
reply to topics in this forum