Happy new year to one and all and while I'm sat here waiting for my roast dinner to cook I thought I'd share with you a small Hornbeam (Carpinus Betulus) that I've been working on.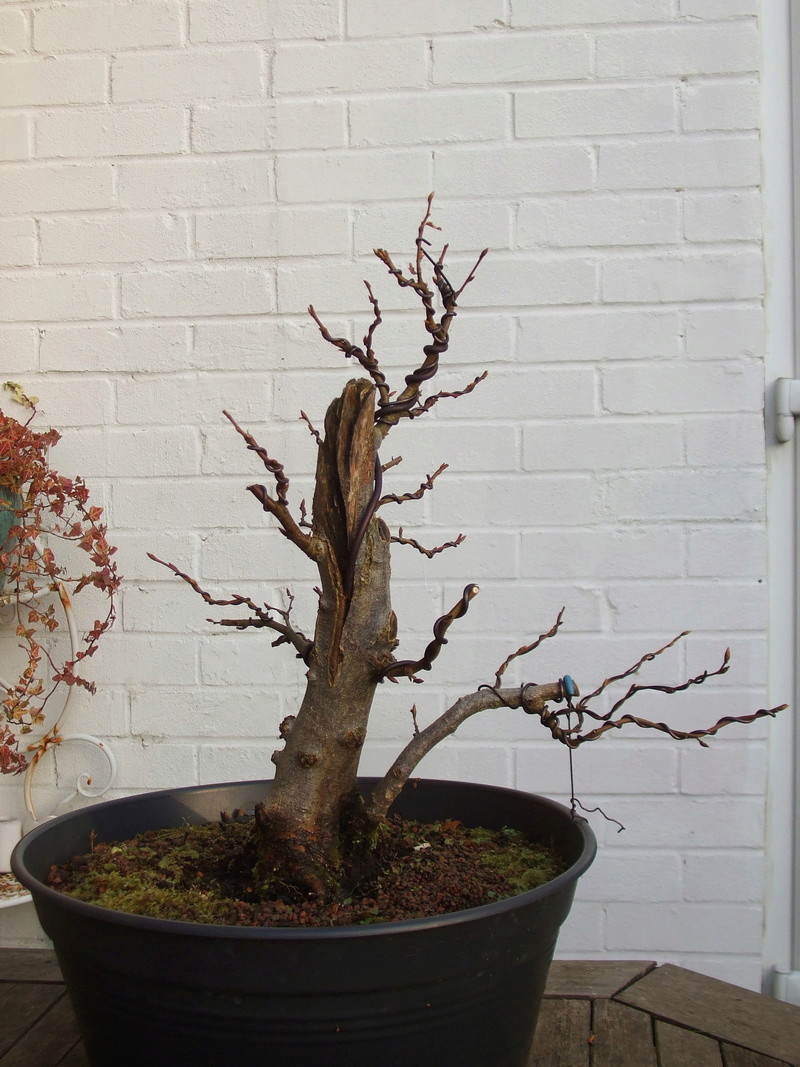 This tree was purchased from a local garden centre in autumn 2015 for the princely sum of £10. It was fairly typical of it's type (6' tall, skinny and with little character except at the base where it had a nice flare and some low branches. I took it home, trunk chopped it and plonked it in the garden.
Last spring I bare rooted it and potted it into this container and also carved the trunk. Now I'm not really sure whether I entirely like the way I've carved it or not but it's definitely better than a clean cut and I can always re-visit this aspect of the tree in the future.
What I do like however is well it's grown (I ended up cutting all the branches off eventually so what you see here is essentially all this years growth).
Yesterday I pruned it back and wired it. This is a bit rough and looking at the photo I can see a few tweaks I'll make next time I get the chance but overall I'm quite pleased and after all it was only £10!
Constructive criticism is welcome as always so feel free to comment if you feel there is anything worth saying

Cheers
Richard

Richard S

Member





The trunk has some movement, which is somewhat rare with material from garden centres predominantly used for hedging. what do you plan to do with the deadwood at the tip, reduce it so the trunk transitions smoother into the apex, or do you prefer it as is. how long do you plan on growing it out in the flower pot?

BobbyLane

Member





Well, when I carved it I definitely intended the deadwood to extend above the last branch as it does (although obviously not above the apex) and yeah I do prefer it I think. I didn't just want to hollow out the cut which was the obvious thing to do but rather to leave some of the heart wood in there.

Most deciduous tree that are rotting from the inside retain some dead wood for many years before they become entirely hollow and that was kind of the idea. Mind you I'm not sure it looks particularly natural.

Never the less, I do like the over all shape (the silhouette if you like) but it could look more natural. Perhaps there's some more work to do there this spring? Like others have said before, this carving lark is simple to do but not so easy to do well!   

Regarding the plant pot, I removed a lot of root from this tree in the spring (big saw job) and cut off pretty much all the upper branches so I assumed it would benefit from growing freely in a deep pot for a few years. Having said that though, if it grows as vigorously next year as it has this then it might need to be restricted to stop the upper branches thickening too much.

I guess I'll see how it goes in 2017.

Regards 

Richard

Richard S

Member





I think the hollow looks fine, its weathered in nicely and appears quite natural. will look a lot better when the top branch thickens up.

BobbyLane

Member





Thanks mate, as I said I do like the overall shape of the dead wood but I carved it with a Dremel disc rather than a router bit. This made it easy to get a pleasing shape but it's left it looking a bit artificial in my view.
Mind you it is artificial I suppose but in time it will weather more and I may be able to add a certain texture to the surface or I might just leave it as see what I think in a year or so!
That's bonsai for you

Cheers

Richard S

Member






---
Permissions in this forum:
You
cannot
reply to topics in this forum