I've had this formal upright Florida elm for over 25 years, and this is the first year I've seen it go completely dormant. That is because of the 10 straight 40 degree temps we had 2 weeks ago. We cannot often enjoy winter silhouettes here, but this year we have. The bald cypress put on a show of color I've never seen before.[img][/img]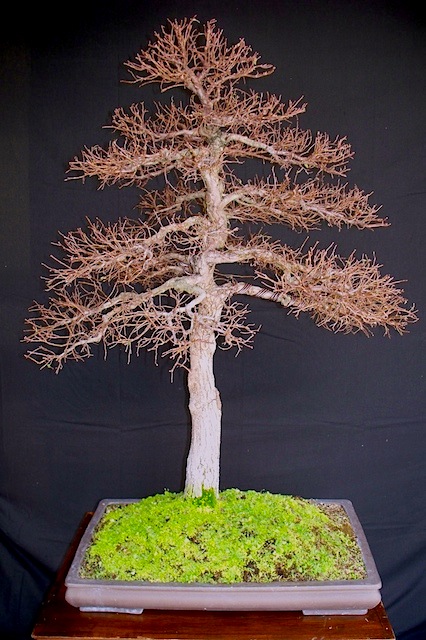 Here's one of the cypress behind my house. Enjoy.
Ed Trout Pembroke Pines, Florida
I have noticed many Cypress turn color this year with the surprisingly cold weather in Florida. I enjoy the color change. I don't see much of the seasons in Florida, seeing some trees change color reminds me of fall and winter in Connecticut and Minnesota.
nice bonsai as well
do you have any nurseries near you in Pembroke Pines?
I live very close to there.
Thanks,

Justin
Last edited by sitarbonsai on Mon Jan 25, 2010 9:05 pm; edited 1 time in total

sitarbonsai

Member





Nice tree Ed. How's the nebari on that specimen? Seems to be covered by weeds???

I bet if you took a photo with the camera a bit lower the tree would look more impressive in a photograph.

Rob Kempinski

Member





Justin,
The best bonsai nursery in our area is Miami Tropical Bonsai in Homestead. I know of none close to here.
Rob,
WEEDS ? Those are not weeds ! They are "moisture indicators", and I have plenty of them ! Seriously, I was not trying to take a show photo, just wanted to show how this tree had gone completely dormant & dropped every leaf. It's never happened before. And I had to hurry to get the picture, because it has warmed up here, and the tree will probably be leafed out by the time I get home tonight !!

I'll try to take a better picture ( lower the camera or maybe raise the tree ? ), and show you the nebari that my "moisture Indicators" is hiding.
Ed
Nice, old, dignified Elm, Ed. I bet the tree is taller than it looks in the photograph. The "weedthing" sounds familiar to me..Ernie keeps weeds in his containers too, he just does not always recall what it was for. I'll remind him now it is a
moistureometer
..

At least you are not
painting
your weeds anymore - I assume?

Best,
dorothy

dorothy7774

Member





---
Permissions in this forum:
You
cannot
reply to topics in this forum