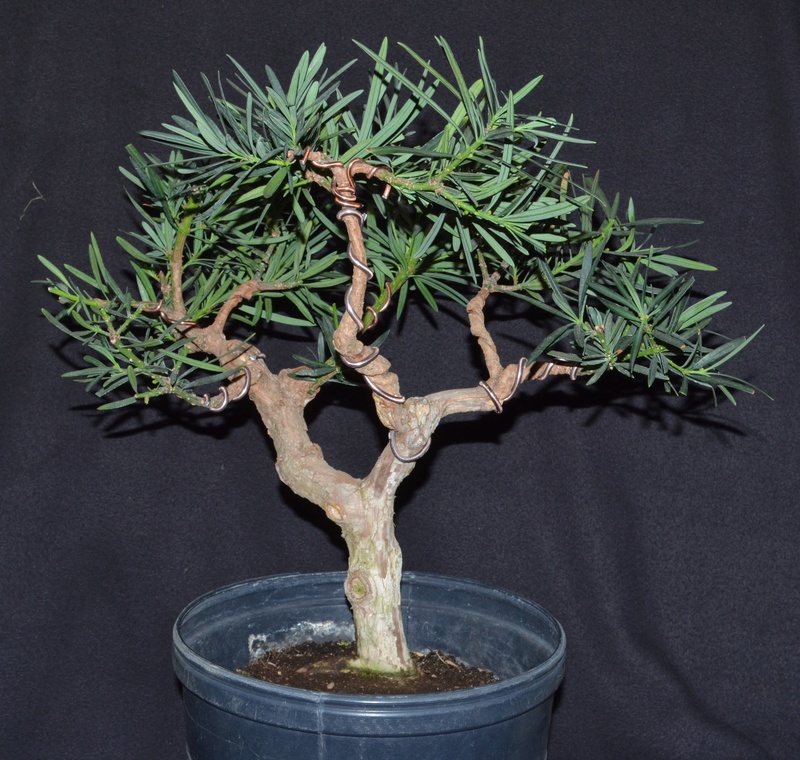 I will be potting this tree up in the spring of 2017....I have been working it for a few years in its nursery container.
I believe it is a Podocarpus macrophylla.
Regards,
Tom

Tom Simonyi

Member





how do podos hang on to dead wood ?

if it is not too soft and may last a while, i dont imagine you would entertain the notion of removing that heavy left hand branch and making it a jin... ?

it seems that would improve the image - imho
_________________

AAC Original Milwaukee Wi. Chapter - North America
aka beer city snake
link to ARBOR ARTS COLLECTIVE BLOG

kevin stoeveken

Member





I find it tough to get these to look good as smaller trees, so I really like where you have taken this one.

I would not remove any of the growth, but would try and develop a dense single canopy?
Thank you for your input and comments, Kevin. Brendan: Thank you as well, and your comments reflect just where I plan to take this tree in the future, at least at this point. FYI at this point, the tree stands 17 inches in height from the soil line. The trunk, exclusive of nebari, measures about 2 inches across.

Best regards to you both,
Tom

Tom Simonyi

Member





i did not picture it being that large !
_________________

AAC Original Milwaukee Wi. Chapter - North America
aka beer city snake
link to ARBOR ARTS COLLECTIVE BLOG

kevin stoeveken

Member





I Tom.... Nice Yellow wood tree.

The leaves are pretty big for P. macrophylla, I would say looking at the blueish bloom that it is rather Podocarpus elongata. I guess.

love and light
Andre

Andre Beaurain

Member





---
Permissions in this forum:
You
cannot
reply to topics in this forum