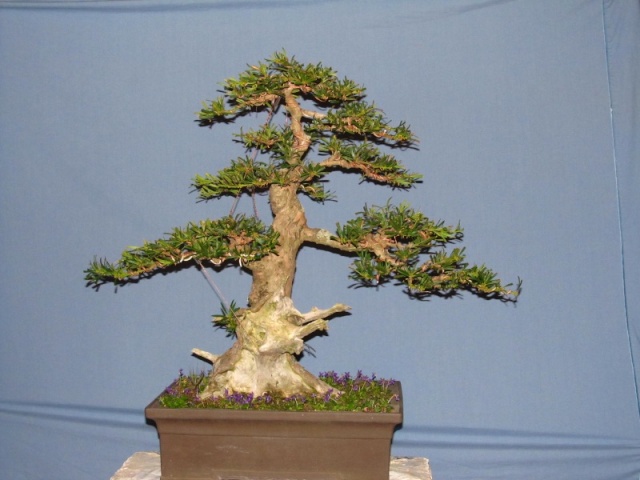 Hey folks, this is only my second post, hope it worked. This is my old podocarpus collected in 1990 or 91 from Raiford prison in Florida. It was part of a long hedge that was being replaced. I was part of Ben Oki's prison team along with Jean Smith and Duane Clayburn. Ben picked 10 or 12 of them for his workshop at the 2nd World Convention in Orlando in 1993. When Ben was finished picking from a pile about 8 or 10 feet wide by 6 feet high, we were asked if we wanted one, so I searched the remnants and picked this one. Duane picked one that ended up at the North Carolina Arboretum with Arthur Joura. I think I remember that it was restyled last year sometime. Give or take a year, these trees are 90 years old, the hedge was 65 at the time. I never gave them much of a chance for survival as they were ripped from the ground by the inmates, but, lo and behold, 23 years later they're still moving.
     I wonder if any of the 93 workshop trees survived, does anyone on this board know? I'd love to hear about them if they did.
      Anyway, been meaning to post it for awhile, but things move slowly in SW Georgia.
      Please look it over and see if my work passes muster, there is some serious talent here. Thanks a million....SK
It is an achievement already to keep a tree so long, and you have done it justice. Very nice.

Neli

Member





Hey Neli, thanks for your kind comments, it's been fun working on it over the years.
Also, that last sentence should have been, there is some serious talent on this board, I wasn't speaking about myself. Thanks again....SK
Like the tree, Steve.

The two bottom branches are getting a little too wide for my taste - making them shorter it will add to the integrity of the story of an old trunk/tree.

Good work to get to here.

Lennard

lennard

Member





Thanks Lennard, I'll give consideration to your thoughts about those bottom branches. I want to broaden the upper branches just a little bit more and shortening those two may be the thing to do. When I got it there was very little foliage on it, not much more than the bottom branches and one or two small twigs above that. The top was rebuilt from those few twigs. Its 26 inches tall from pot rim, 33 inches from branch tip to branch tip, with an 11 inch root spread at soil level. Thanks again.....SK
Some modifications, the head of the tree is seeing the the first branche, the branch on the right shorter, the tree is too static, a branch on the right of the crown also, a larger and finer pot if it's possible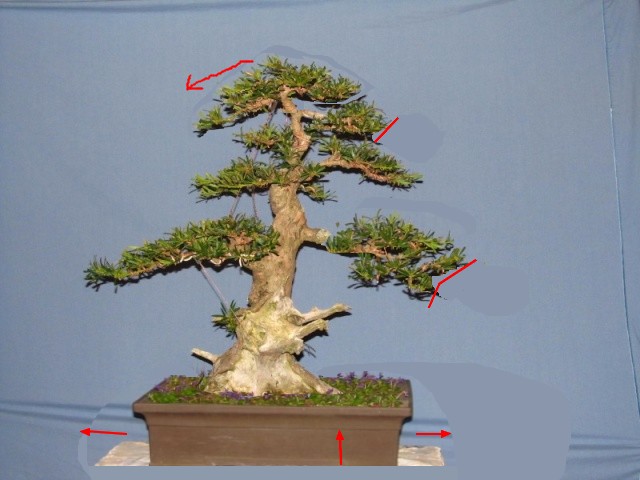 " />

abcd

Member






---
Permissions in this forum:
You
cannot
reply to topics in this forum