Anyone tried it....Alain?
Its a member of the Birch family.
I got this tree free with an ebay purchase....Alder isnt very common for bonsai, probably down to course growth, large internodes, leaf size etc....so similar to Field maple then? or much worse, ill soon find out

Anyway, it was free, i like it and will try to develop it, so far ive pruned it back to a broomy image and removed larger leaves
out the box
IMG_1557
by
Bobby Lane
, on Flickr
IMG_1558
by
Bobby Lane
, on Flickr
IMG_1560
by
Bobby Lane
, on Flickr
IMG_1561
by
Bobby Lane
, on Flickr
IMG_1609
by
Bobby Lane
, on Flickr
IMG_1601
by
Bobby Lane
, on Flickr
IMG_1612
by
Bobby Lane
, on Flickr
IMG_1613
by
Bobby Lane
, on Flickr
The base isnt too shabby actually and i think its quite convincing as a slanting tree leaning over a river bank
IMG_1592
by
Bobby Lane
, on Flickr
IMG_1595
by
Bobby Lane
, on Flickr
IMG_1596
by
Bobby Lane
, on Flickr
will be much better in a shallow pot next spring
IMG_1618
by
Bobby Lane
, on Flickr
This was about ten days ago and the tree is already filling out again, they're extremely vigorous and probably a great candidate for full defoliation.

BobbyLane

Member





I have a couple of Thin Leaf Alder (Colorado native tree's) that I have been growing out. The biggest one was in a gravel bunker for years until a late blizzard snapped the top right off it. Talk about a natural chop job! It took me some time to dig it out of the gravel bunker, roots went through the pot holes right down into the gravel. Chopped it back some more and it has responded nicely with branches every where. Have placed it in a saucer of water and the water is usually gone by the next day. Lovers water. The 2nd tree just got chopped back and is budding out. Big leaves on both of the trees after chopping. They should reduce pretty good as they were not that big before chopping. Interesting blooms during the springs, nothing showy but kind of neat.

Mike

Lost2301

Member





You have a lot of small trees with a good prospect.

May I ask you where did you get your oppinion about Field maples from?

Vlad

Member





Hi folks,

@Mike, yeh these do love a lot of water and like Birch can be found thriving along muggy river banks

@Vlad, its well documented that Field maple are one of the more vigorous of the maple species and in spring will often throw out course shoots with long internodes, but with proper pruning techniques ie defoliation, reduced feed in spring, hard pruning, leaves and nodes will reduce, its also well noted that Field maple may still not ramify as well as the japanese counter parts, i still love them though and there are some great examples.
however Alder maybe more difficult.

BobbyLane

Member





Bobby, thank you for your detailed information.  I believe we are on the same page at the time we are talking about the Field maple characterictics.      I may differ mainly on the way the Field maple are fed&pruned though.    Hard pruning if we are talking about the same does not work with this species in my opinion.   It is much more about the right timing and the technique used.  

This is a method  used in my region  on branches ready to get "fine" ramification:

1. Cut the branch till the  first pair of opposite buds in spring before new growth.  
2.  Let the branch grow freely till the mid summer then cut leaving two pairs of buds on the branch.   Exact timing of pruning is different ( climate&tree conditions ). The point is to get second flush of growth in the season.
( This type of pruning should results in: the new shots from the first two buds should be much shorter than the shots developed from the second pair of buds closer to the terminal)
3. Leave it alone till the next spring

Start again with 1. Cut each of the new branchlets  leaving only the first pair of opposite buds in spring.  So you remove the the long internodes and keep the shorter ones.

This method could be combined with a specific feeding regime.   In a nutshell the fertilizer is applied at the time when the first internode "stop"  the growth.

As with all maples sometimes the new shots are still too long because the branch is very strong.  In such case I cut it of leaving a small stump.  Normally I would get a number of new buds there.  Select few reasonably positioned ones let them grow for some time  and finally leave the one with the weakest growth.


Well,  as you have probably understood the Field maple is also one of my favourite deciduos trees.  I may have been a bit rude  but I am always ready to come to its defence any time I feel it.

Vlad

Member





Hi Vlad, its fine, not rude in the slightest, appreciate you leaving you detailed methods for Field maple. i may have done something similar, but its my first summer with my two Field maple trees so still learning about them. all the branches on mine have been built from scratch bar one. im happy that by doing the spring pruning i have achieved short nodes,, the first two nodes at least on each branch, the leaves have also reduced. now i know i can let grow and cut back quite short to the first two nodes, if the third or fourth get too long. ive also achieved movement in each branch, i will leave alone now and can prune back to shape in the autumn...

BobbyLane

Member





Hi Bobby.
I have a shohin Alnus I acquired from my friend Roger Oldham who is sadly no longer with us.   As far as I know he grew it from a cutting taken many years ago.
In the year I have had it, I have been trying to get the leaf size reduced by partial defoliation, and it has been fairly successful.
The longer internodes are noticeable but because I inherited it later in its styling, Roger had already managed to get these out of the tree.  I've left one branch to develop as I wanted a bit more definition at the back, but as it's a rear branch, the slightly longer internodes arent quite so crucial.
It is a twin trunk and I am doing some repair work on it. The two trunks are the same height which means it looks like a catapult when it's not in leaf. In theory the fatter trunk should be the taller, but there is more scope to reduce that one than the thinner one.
Anyway. It's an interesting species to deal with and perfectly do-able. Good luck with yours.
Tree with pound coin as size reference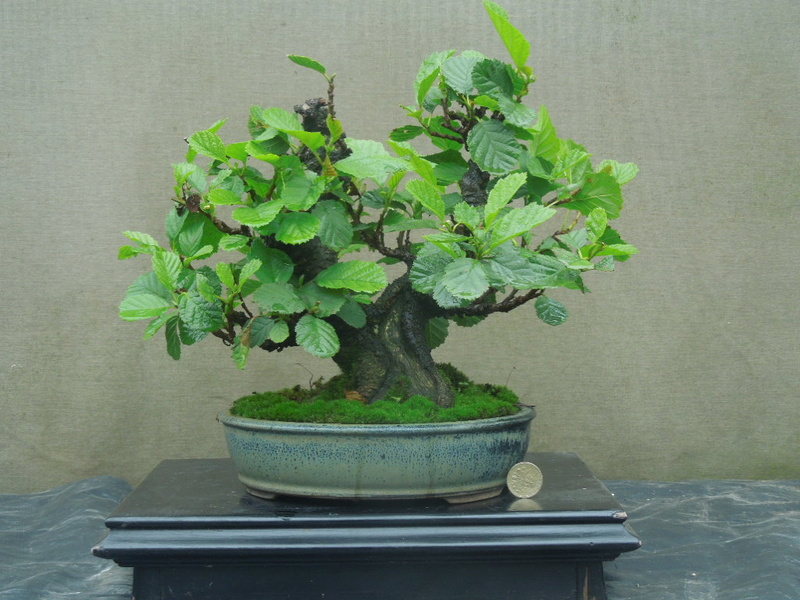 The longer internodes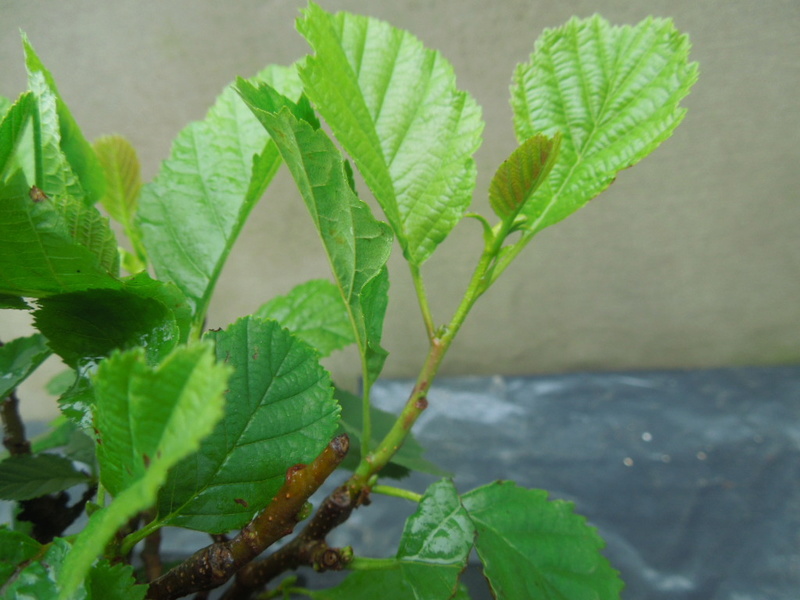 Just for information, I will select one of the two small branches as a new leader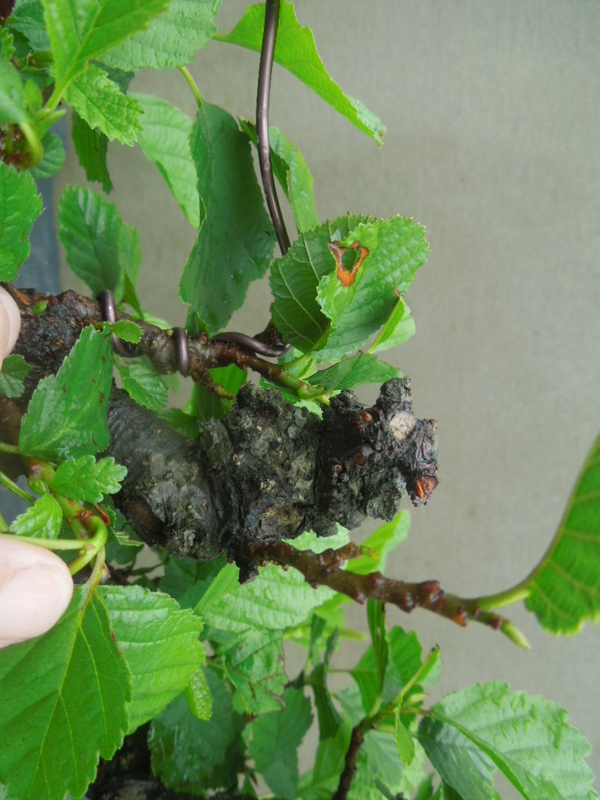 Last edited by fiona on Thu Jul 28, 2016 6:36 pm; edited 1 time in total
_________________
"Espouse elucidation"
_____________________________________
my website

fiona

Member





Hi Fiona, thanks for you input....

I like your Alder, thats certainly worth developing...ive already started training mine in a similar way, removing big leaves or cutting them in half, reducing longer internodes and cutting back to shoots with movement. i plan to treat it like Birch, only pruning while its actively growing, ill do an update later in year..

BobbyLane

Member






---
Permissions in this forum:
You
cannot
reply to topics in this forum