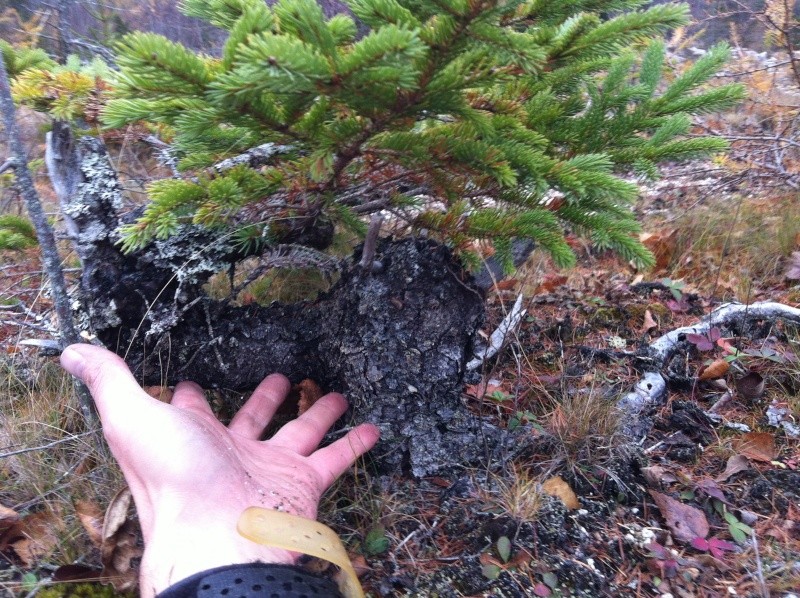 Growing for about 100 years in shallow earth on flat well draining bed rock.
Healthy. Close to my home. Pass it on my way to work every day.  
My plan is:
To collect it during late summer dormancy
Pre water the tree a few times
Maybe feed the tree lightly over the spring/summer
Add some rooting hormone to the soil area
Maybe pre pesticide and fungicide treat
Wrap in sphagnum
Box up in free draining. put in the shade and out of the wind
Mist twice daily
I really don't want this tree to die, does any one have any other collecting tips or other things to consider?

Phil S

Member





Be sure to get permission.   Looks like a tough job digging it up.
_________________
Jim Lewis - lewisjk@windstream.net - Western NC - People, when Columbus discovered this country, it was plumb full of nuts and berries. And I'm right here to tell you the berries are just about all gone. Uncle Dave Macon, old-time country musician

JimLewis

Member





Already have permission, but thanks for the reminder!
The big root on the right is actually hollow and dead. The tree is actually quite loose in the soil, it should not be too hard to collect.
Last edited by Phil S on Mon Nov 30, 2015 5:03 pm; edited 1 time in total (Reason for editing : spelling)

Phil S

Member





I wish I was more experienced with Spruce and I wished that the two pieces I collected, survived. This looks like a good piece so I wish you all the best of luck!



Thomas Urban

Member






Phil S

Member





I have an englemann that was collected in 1989. Wandering thru the North cascades in washington state you find them often growing near water sources, especially snow melt run-off streams. I find this kind of spruce easy to work with and with a nice blue-ish cast to the needles when well fertilized.....From what you've discribed it sounds like the tree should do well under your plan.....best of luck!

dick benbow

Member





I hope so. I think it has a lot of potential. Quite a lot of character. I will update this post in the future and let people know what I did and how things go. Thanks


Phil S

Member





Nice find

and good luck with it. Cheers Graham

gman

Member





Thanks. Yeah the movement, old bark and the naturally bleached jins are amazing! I just don't want to get my hopes hopes up yet. I have been sketching few design ideas though.

Last edited by Phil S on Tue Dec 01, 2015 1:03 pm; edited 1 time in total (Reason for editing : spelling)

Phil S

Member





I would not spray it with fungicide before collecting, unless you see actual evidence of a fungal infection. You don't want to disrupt the natural mycorrhiza. Pesticide might be a good idea, though even there I personally would not spray unless I identified borers or some other infestation.

Otherwise, your plan sound good.

Leo Schordje

Member





Agreed, perhaps it may be killing it with kindness! I suppose the main pathogen risk is bacteria, I believe that the sphagnum moss can help reduce this risk. Thank you


Phil S

Member






---
Permissions in this forum:
You
cannot
reply to topics in this forum